Leron Thomas has just released the haunting duet 'These Things,' featuring the trumpeter and singer on a song he has written the lyrics for and which unites him with newcomer singer Shola Adisa-Farrar and producer Superpoze. He introduces Shola and explains to Stephen Graham in this exclusive interview how hearing fellow trumpeter Roy Hargrove singing ballads inspired and taught him to grow as an artist both as instrumentalist and vocalist in the same organic process 
When did you write the song and how was it recorded?

 
DJ Lefto handed a track over to me by the great artist, Superpoze. He said that Superpoze was having a hard time with what to do with the track. Lefto thought that I should try something over it. When I heard the track, I was on a very trying tour with a French producer last summer, and was facing a lot of decisions. Hearing the track during that moment, was so haunting yet reassuring. I heard the melody almost instantaneously. Then it dawned on me that it needed a female entity as well. I quickly contacted Florian Pellissier for the use of his studio, engineering, mixing and Shola for her beautiful vocals, after I had the lyrics, and this is how the track came about.
Tell me about Shola Adisa-Farrar? Who is she and how did you first get to work with her and what attracted you to her work? 
Shola is a brilliant vocalist, residing in Paris. We share the same keyboardist for our bands, Florian Pellissier, and so naturally was introduced to her work. What drew me to her work was the distinctness of her voice. What I'm about to say might not make sense, but it

'

s the best way that I can describe it. Her voice unknowingly, knows itself. In jazz you get a lot of musicians that can shine over standards and then crash and burn over original material. And as well in reverse, you get people trying to define themselves and their "style", prematurely, thus they suck when it comes to approaching a standard. But there are those that approach standards just fine, almost chameleon-like. Still, when you put them on the spot with an original composition, they surprisingly have this whole other thing going on, in their sound and approach. That's what I dig in Shola

'

s voice and approach. That's something that can

'

t be premeditated, but somehow gracefully deals with the unknown.
Where have you been touring recently and with what bands?

Well that's a tricky one to speak on, even now at the moment. Up until last year, for the better part of two years I was touring with a French producer and occasionally my own band. Based in Paris, I was touring all over Europe. That abruptly got cut short, due to matters not worth further indulging in.
Singing, playing the trumpet, is it all part of the one thing, how do you make the leap between the two?

 
Sometimes one gets so skilful on their instrument, they begin to get lazy in their expression and start to hide behind their skill, yet are not really saying anything any more.That's why I started singing. I would get around trumpet players and other musicians at jam sessions that would relax and play very fluidly. Only too well. They never seem to have a struggle in their playing because they weren

'

t wearing their heart on their sleeve like I was. It would frustrate me because even though I had classical skill and could pull some real stunts, I never could bring myself to be so devious and crafty. I played with true emotion. But due to my LOUD trumpet playing out of frustration with these comfortable players, I needed another outlet. 
Singing was so fun, and writing things to sing about was just crazy fun. My joy for why I was a musician and artist, came back. And like the trumpet it required breathing. In my earlier stages of trumpet playing in NYC, anyone present would tell you that I was coming out of a random combination of Woody Shaw and Roy Hargrove. I heard Mr Hargrove sing the ballad 'Body and Soul' at a late night jam session, one night. His delivery was identical to his trumpet playing. He helped me to understand Louis Armstrong a little better. Because those guys were ancient to me, and the people that were the poster people for that era, were not making it attractive to someone like me. But through Roy Hargrove, I definitely understood more and got my path to where I didn't see a leap between the two. Just a means of breathing and expressing.
Where are you based these days and what sort of gigs/sessions do you do there?
I'm based in NYC, with no "gigs" at the moment. Although I do like to go and check out my colleagues in the jazz world of NYC. Just checked out Jeremy Pelt, Charles Tolliver, Wayne Tucker, and Theo Hill the last few weeks. They on some good Kung Fu. I mainly only deal with my band right now and am trying to connect with agencies to get us working/touring strong for this next release. But I do enjoy Jason Moran's Fats Waller Dance Party band. It's an enduring gig on trumpet and artistic taste and choosing what spots to play or layout at is always a great challenge in figuring out because the moment is always alive and moving.

 
I liked your appearance with Zara McFarlane a few years back and on Whatever. How did you get to know Zara?

That was all Mr Gilles Peterson, right there. Gilles has been really supportive and instrumental in my music getting out to the public and overall career. He has a damn good ear and can hear things that work like a charm. He introduced me to Zara and her amazing voice and yep, we worked. My favourite live performance with her was in NYC. We tore that spot down in Brooklyn.
Going back to jazz history I used to hear a bit of Billy Eckstine in your sound. Maybe not so much now. Is he someone you listened to much or is that way off beam? But how anyway did you first get into jazz vocals and did you sing before you played trumpet?

 

Yeah I dig Mr Eckstine. The five that I would listen too all the time growing up though, were Johnny Hartman, Ella Fitzgerald, Billie Holiday, Betty Carter, and Abbey Lincoln. That's for jazz though. Don't get me started on rock, funk, soul, and blues. Lightnin Hopkins, jack. 

Yep definitely sung before I played the trumpet. Wasn't anything special until the trumpet, though.

 

Leron Thomas, top. Photo: Dailyswa Laurel/www.leronthomas.com
THE THING about this album is that it tears up a notion of genre because the sound is so open and weirdly contemporary yet sort of retro as well particularly in some of the later tracks. There is no dumbing down. 'Running', the first track, sprung forward from the bass of Level Neville Malcolm provides a hustle and ignites with the energy of Anthony Marshall's production that draws in the heat of R&B and yet chills it for a good few minutes in the jazz fridge. China Moses has a whole lot of style and is completely in control, poised and primed. 'Put It On The Line,' has a monster kick drum and bass-constructed groove roaring up at you from the wiry basement throb to the ease of reluctant horns simmering as Moses languidly reaches the chorus against the deliberately lazy backing blend of vocals peeking in. Luke Smith is on piano, Rhodes and organ; Sir Nev on bass playing a blinder; and Jerry Brown is on drums crafting the core of it all.

The big song? Well it has got to be the beautiful, 'complicated,' torch song 'Ticking Boxes' introduced lovingly by Smith on piano where China shows her emotions best of all on a song you could well hear Mary J. Blige hardly do more justice to but yes of course you'd like to hear Blige pile in with a version of her own. The lyrics are never trite in China's hands, she has the ability of making you believe it all however make believe, the empowering chorus like an anthem of self-help and let it go. Ain't about the past/ain't about worrying 'bout tomorrow she solemnly relates, all neat and direct, an enveloping shadow conveyed in such a layered way, the drama of the song spun from the flimsiest of threads into the purest of silk and complete with an oblique ending. And the contemporary beats coming in here play their part after the main business of the song is done and the smoke of trumpet adds to the mood and yet is not too much of a pose. The songs were written by Moses and Marshall, and this is their most moving one for sure. 

Overall China seems to have grown as an artist on this album and she has as ever formidable interpretative powers at her beck and call, the confessional resigned quasi-chanson-like asides of 'Whatever' one angle she can curl her voice around, and by contrast the sass and cheek provided by the flapper-like fun of 'Watch Out' part of the entertaining Caro Emerald-like mix and a boon for fans of a more vintage sound. The only weak spot is 'Hungover' towards the end but that's also the most fun. I suppose China has learnt a good deal from her mother Dee Dee Bridgewater in shaping her voice and storytelling and how to project and pounce meaningfully on every little nuance; and China's idol Dinah Washington's influence is also surely fed into her overall approach but now so embedded you would scarcely notice as her own timbre and styling is so different. The main thing about this album is it is about now and not then. Its pithy elegance, sheer catchiness and joie de vivre also more than play their part. Groovy trumpeter Takuya Kuroda guests on the big ballad trumpet solo on 'Lobby Call,' the other stand-out song on the album and a number that contains a certain Strayhornian passion and architecture, while Kuroda's fellow trumpeter Theo Croker adds dash to the little doo-wop retro Francophile craziness of 'Blame Jerry.' Released at the end of March.
China Moses (above: photo Sylvain Norget) will be appearing as part of Terri Lyne Carrington's Mosaic Project Love and Soul in Birmingham on 21 May. Tickets link 
Ringing the calendar in its titling, and marking a sense of place in the enabling freedom of a tree lined public space, the haze of history, humanity, memory, freedom, that ache of trumpet, Miles deeply embedded in an interior vision, blueness, aestheticism, it is all there suspended in the air within the musical persona of Tomasz Stańko. The great trumpeter composer returns with his evolving New York Quartet for December Avenue to be released in late-March ahead of their return to these shores for an April Gateshead Jazz Festival appearance.
A literary theme is part of the concept following on from their 2013-released Szymborska-themed predecessor, the artist and writer Bruno Schulz (1892-1942, self portrait as a drawing, below), who was shot by the Gestapo during the second world war, has a ballad named for him and which appears half way through the album.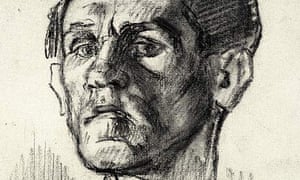 The modernist Schulz short stories The Street of Crocodiles, (the Polish title preferring Cinnamon Shops), from December 1933 are Kafka-like provincial miniatures of bizarre metamorphosis, also earn mention reflected in their respectfully referencing inclusion in another piece. Stańko turns 75 this year and in that celebratory cycle is touring summer festivals in the company of Italian master Enrico Rava as written about just a few days ago. 
 Stańko's official site states that December Avenue was  recorded in 2016, the quartet pictured clockwise from top left at the recording: David Virelles on piano, Stańko, Gerald Cleaver on drums, and Reuben Rogers, bass, who replaces Thomas Morgan from the Wisława band. The new bassist and drummer are namechecked admiringly on the sixth of the 12 tracks. The album was produced by Manfred Eicher.