THE THING about this album is that it tears up a notion of genre because the sound is so open and weirdly contemporary yet sort of retro as well particularly in some of the later tracks. There is no dumbing down. 'Running', the first track, sprung forward from the bass of Level Neville Malcolm provides a hustle and ignites with the energy of Anthony Marshall's production that draws in the heat of R&B and yet chills it for a good few minutes in the jazz fridge. China Moses has a whole lot of style and is completely in control, poised and primed. 'Put It On The Line,' has a monster kick drum and bass-constructed groove roaring up at you from the wiry basement throb to the ease of reluctant horns simmering as Moses languidly reaches the chorus against the deliberately lazy backing blend of vocals peeking in. Luke Smith is on piano, Rhodes and organ; Sir Nev on bass playing a blinder; and Jerry Brown is on drums crafting the core of it all.

The big song? Well it has got to be the beautiful, 'complicated,' torch song 'Ticking Boxes' introduced lovingly by Smith on piano where China shows her emotions best of all on a song you could well hear Mary J. Blige hardly do more justice to but yes of course you'd like to hear Blige pile in with a version of her own. The lyrics are never trite in China's hands, she has the ability of making you believe it all however make believe, the empowering chorus like an anthem of self-help and let it go. Ain't about the past/ain't about worrying 'bout tomorrow she solemnly relates, all neat and direct, an enveloping shadow conveyed in such a layered way, the drama of the song spun from the flimsiest of threads into the purest of silk and complete with an oblique ending. And the contemporary beats coming in here play their part after the main business of the song is done and the smoke of trumpet adds to the mood and yet is not too much of a pose. The songs were written by Moses and Marshall, and this is their most moving one for sure. 

Overall China seems to have grown as an artist on this album and she has as ever formidable interpretative powers at her beck and call, the confessional resigned quasi-chanson-like asides of 'Whatever' one angle she can curl her voice around, and by contrast the sass and cheek provided by the flapper-like fun of 'Watch Out' part of the entertaining Caro Emerald-like mix and a boon for fans of a more vintage sound. The only weak spot is 'Hungover' towards the end but that's also the most fun. I suppose China has learnt a good deal from her mother Dee Dee Bridgewater in shaping her voice and storytelling and how to project and pounce meaningfully on every little nuance; and China's idol Dinah Washington's influence is also surely fed into her overall approach but now so embedded you would scarcely notice as her own timbre and styling is so different. The main thing about this album is it is about now and not then. Its pithy elegance, sheer catchiness and joie de vivre also more than play their part. Groovy trumpeter Takuya Kuroda guests on the big ballad trumpet solo on 'Lobby Call,' the other stand-out song on the album and a number that contains a certain Strayhornian passion and architecture, while Kuroda's fellow trumpeter Theo Croker adds dash to the little doo-wop retro Francophile craziness of 'Blame Jerry.' Released at the end of March.
China Moses (above: photo Sylvain Norget) will be appearing as part of Terri Lyne Carrington's Mosaic Project Love and Soul in Birmingham on 21 May. Tickets link 
Ringing the calendar in its titling, and marking a sense of place in the enabling freedom of a tree lined public space, the haze of history, humanity, memory, freedom, that ache of trumpet, Miles deeply embedded in an interior vision, blueness, aestheticism, it is all there suspended in the air within the musical persona of Tomasz Stańko. The great trumpeter composer returns with his evolving New York Quartet for December Avenue to be released in late-March ahead of their return to these shores for an April Gateshead Jazz Festival appearance.
A literary theme is part of the concept following on from their 2013-released Szymborska-themed predecessor, the artist and writer Bruno Schulz (1892-1942, self portrait as a drawing, below), who was shot by the Gestapo during the second world war, has a ballad named for him and which appears half way through the album.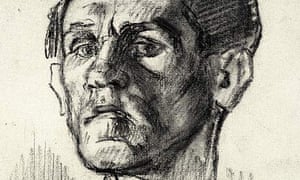 The modernist Schulz short stories The Street of Crocodiles, (the Polish title preferring Cinnamon Shops), from December 1933 are Kafka-like provincial miniatures of bizarre metamorphosis, also earn mention reflected in their respectfully referencing inclusion in another piece. Stańko turns 75 this year and in that celebratory cycle is touring summer festivals in the company of Italian master Enrico Rava as written about just a few days ago. 
 Stańko's official site states that December Avenue was  recorded in 2016, the quartet pictured clockwise from top left at the recording: David Virelles on piano, Stańko, Gerald Cleaver on drums, and Reuben Rogers, bass, who replaces Thomas Morgan from the Wisława band. The new bassist and drummer are namechecked admiringly on the sixth of the 12 tracks. The album was produced by Manfred Eicher. 
Back in 2015 it was a new day and certainly a new, unforgettable, name as Jazzmeia Horn first surfaced, you know as you do stepping up to the mic, singing a ditty or two, and winning the top prize at the world's most prestigious jazz competition, the Thelonious Monk Institute competition which happened to feature vocals that year.
Hailing from Dallas, Texas soon to be NYC bound this former student of the New School for Jazz and Contemporary Music itself in the Big Apple whose playing credits to date have included such eminence grises as Junior Mance and Ellis Marsalis landed a coveted recording contract thanks to her success. And the story since has got deeper in terms of what happened to her work in the studio. Fast forward to not even May yet when the album titled A Social Call is released let us leave the build up now to none other than Kind of Blue and Impulse label biographer Ashley Kahn, the global scene's Leonard Feather in terms of authority nowadays as many of us think of him, who has written the press release for that now imminent Concord debut actually branded and this is some honour as Prestige, because the suits have decided to revive Bob Weinstock's famed label that the firm now owns, following a trend and even more legendary OKeh's return from the tomb announced back in 2012. What next: will Bluebird fully flutter back to life again? Founded in 1949 a belated effort maybe to rival what Alfred Lion was doing at Blue Note, Miles Davis, John Coltrane, Monk, and Sonny Rollins recorded for Prestige and many recordings were engineered like Blue Note by the late Rudy Van Gelder. I, personally, revere the label for a whole load of reasons, lots of Miles and above all the 1957 album Coltrane [not the Impulse record of the same name but his actual debut] and almost alone the sumptuous version below of the Matt Dennis poignant Manhattan weather ballad 'Violets for your Furs.'
No pressure then! Kahn describes what the Betty Carteresque diva in the making has delivered as "an album that satisfyingly combines jazz of the classic, small-group variety — when singers had to step up and carry the same musical weight as any other band member — with more modern flavours of gospel and neo-soul." And he further zones in to assert: "If there is one track on A Social Call that best captures Horn's expressive range and her signature sound — the song that is most her, exposed and unadorned — it is arguably her rubato rendition of Jimmy Rowles' 'The Peacocks'."
Listen to Jazzmeia Horn sing 'The Peacocks' top in a live version