Little Dominic's preview: a heart warming version of legendary Brazilian accordionist Dominguinhos' 'Gostoso Demais' from Dianne Reeves guitarist Romero Lubambo on his sublime new Sunnyside album Sampa out on 5 May.

Gregory Porter chilling on the Horace Silver classic 'Song For My Father', taken from the former Silver drummer Louis Hayes' 26 May Blue Note album Serenade for Horace.
By complete contrast, a different kind of ritual, from the new Alice Coltrane compilation The Ecstatic Music Of Alice Coltrane that, says Uncut, "favours the ravier, jauntier side of Coltrane's ashram music."
And for sheer craft and heartfelt vocals how about 'My Beautiful Enemies' from Joel Harrison's upcoming album The Other River? Describing the project the guitarist says: "To work with language in the context of a simple song is as great a challenge as any I've faced as a composer."
And last but not least a real return to what Diana Krall does best on Turn Up the Quiet as she mines the Great American Songbook for classics to stamp her luxuriously sensuous signature on proceedings at all times.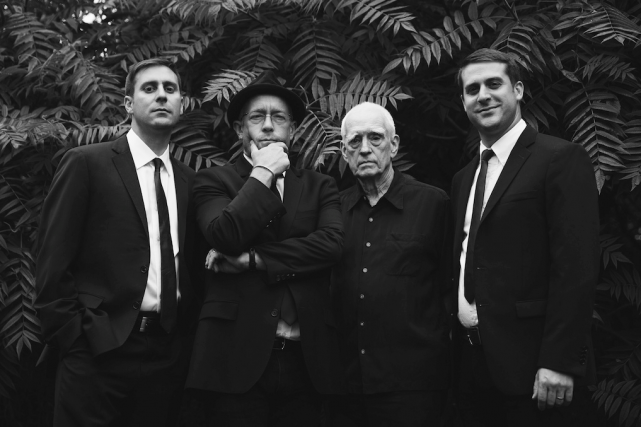 Riverside return this summer, the twist this time not a Giuffre theme but a Carla Bley one.

     Led by Dave Douglas and saxophonist Chet Doxas the band includes Bley's partner legendary bass guitarist Steve Swallow and drummer Jim Doxas brother of Chet. 

    As for the album itself The New National Anthem has three Bley compositions plus tunes by Douglas, Swallow and Doxas.

    The title track of the Greenleaf Music release refers to a composition by Bley that appeared on the 1968-released Gary Burton album, A Genuine Tong Funeral.

    "After we made the first Riverside record," Swallow, above in the band picture second from the right, says: "I brought it home to Carla and played it for her and I remember very well, her immediate response was extremely positive. And what she said, her first response to the music was, 'sounds like Ornette and Don.'

And I agreed with her. I heard that as well. I heard that Dave and Chet had a kind of uncanny sense of breathing together and of singing together. That meant a lot to Carla because she was kind of there at the beginning, before the Ornette Coleman Quartet, the classic quartet with Charlie Haden and Billy Higgins came to play for weeks on end at

the Five Spot and before the jazz community kind of erupted into dissent regarding their value.

 

It was lovely to see the gleam in Carla's eye, to see what she saw, which was that kind of spirit that had been so inspiring to her in the early 1960s was still possible

, that it was still possible to play music that evoked that same kind of response. It was lovely to have her as a kind of 'cheerleader team of one' behind us. And she was subsequently generous in providing us with songs to play and with a kind of refined focus for what it is we're doing."