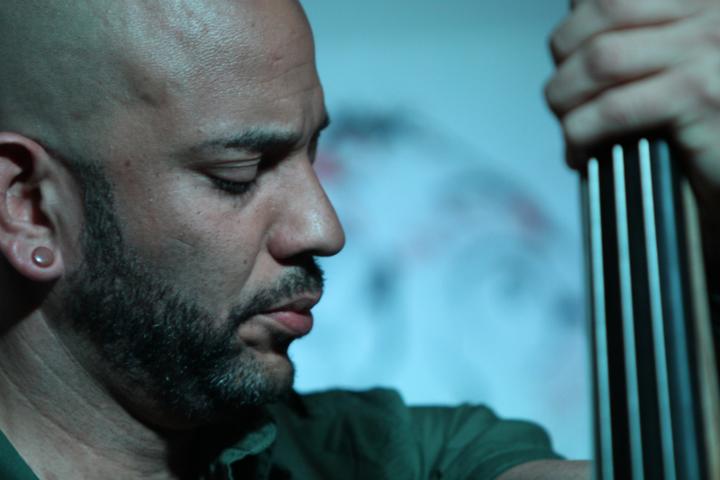 Sing Me Some Cry finds the long-time Branford Marsalis quartet bassist Eric Revis in a radically avant setting that continues his deep interest in the area. The Cleanfeed release sees Chicago reeds titan Ken Vandermark doubling tenor saxophone and clarinet, with pianist Kris Davis from Sugar Blade and drummer 

Chad Taylor

(from Chicago Underground) completing the band.
The title track, co-composed by all the band plus Dana Murray (the producer of Revis' 2009 albums Laughter's Necklace of Tears and the earlier Tales of the Stuttering Mime) is sequenced first up on this studio set which was recorded at Systems Two in Brooklyn on 3 August 2016. Revis has written several other tracks as individual composer while sole Vandermark, Davis, Taylor and Adam Rogers pieces are also included. The incoming new pianist for The Bad Plus, Orrin Evans of Tarbaby, the band who Revis has also been part of, is credited as associate producer, Revis himself overall producer.
LA-born Revis, who turns 50 at the end of May, has recorded with Kris Davis in a trio with Andrew Cyrille on their album City of Asylum which appeared in 2013, and last year saw the release of Crowded Solitudes the pair teaming with Gerald Cleaver. Expect the album in late-June. 
Avant explorations: Eric Revis, above 
This is a puzzle of the non Rubik cube variety and not what it seems at all. Turning to the album title first of all, "romantic funk"? Well, let's clear that up: this is not funk like James Brown although the hints are there, the funk will out in an earthier fashion once you get beyond the first track into 'And That Sort of Thing', taking a tiny while to delve behind the beat and really groove but not that long. It is hardly cheesily romantic either in a ballads and Broadway vein although the album successfully crowdfunded via Pledge Music possesses plenty of its own slinky atmosphere, expat Englishman in New York bassist Orlando Le Fleming following in Dave Holland's distant footsteps.
So having dealt with what it isn't, let's deal with what it is. Switching to bass guitar and delving into Jaco Pastorius-like fusion, 

Le Fleming

 had surfaced playing stand up bass with the likes of Jason Rebello before he left for the States where he picked up gigs with Jane Monheit here leads a high powered studio gathering of crack players for this fine effort, the band exploring a loose mix with the emphasis firmly on shifting from a duple to a triple metrical feel the rhythmic rocket science delivered without any sterility and injected with a lot of joy. Listen for some terrific electric guitar breaks from Kiwi ace Greg Tuohey, sizzling drumming from Ari Hoenig, and Seamus Blake proves ever reliable on gutsy tenor and also shines. Le Fleming is a formidable player who can do velvety touch or thump out an earthy beat seemingly at will and shows many good ideas that he develops and runs with. Fun and not at all slick as you can tell by watching and listening to a slice of the action, above.