Part of the Ireland 2016 centenary programme, remembering the historic events of 1916 that paved the way for independence and foundation of the Republic of Ireland, President Michael D. Higgins and his wife Sabina were in the hall. The concert was a sell out. Pianist Barry Douglas began and before too long rivers ran wide, a stirring version of 'My Lagan Love', and deep.
Douglas' fellow northerner, Enniskillen's John Kelly, who presented the show in gently gauged lightly droll fashion, filling when needed elaborating to talk about the Irishness of Dusty Springfield, Morrissey... the Beatles (Paul McCartney telling him once that all the Fab Four were Irish, and with great timing, "even Starkey") to quip having earlier referred to Douglas who opened with what Kelly said was Bach: "there you have it: Classical music was invented in Ireland!"
Truth be told I had come to hear Strabane's Paul Brady. I wasn't disappointed, actually the whole concert was amazing, the first of a number of his appearances, a song that went back to the terrible 1800s, and a great version of 'The Shamrock Shore' "let us all united be", still a hope and dream. Later when he came back accompanied marvellously by a pianist on 'Nothing But The Same Old Story' it was like having Bob Dylan in the room, a few Knopflerisms notwithstanding, a song that stands up with any of his Bobness'.
 
John Kelly left and the Imagining Ireland musicians 
The house band musically directed by Kate St. John on oboe/accordion/sax and with Callum and Neill MacColl (sons of the great Ewan) playing quite brilliantly mainly on guitars backed an extraordinary line-up.

After the hail and rain, audience members beginning to arrive, looking on to the Thames
The bereted Kevin Rowland from Dexys (on 'Carrickfergus') was like a showband crooner, that tradition as important in Irish popular music as any, the way he spoke the words like melting snow was a real moment to savour, vaudevillian Camille O'Sullivan on an Elvis Costello song, the boisterous Cait O'Riordan on a Pogues song were best of all, yet the hall responded most to the brilliant fiddler Martin Hayes and guitarist Dennis Cahill from The Gloaming, both hugely revered in the trad pantheon, hundreds of feet thundering spontaneously as the violin and guitar became Irish zen and their strict time accelerated to make your heart race. 
The concert united the diaspora effortlessly, with Martin Carthy, Andy Irvine and Paul Brady singing together (Brady picking up an under amplified tin whistle, Irvine on harmonica) who were suitably real and raucous on 'McAlpine's Fusiliers' which the crowd loved and one of the themes quite properly was that the evening was about workers' solidarity and sheer graft, rising above the pain, in exile. Andy Irvine remembered James Connolly in a historical link in his main spot, a big song beautifully performed by an instrumentalist sui generis. The falsetto of James Vincent McMorrow operated best when the singer made it over to switch from piano to guitar although he was given a little too much time but the surprise of the night was the haunting contribution of Lisa O'Neill, 'England Has My Man' early on, surely the toast of Ballyhaise, Cavan town, and now beyond the sea.
Stephen Graham
 
'Bruno Schulz, and his art, writing, paintings, drawings, were always present in my interest's circle. He was a very charismatic artist, his language and usage of Polish were amazing and exceptional. His literature is teleporting us to this lost world of small towns of the east, full of magic, beauty and poetry. New York for me is a modern Babylon or Uru, a place where culture explodes, which attracts creative people from all over the world. I love big cities, the metropolis, and somehow – a bit by accident, a bit because it is a city of jazz – New York is my second home. But still, I consider myself as nomad, a wanderer. For me, the inspiration is just life, its beauty, richness, unpredictability. How good and evli are inseparable, how surprising solutions life can bring' – Tomasz Stańko 
It just sends you. Listening to Tomasz Stańko has often been a spiritual experience. And this tops his best work once more. You just forget about everything. There is that elemental vision, a grand aestheticism grown from the wildness of the Polish avant garde and the inspiration of Komeda in what he does here that relishes simplicity, the moment, mood, time and silence. It is like looking at a painting by a great master, down to the ground or up to the sky and realising their fundamental perfection. Listening cleanses in all the fragility of breath into a brass instrument, human touch and group creativity. Give this music time and there is a filtering out of all the irrelevances and stupid distractions that detain us. This could not be further from amounting to a pretend lifestyle accessory that music somehow has been forced to become by the information age. 
Stańko's Kind of Blue. Why not? It is certainly a new high water mark in a long career of unique achievement and marks a sense of place in the titling in the enabling freedom of a tree lined public space, the haze of history, humanity, memory, freedom, that ache of trumpet, Miles deeply embedded in an interior vision, blueness, it is all there suspended in the modal air within the musical persona of the Pole. A literary theme is part of the overall concept following on from a 2013-released Szymborska-themed predecessor, the artist and writer Bruno Schulz (1892-1942), who was shot by the Gestapo during the second world war, has a ballad named for him and which appears half way through the album. The modernist Schulz short stories The Street of Crocodiles from December 1933, Kafka-like provincial miniatures of bizarre metamorphosis, also earn mention reflected in their respectfully referencing inclusion in another piece.
 

 

 
Recorded in June 2016 at the Provençal 'Saturday morning' studio in La Buissonne, Pernes les Fontaines, a familiar recording space already in earlier album Lontano for Stańko, the album produced by a huge fan of his in Manfred Eicher, who in the 1990s brought the trumpeter back to the label following a long break after Balladyna and with him has moved to the greatest sustained period of his career which began after Bluish on the Polish Power Bros label, moved through his group fired up by Tony Oxley and then the quartet with Marcin Wasilewski that achieved so much in terms of natural simplicity and on to the New York quartet. The great trumpeter composer has changed this relatively recent Quartet a bit in the bass department for December Avenue. With him here are the returning David Virelles on piano and Gerald Cleaver on drums, with Charles Lloyd bassist Reuben Rogers replacing Thomas Morgan from the Wisława band. The new bassist and Virelles are namechecked admiringly on the sixth of the 12 tracks and all four of the quartet are credited in the composing of a third of the tunes which speaks so much of band unity and empathy as these compositions match the trumpeter's own conceptions so well.
While there is a continuum in the modal concision and phrasing lit up sometimes by his latinate flourishes and bold matador breaks, the song of Stańko sings ever more deeply and rewardingly as the years go by in their evolving monastic repose. Stańko reclaims sadness and melancholy to make it somehow empowering and above all human. The beauty is in the quiet dignified reflection, the power he unleashes sometimes out of nowhere say on 'Blue Cloud' the third track where the planets best align overall. There is a collective will at work here that embraces individual vision. Everyone believes in what Stańko is playing it is pretty clear and runs with it by entering his world seemingly unwilling to leave as any listener will be, hearing December Avenue.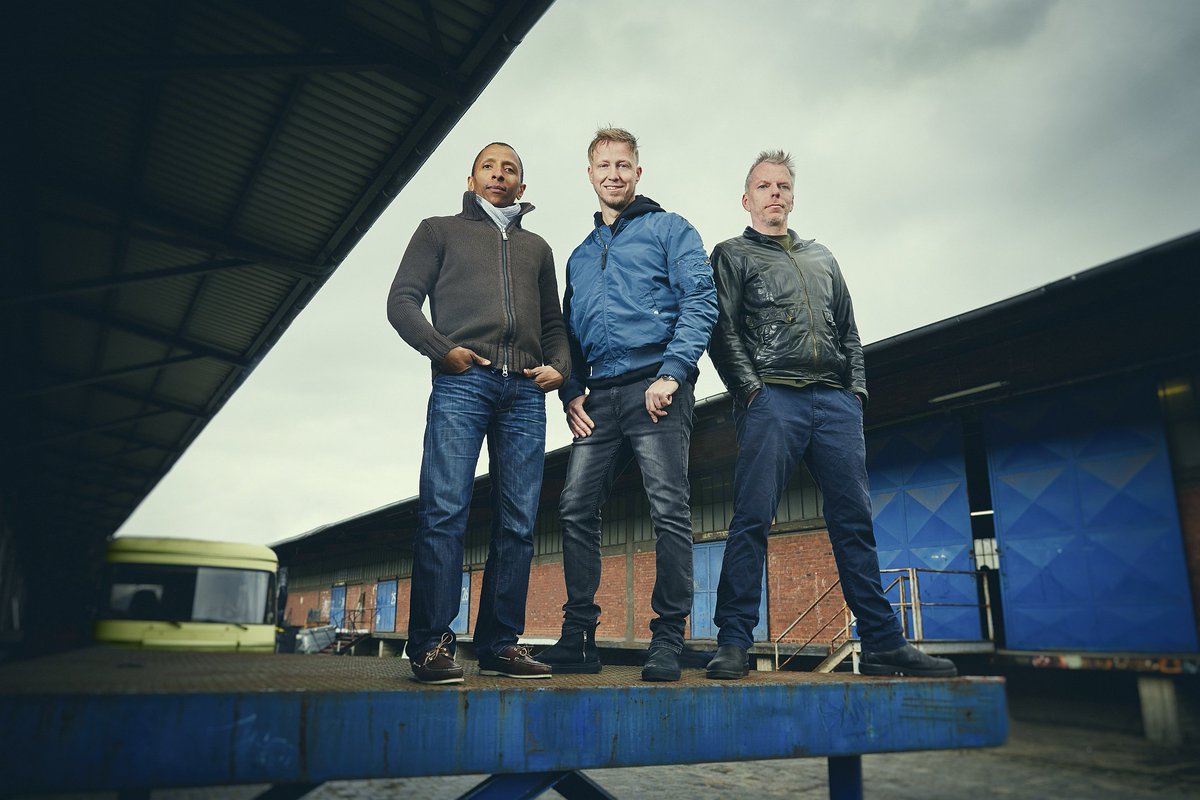 T

he Tingvalls go ever higher.

Cirklar released in the summer is the piano trio's sixth album for long term label Skip.
The Hamburg-based unit led by pianist Martin Tingvall play their own originals, and track titles indicate largely Swedish-titled material. Musically EST hover over them somehow in a vision as if beckoning the three down the long road home urging them to take that path only they know.  
'Bumerang' – "Boomerang" – has a balmy calm to it you won't want to let go, that feeling as intact and unknowing as holding a just developed photograph wet from the darkroom pegged up to peer at in the shadow of the impossibly subdued light, double bassist Omar Rodriguez Calvo is a mesmerising Palle Danielsson-calibre anchor who soars skywards at the centrepiece of the track as it spills over to ease free from all constraint.  
Trio temperament: Calvo, above left, Tingvall and Spiegel 
Loud, that is a word you rarely read in a review of a jazz record. Pleasurably loud maybe is a better way of putting it. Stop what you are doing loud, etc. Cancel all your appointments loud. I have been wigging out, sprawling about to a few of these tracks for weeks now, practically on my back with my feet in the air turning my little legs like mad as if they are wheels on a sit up and beg bike to this, and just today got to hear all of them and yes the brakes are worn away. No need to apply the stops.
The early previews did not flatter to deceive and you get the feeling that the main course is just as good as the starter and there is a dessert, no cheese. Beverages need ordering in.
Well yes to reprise: definitely a breath of fresh air from the erstwhile David Binney guitarist Adam Rogers in chunky Hendrix Experience trio mode as discussed in a post before pushed to the max alongside Fima Ephron on bass guitar (who zones in to be fair, he says it himself, on Alphonso Johnson [a little more than Noel Redding without being unfair after all no one wants to compare apples and pears]) and on drums Nate Smith, a bluesy, earthy swagger to the opening gutsy theme of a title track unfolds that sounds like an unceremonious unscrewing of all the useful parts of 'It Ain't Necessarily So' put back together again with a few extra bits soldered on to reel in the years.
Full of Rogers compositions plus an unusual choice in the woozy, intoxicating Telecasterised version of Willie Nelson's 'Crazy', the only let-up apart from on this innocently unusual circus turn of a thing is the pared back deep south tribute to Mississippi Fred McDowell, track 4, tambourine or what sounds like one and all. Wayne Krantz fans are or will be in the queue after us civilian listeners, I suppose crowding round their phones. John Scofield is there too feeling justified and appreciated I suppose as a hero to younger masters like Rogers. Frisell has got a cap on and keeping his head down smiling, ok I made that all up... but they will all want to cop an earful of this great record. Rainy day note to self: dig this out and then hear this guy and his muckers live somehow. In the mean time the record breathes its own air as well as, with that Hendrix sound a touch as a sign of an earlier time in mind, enjoying the patchouli.

The most successful jazz saxophonist in the UK you never heard of.
YolanDa Brown is a less edgy successor to Courtney Pine, her sound moving mostly away from smooth jazz and the Afrobeat she has in the past experimented with to be grounded instead in lovers rock. Essentially that means her approach is highly accessible. 
But do not hold that against Love Politics War  (***) out now on the Black Grape label, the title echoing guest Raheem DeVaughn's Love Sex Passion cheekily or not at all.
Starry international guests including Snarky Puppy's Bill Laurance, Casey Benjamin, Jon Cleary, DeVaughn, and even classical star Evelyn Glennie all contribute to make this the saxophonist's most ambitious work and is something of a statement less of hubris than poise. 
A regular very clean reggae-type and bass heavy beat limits the improvisational scope but does not banish it entirely.
And while the album comes across as melodic and accessible, and Brown knows how to interpret a ballad beautifully, it might well appeal more to UB40 fans than anyone more attuned to Sonny Rollins. 
Taken on its own merits and away from the jargon of terminology the album is perfectly pleasant and easy for a non-jazz audience to dip in and out of and for a jazz one to indulge in. 
Brown, who has won MOBOs and was awarded an honorary doctorate in 2011, has a resourceful tone that stands up to repeated listening scrutiny although she hardly needs let alone chooses to manoeuvre over complex improvising lines and instead keeps it direct via chunkily broad brushstroke motifs that she never sells shorts in the interpretation.
Pro-refugee wisdom song, a Maxi-Priest like atmosphere duly conjured, 'Prosper', with Raheem DeVaughn is the pick of the tracks, the toothsome 'Never Too Late' by contrast the least effective as it verges on the woeful cop-out that is smooth jazz although it does score in terms of sincerity. 'Prosper' working far better has a highly persuasive vocal from the US singer and walking the walk Brown displays plenty of dramatic empathy and expressive skill as she responds with bell-like tone in her intertwining lines to the uplifting 'let freedom ring' testifying of the lyrics that reflect joy and forgiveness that rises up and conquers in its spell.
YolanDa Brown, touring, plays the MAC, Birmingham this Friday night. Tickets