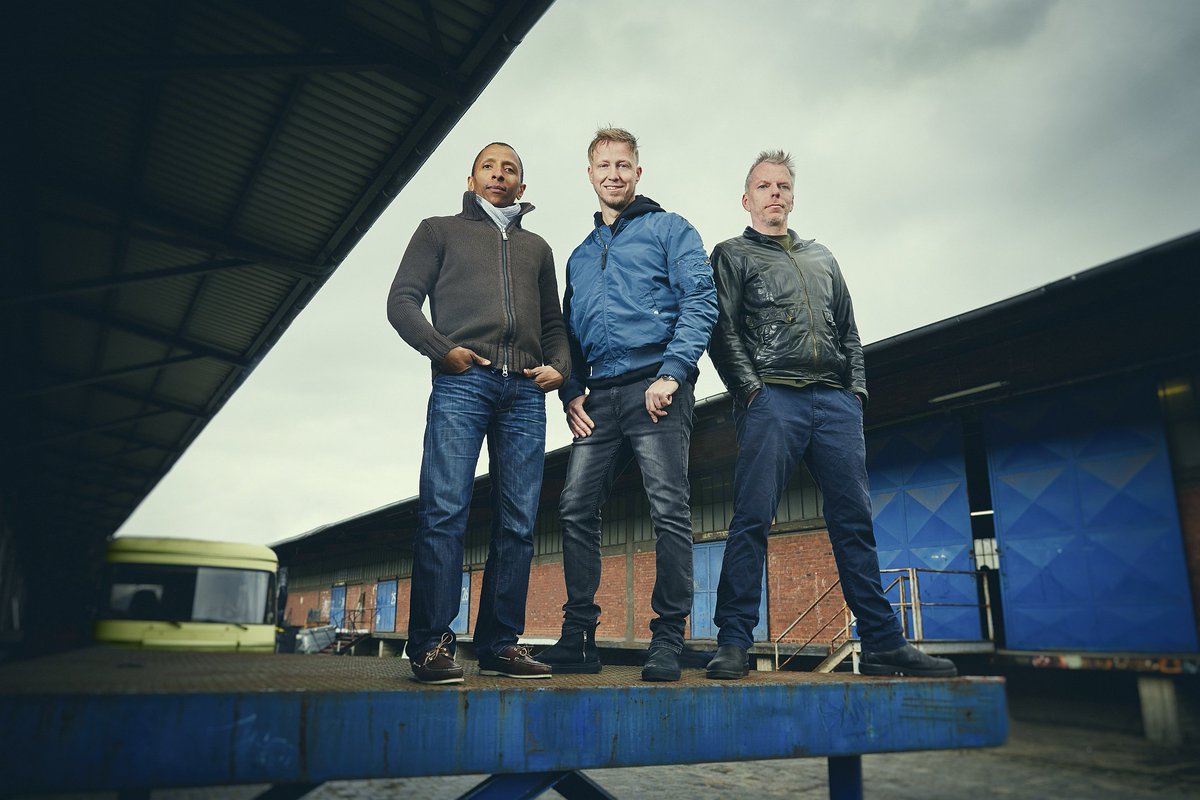 T

he Tingvalls go ever higher.

Cirklar released in the summer is the piano trio's sixth album for long term label Skip.
The Hamburg-based unit led by pianist Martin Tingvall play their own originals, and track titles indicate largely Swedish-titled material. Musically EST hover over them somehow in a vision as if beckoning the three down the long road home urging them to take that path only they know.  
'Bumerang' – "Boomerang" – has a balmy calm to it you won't want to let go, that feeling as intact and unknowing as holding a just developed photograph wet from the darkroom pegged up to peer at in the shadow of the impossibly subdued light, double bassist Omar Rodriguez Calvo is a mesmerising Palle Danielsson-calibre anchor who soars skywards at the centrepiece of the track as it spills over to ease free from all constraint.  
Trio temperament: Calvo, above left, Tingvall and Spiegel 
Christine Tobin

joins Soweto Kinch among Sligo Jazz Project festival headliners at the Hawk's Well theatre this summer, the theme for her concert shaped around the poetry of W. B. Yeats.

The New York-based singer/composer's Sailing to Byzantium in 2012 featured Tobin settings of music to Yeats. The Dubliner made judicious use on it of spoken word contributions by the great actor Gabriel Byrne, a former teacher of the singer's, and his recorded voice was a flickeringly sonorous presence. 

Ireland's national poet is nowhere more belovèd than in the hearts and minds of the citizenry of Sligo town and the county, his work celebrated every year in fond regard – "joy is wisdom/Time an endless song." 27 July: Tickets

The most successful jazz saxophonist in the UK you never heard of.
YolanDa Brown is a less edgy successor to Courtney Pine, her sound moving mostly away from smooth jazz and the Afrobeat she has in the past experimented with to be grounded instead in lovers rock. Essentially that means her approach is highly accessible. 
But do not hold that against Love Politics War  (***) out now on the Black Grape label, the title echoing guest Raheem DeVaughn's Love Sex Passion cheekily or not at all.
Starry international guests including Snarky Puppy's Bill Laurance, Casey Benjamin, Jon Cleary, DeVaughn, and even classical star Evelyn Glennie all contribute to make this the saxophonist's most ambitious work and is something of a statement less of hubris than poise. 
A regular very clean reggae-type and bass heavy beat limits the improvisational scope but does not banish it entirely.
And while the album comes across as melodic and accessible, and Brown knows how to interpret a ballad beautifully, it might well appeal more to UB40 fans than anyone more attuned to Sonny Rollins. 
Taken on its own merits and away from the jargon of terminology the album is perfectly pleasant and easy for a non-jazz audience to dip in and out of and for a jazz one to indulge in. 
Brown, who has won MOBOs and was awarded an honorary doctorate in 2011, has a resourceful tone that stands up to repeated listening scrutiny although she hardly needs let alone chooses to manoeuvre over complex improvising lines and instead keeps it direct via chunkily broad brushstroke motifs that she never sells shorts in the interpretation.
Pro-refugee wisdom song, a Maxi-Priest like atmosphere duly conjured, 'Prosper', with Raheem DeVaughn is the pick of the tracks, the toothsome 'Never Too Late' by contrast the least effective as it verges on the woeful cop-out that is smooth jazz although it does score in terms of sincerity. 'Prosper' working far better has a highly persuasive vocal from the US singer and walking the walk Brown displays plenty of dramatic empathy and expressive skill as she responds with bell-like tone in her intertwining lines to the uplifting 'let freedom ring' testifying of the lyrics that reflect joy and forgiveness that rises up and conquers in its spell.
YolanDa Brown, touring, plays the MAC, Birmingham this Friday night. Tickets
The Right To Love, a new studio album recorded and to be launched in her home town of Hastings, is on the way in late-July from singer Liane Carroll.
Produced again by James McMillan two years on from the release of the highly touching Seaside, You Don't Know What Love Is, Skylark, If You Go Away, I Get Along Without You Very Well, The Right To Love, In The Neighbourhood and Lately are among the songs selected. 
Musicians participating on the recording sessions joining Carroll included pianists Mark Edwards and Malcolm Edmonstone, guitarist Mark Jaimes, saxophonist Whalum, bassists Loz Garratt and Roger Carey and drummers Ralph Salmins and Russell Field, the recording completed in March this year.
The title track, Liane refers to in the video above of which there is a short snippet, was suggested by Chip Crawford who is the long term pianist of Gregory Porter. The melody of the title track was written by Lalo Schifrin and as 'Reflections' was debuted by Stan Getz on the Ogerman/Schifrin-arranged 1964-released Verve album of the same name. With added words written by Gene Lees drawing on the subject of inter racial marriage and more broadly forbidden love it then became what we know as 'The Right To Love,' early vocals versions of which were recorded by Peggy Lee and Tony Bennett.
With a big band and strings on home ground in Hastings Liane launches The Right to Love at St Mary in the Castle on 22 July. Tickets
Hamilton de Holanda returns on 30 June with a tribute to Milton Nascimento, 'Bituca,' who turns 75 in October.
De Holanda, still maybe not such a familiar name to you, although you may recall his choice album with Italian jazz piano star Stefano Bollani who paired with the Rio-born bandolim (10 string mandolin) player on O que será in 2013 in a selection of Piazzolla, Ernesto Nazareth, AC Jobim, Chico Buarque, and Pixinguinha gems.
Casa de Bituca is released by the flourishing once more highly revered audiophile German label, MPS. De Holanda's regular band are here on invigorating form: bassist André Vasconcelos, harmonica player Gabriel Grossi, drummer Márcio Bahia and guitarist Daniel Santiago, who you will hear on the Brasilianos (2006-11) trilogy. But that is not all as Nascimento himself appears bookending the selection of songs having laid down a few tracks with the band in a Juiz da Fora, Minas Gerais studio, while Alcione does a truly stirring version of 'Travessia' (Spotify link). 
There are worse insults than having "too generic" hurled in your direction.
For record company A&Rs, the formerly pony-tailed ones, this is a big weapon in their arsenal, however and after the sting of it, yes, you can see the point of the rebuke. Because they know if they are listening and assessing your records with a view to signing you up that you can play, they know your image is good but they want to understand and convince themselves that you have wider appeal. Of course "record company A&Rs" only formally exist as an exotic job title in big rock and pop record major labels or their carefully liveried boutique often recently revived vintage marque imprints. On a small jazz indie level they exist too, usually the person who runs the label and does everything bar the tap-dancing, although occasionally that too as well as the ability to do the necessary paperwork fandango, or farms it all out to a few trusted assistants.
If you are looking for someone to put your record out and are turned down because you are too generic in jazz, or any line of the arts if you make the leap, it means you are too jazz. That may sound absurd but isn't.
Overly generically-guilty is slightly different than falling down on playing a style too closely or better being a deliberate stylist. Being a stylist can be a good thing and a compliment to you yet it can also be like becoming a character actor and then typecast. If this is looking like it is an issue and bothers you then you need to move on from being a stylist and that usually comes in jazz after many, many years when you turn a corner artistically, shed some of your ego, learn how to live somehow like a grown-up person, lose a few bad habits, and suddenly shed your undying reverence for the original style that you have long since cherished and tried foolishly to emulate in all obsession.
With generic there is a lot of baggage. And the problem is when you exhibit the effects of this virus then no one outside your small world can really get what you are about and can only see the style trappings that restricts their perception of you as an artist. It is not quite, or at all, as traumatic as belonging to a cult. Give it time.
You may contend that an acquisition of all-pervasive genre style attributes is the case in all jazz and is inevitable and all clinging but that is not strictly right and fatalistic. It also makes genre seem more fixed than it is and there is fluidity there beyond the orthodox notions of sub-genre identification. A good example of someone who stopped being generic or maybe never ever was is Norah Jones (as likely to dabble in country or retro Babyboomer Americana as her recent return to heartland jazz) or any other artist who has crossed over... Jamie Cullum, Melody Gardot, Lizz Wright... and they are not just singers and not just pop-jazz artists but rather anyone who can connect beyond a jazz public but still retain some of the trappings of the style even when they have made all these concessions to an outside world. John Coltrane can and did connect beyond jazz and never made any concessions artistically I ought to hastily and properly point out. And neither did Ornette Coleman who means as much to avant rock and art rock fans as he does to jazz fans. Note the present tense. 
How do you become non-generic? Ah, difficult. Short answer: know the rules and break them all. Think like a listener, be an artist and not only a performer, and not only love the idea of being a jazz musician who loves to play jazz but communicate that love that bit better, no need to explain, no need to apologise, to everyone.