front page
"The first release of my large ensemble music," Alexander Hawkins says, referring to a summertime double CD that marks a decade of the magic touch pianist composer's ensemble and which is currently streaming. 
Recorded in different London studios two and a half months apart in late 2016-early 2017, compositions on Unit[e] are mainly Hawkins' plus a piece by the Revolutionary Ensemble's Jerome Cooper, and a co-write involving all members of the sextet who are violinist Dylan Bates, bassist Neil Charles, guitarist Otto Fischer, Hawkins, reedist Shabaka Hutchings and drummer Tom Skinner all familiar from Step Wide, Step Deep. The first seven tracks feature this sextet, while the last five are the more populated work Hawkins is referring to that happens to involve a 13-piece orchestra. Human's Stephen Davis is the drummer on the Unit[e] large ensemble while other personnel in the larger outfit also include Dinosaur's Laura Jurd and Hawkins' Mulatu Step Ahead bandmate James Arben. A stirringly Art Ensemble of Chicago-like sound adventure where tonalities shift and shudder, rhythms rattle and hum, the double album is released in July on Hawkins' own label. Before then in a pipeline of releases Hawkins appears on Roberto Ottaviano's Sideralis, and on Human's highly stimulating Fractured Lands. 
Passing away yesterday at the age of 84, Mickey Roker, the Miami-born drummer who developed on the scene in Philadelphia and who won the admiration of Dizzy Gillespie, will be remembered most besides his work with Diz, Gigi Gryce and Ray Bryant for his participation on a number of classic albums that include Herbie Hancock's Speak Like a Child and San Francisco by Bobby Hutcherson. Obituary: at WBGO.
As a huge fan of Ian Dury the headline hommage is self-explanatory. Nary a jazz connection, however you might think but you would be wrong especially if you know the Blockheads' recent output and quite sensibly like Davey Payne and Gilad. Anyway to digress does genre affiliation matter? 
More seriously there has been a drought on the new release front at least going on all the unreviewable new albums I have been listening to over the weekend thankfully now over and in full spate again with Magnetic, a RareNoise assemblage/remix/reworking/meeting of minds call it what you will, by little known London maverick producer Gaudi.
Described more officially as "a contemporary tribute to the darker side of the 80s; to psychedelic rock and an era when Sigue Sigue Sputnik dropped proto-punk on the world" don't let that put you off at all but rather rope you in.
Released on 16 June. There is a Borderline gig that night too dovetailing in a rare feat of label multi-tasking. RareNoise is riding high at the moment because label in-house genius Jamie Saft and a few blokes he knows have teamed up with Iggy Pop and against the odds it doesn't suck.
Award winning singer-trumpeter Bria Skonberg has a fine voice and plays the trumpet with a pure toned virtuosic skill. She sounds like a big jazz star in the making and to an extent already is becoming one back home in Canada.
The material is another matter entirely. Leonard Cohen's 'Dance Me To The End of Love' and Björk's 'It's Oh So Quiet' are overly familiar as are the cocktail jazz classic choices with the exception of the interesting Valaida Snow selection similarly, it isn't all X Factor-like fodder by any means although even an Ed Sheeran cover makes the cut.
With a Twist is certainly highly accessible, undemanding, fun in places, supper club-friendly and resolutely middle of the road. The handsome sound is a plus, Gil Goldstein has done most of the skilled arrangements, Skonberg anchored by the perky rhythm section of Sullivan Fortner on piano, Scott Colley, bass, and Matt Wilson on drums.
If you want classic retro jazz vocals with quite a bit more meaning this is the wrong album for you so I'd suggest Skonberg's fellow Canadian Diana Krall's superb new album Turn Up The Quiet instead. Stick with Skonberg if you want something even more old fashioned.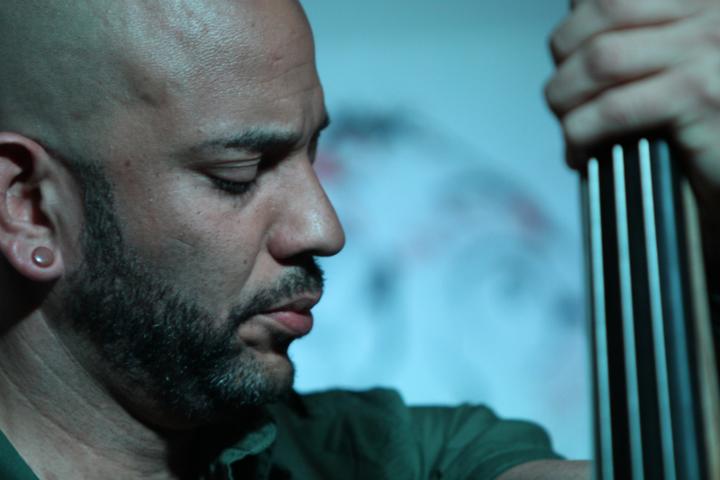 Sing Me Some Cry finds the long-time Branford Marsalis quartet bassist Eric Revis in a radically avant setting that continues his deep interest in the area. The Cleanfeed release sees Chicago reeds titan Ken Vandermark doubling tenor saxophone and clarinet, with pianist Kris Davis from Sugar Blade and drummer 

Chad Taylor

(from Chicago Underground) completing the band.
The title track, co-composed by all the band plus Dana Murray (the producer of Revis' 2009 albums Laughter's Necklace of Tears and the earlier Tales of the Stuttering Mime) is sequenced first up on this studio set which was recorded at Systems Two in Brooklyn on 3 August 2016. Revis has written several other tracks as individual composer while sole Vandermark, Davis, Taylor and Adam Rogers pieces are also included. The incoming new pianist for The Bad Plus, Orrin Evans of Tarbaby, the band who Revis has also been part of, is credited as associate producer, Revis himself overall producer.
LA-born Revis, who turns 50 at the end of May, has recorded with Kris Davis in a trio with Andrew Cyrille on their album City of Asylum which appeared in 2013, and last year saw the release of Crowded Solitudes the pair teaming with Gerald Cleaver. Expect the album in late-June. 
Avant explorations: Eric Revis, above