We're looking forward immensely to a great confluence of the balladry of Irish traditional music, American jazz, Seeger-like folk and the broader improvising lens of a peerless drum and piano pairing on Freight Train (Village Life) due in the new year the work of drummer Paul Clarvis, pianist Liam Noble and the great Dervish singer Cathy Jordan, who will also be touring extensively with dates to begin with in Birmingham, London and Manchester.
Full of a good sprinkling of Mose Allison songs including 'I Don't Worry About a Thing' - the cult pianist and singer who Paul Clarvis played with for many years - the pick early listens certainly suggest is Cathy Jordan's stirring version of the Dick Farrelly ballad 'Isle of Innisfree'. Check the podcast for a tiny peek.
A very sentimental much loved song we turn to Josef Locke's version first even before Bing Crosby and even to the great Philomena Begley's countryfied Red is the Rose take. What Jordan, Noble and Clarvis do is completely different with an airiness and openness that counts recontextualising the song in an original way of their own.
But the main interest on the album for the jazzer listener base who don't dip their toes in Irish trad waters so habitually is the vital presence of Cathy Jordan and first of all we go to Harmony Hill, the classic 1990s Dervish album - especially rousing 'The Fair Maid', and also think more recently to debuting folk duo Laytha (aka cousins Niamh and Philana) because Niamh Carney's voice sounds a little like Cathy's in the blend. We were blown away hearing Cathy in the Velvet Room in Sligo town back in 2014 during a Kieran Quinn Bacharach-themed night.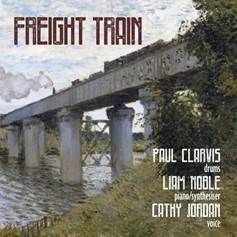 More reading and a few links:
Cathy Jordan, top. Freight Train album cover, above. Photo cathyjordan.ie
Tags: NEW