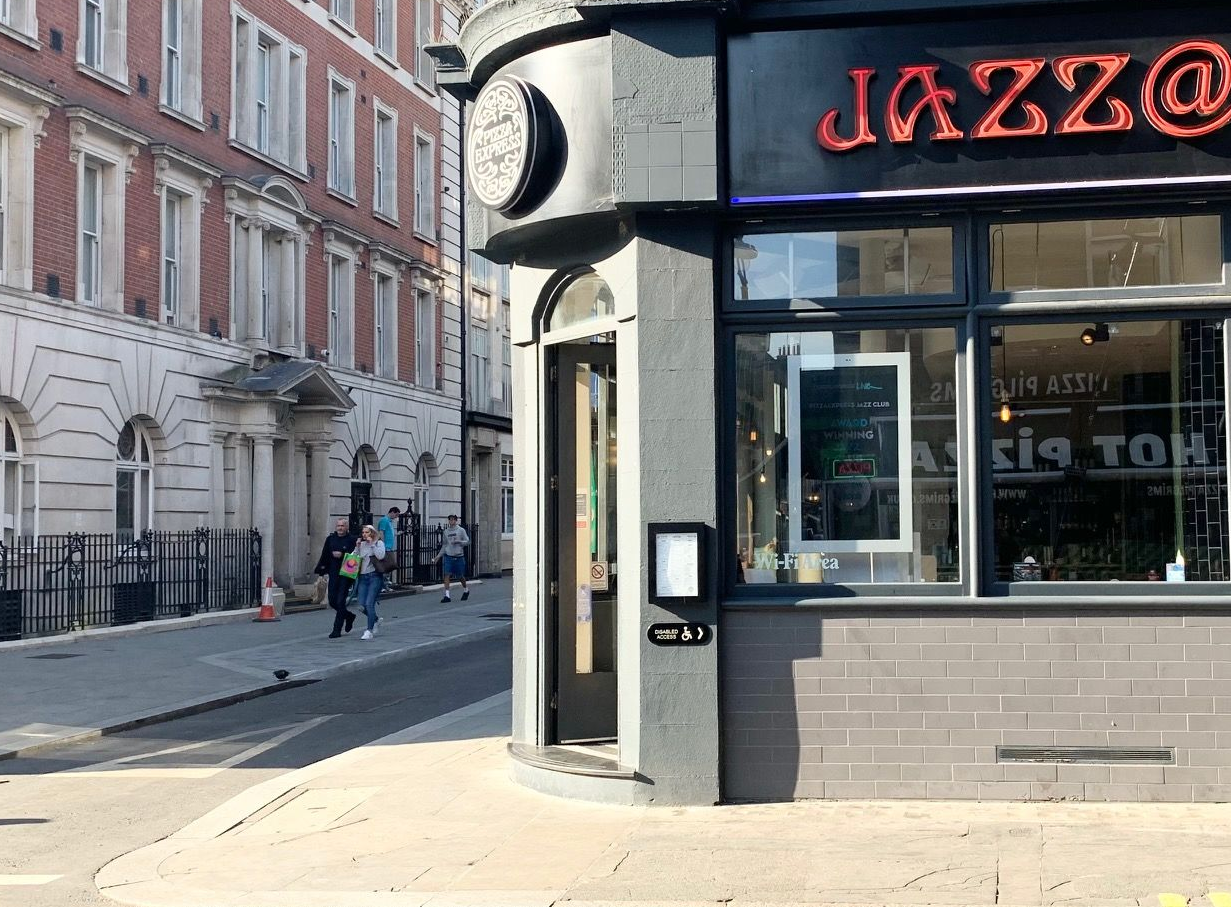 The streetside entrance, above - photo: marlbank
Guy Barker ('Underdogs,' The Talented Mr Ripley, Colin Towns Mask Orchestra, Into the Blue, Billy Cobham, Georgie Fame and the New Blue Flames, Van Morrison) re-opens Soho's top jazz basement Pizza Express Jazz Club this weekend after £500k was spent on the venue by its owners in a huge vote of confidence in the spot especially considering that it is not so long since the chain closed its first ever restaurant in Wardour Street.
Guy plays Dean Street this Sunday night with the great singer Ian Shaw - without a shadow of a doubt the greatest living male UK jazz singer and long since in his prime, ascending the tower of song whether charted by Gilbert O'Sullivan, Mark Murphy and Joni Mitchell liminally almost blue.
Muddy Waters' son, the acclaimed bluesman Mud Morganfield, debuts at the Pizza on 14 July while highlights coming up also include elegant straightahead pianist Christian Sands a brother from another mother - like family given their musical empathy - to double bass icon Christian McBride down the years.
Also soon are the Darius Brubeck tenor titan Dave O'Higgins and Parlie newcomer of the year Emma Rawicz in the date sheet represents another shrewd ear-to-the-word-on-the-street booking.
Located at 10 Dean Street, just yards from the new Elizabeth Line and across the road from the offices of Private Eye found on nearby Carlisle Street, the original smaller spot opened in May 1976 and for years now (following among other managers in the footsteps of inspired Soholian Peter Wallis) Dines-dances - to riff on the Walter Becker and Donald Fagen masterpiece 'Aja' - operating under the music management imprimatur of popular in-house impresario, the charmingly bestubbled Ross Dines. Guy Barker, top, photo from the sleeve of his classic 1990s era recording, Into the Blue.
Tags: