At White City House in Wood Lane, part of what used to be called ''the doughnut'', BBC Television Centre, the EFG London Jazz Festival launched last night. After a video aired online during the launch that featured festival artists and a short introductory speech by festival director Pelin Opcin in conversation with host Fusion joking about the need to be a ''jazz athlete'' to make as many gigs as possible, new band All Day Breakfast Cafe performed.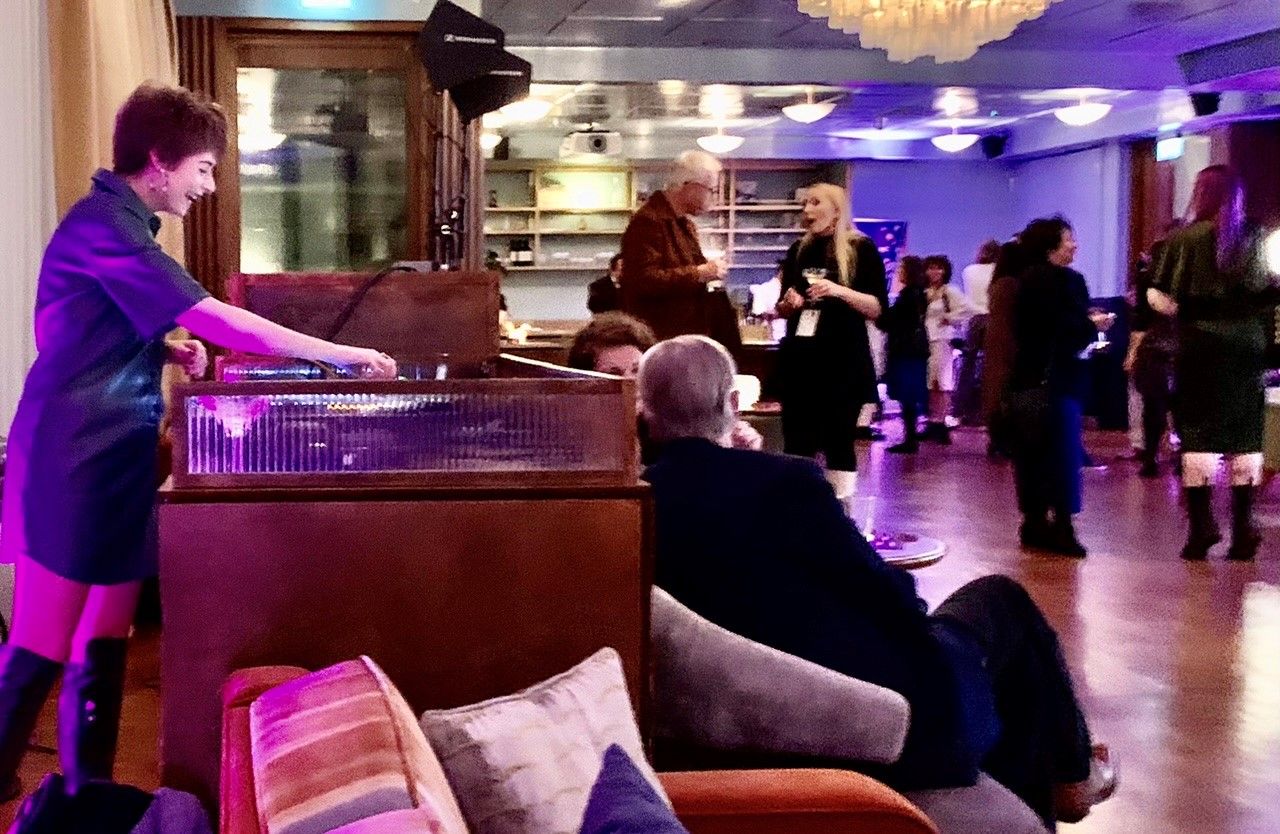 The DJ for the night was Tina Edwards, above
Attendees included Jazzwise writers Jane Cornwell, Peter Quinn and Selwyn Harris, Django Bates manager Jeremy Farnell, Martin Hummel of the Ubuntu record label, Chris Philips head of content for the Jazzed app, Ross Dines from the Pizza Express Jazz Club, Paul Pace from Ronnie Scott's, David Jones of Serious, looking forward to Yo La Tengo who appear at the LJF at the Royal Festival Hall on 19 November, and among many artists saxophonist Soweto Kinch and poet Anthony Joseph. Soweto is unveiling 'White Juju' with the London Symphony Orchestra conducted by Lee Reynolds at the Barbican also on the 19th.
Fusion, above left, interviews LJF director Pelin Opcin
The 7-piece all female disco and funk-influenced All Day Breakfast Cafe have a new EP out called Builder's Brew, which includes a cover of The Darkness classic 'I Believe in a Thing Called Love', and performed material from the release during their set. The band line-up on the EP is Loucin Moskofian, vocals; bass guitarist Amy Gadiaga; Jelly Cleaver, guitar; Kasia Konstance, flute; Beth Hopkins, saxophone; Lettie Leyland, trumpet; and Tash Keary, drums.
All Day Breakfast Cafe play the London Jazz Festival on 20 November in the South Bank Centre's Clore Ballroom.
Tags: