It's been a while since we last checked out the Wednesday night hard bop session upstairs at Ronnie's led these past 15 years by the trumpeter and flugel player Andy Davies. What was striking last night on the latest running was how packed the place was, a lot of the assembled punters, mainly by the look of a good many of the casual throng chilling, aged in their twenties and thirties, and stood lolling in front of where the quartet were playing. Standing always adds to the sense of feverish atmosphere especially when the gig goers can get very close to the band. We stayed for the first set - the jam was to follow after the break - reluctantly heading back into the chill of the night.
A quartet on this occasion Rick Simpson on the upright piano it is fair to say stole the show, his big technique marauding over the 88 keys as playfully as if they were the dinkiest of dinky toys. We've been a fan of Daniel Casimir's for years having first heard the bassist on our home turf in a small bar in Northern Ireland and more recently with Camilla George's band a year and a half ago (on that occasion playing bass guitar) in Camden Town. But here he was in classic hard bop guise on the double bass, very fast when he walked the swinging lines that are stitched into the fabric of the hard bop repertoire and so in tandem with Simpson made a very propulsive team.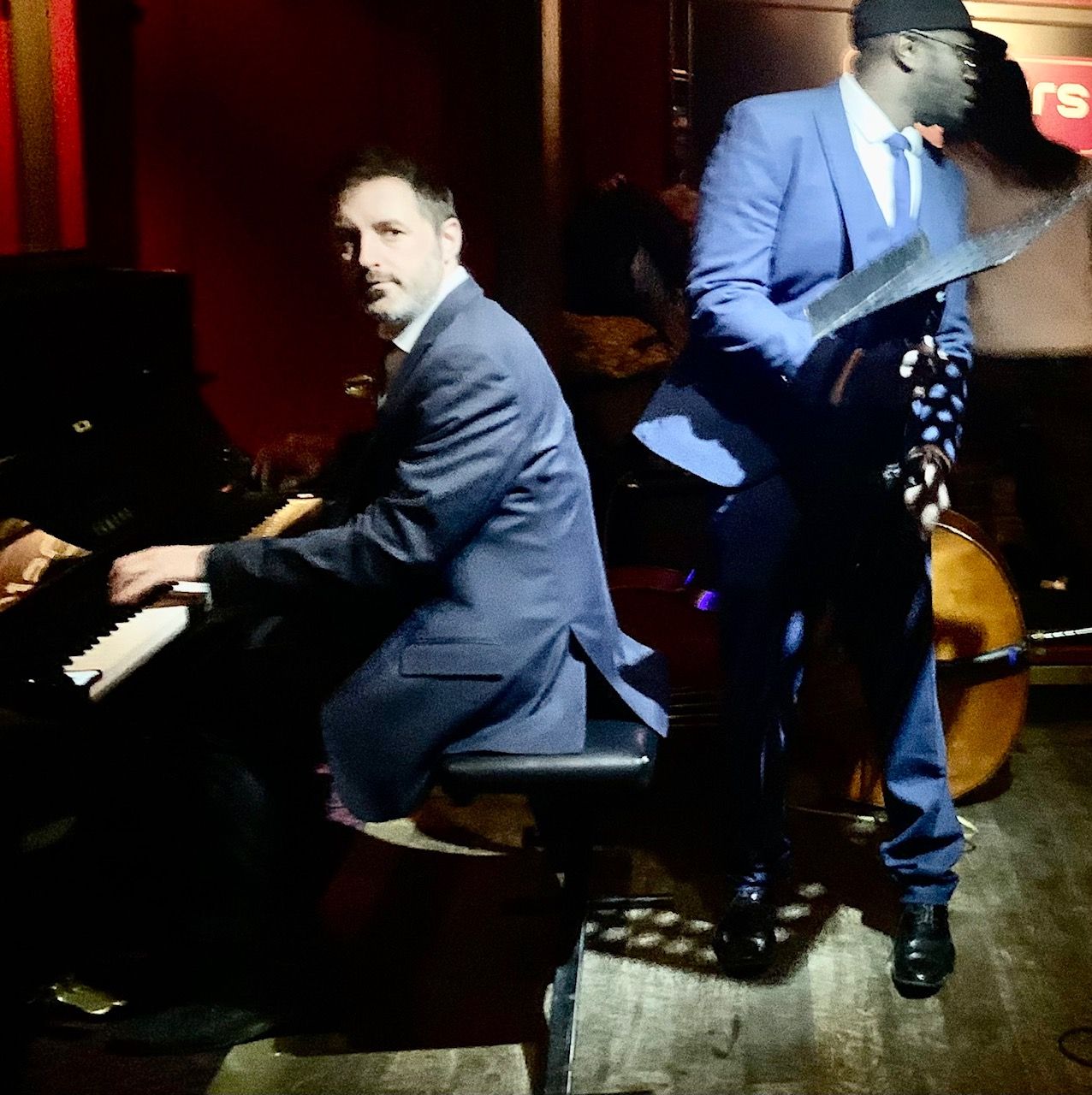 Rick Simpson and Daniel Casimir upstairs at Ronnie's last night
The waistcoat and bow tie-wearing Welsh wiz Davies removed his cap to cover his flugel that was resting on the floor when not in use. Later the bow tie was loosened a tad rakishly
Tunes included 'Broadway', 'Blue Monk', Lee Morgan's ever popular 'The Sidewinder' preferred instead of 'The Jody Grind' the Horace Silver standard callously rejected after a brief confab between Davies and Simpson. 'Body and Soul' the highlight of the evening certainly in terms of Davies' interpretative facility and 'Tangerine' the old Johnny Mercer and Victor Schertzinger number from the 1940s that Chet Baker did a delicious version of on his 1974 album She Was Too Good To Me. Davies has chops every bit as compelling in his heyday as Chet's and can do tender as well as blistering. Saleem Raman on drums was as tidy as ever and again like Casimir and Simpson was able to negotiate ridiculously up-tempo passages to the manner born. So there you have it - a jewel of a night in the crown of the London jazz scene continues to beckon and gleam.
Tags: