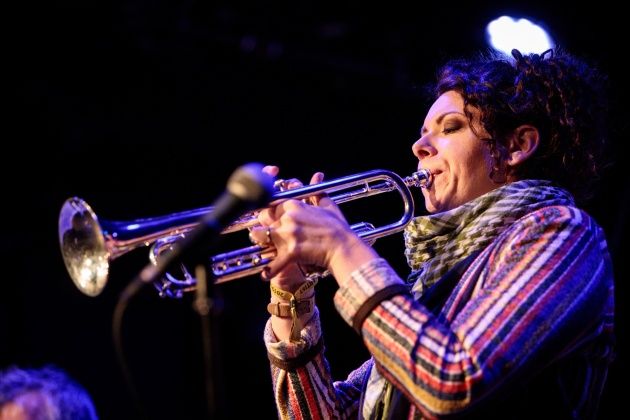 Part of the point of marlbank is to introduce you to sounds that you won't know about otherwise at this point in time. Take trumpeter Steph Richards and pianist Joshua White's Zephyr which is to be released on US jazz-indie Relative Pitch in the autumn.
Neither Richards nor White for that matter are that well known and yet Richards certainly has kept stellar company recording with the likes of Jason Moran and Kenny Wollesen (on Supersense last year). White debuted in 2017 with 13 Short Stories on the Fresh Sound New Talent label.
There is nothing to share so far from Zephyr. However, the video above gives an idea of some of the style of their collaboration. Drilling down a bit more in terms of making connections with other approaches this comparison maybe connects with you if you know the work of Tom Arthurs because Richards like Arthurs has a very strong classical technique harnessed in the direction of improvisation.
I'm thinking 2012 Babel release Postcards to Pushkin. Listen if unfamiliar. There is like Arthurs' work with pianist Richard Fairhurst a precise, tonally pure, and quite arresting avant-garde quality to their aura. In combination with White (like Craig Taborn or Kris Davis) it's very stirring. Recorded when Richards was more than six months pregnant, the first track found the trumpeter unusually playing in water and the track 'Anza,' is named for her daughter whose breathing on the track can even be heard. Look for this superb album in mid-October. Steph Richards photo: Walter Wlodarcyzk
Tags: