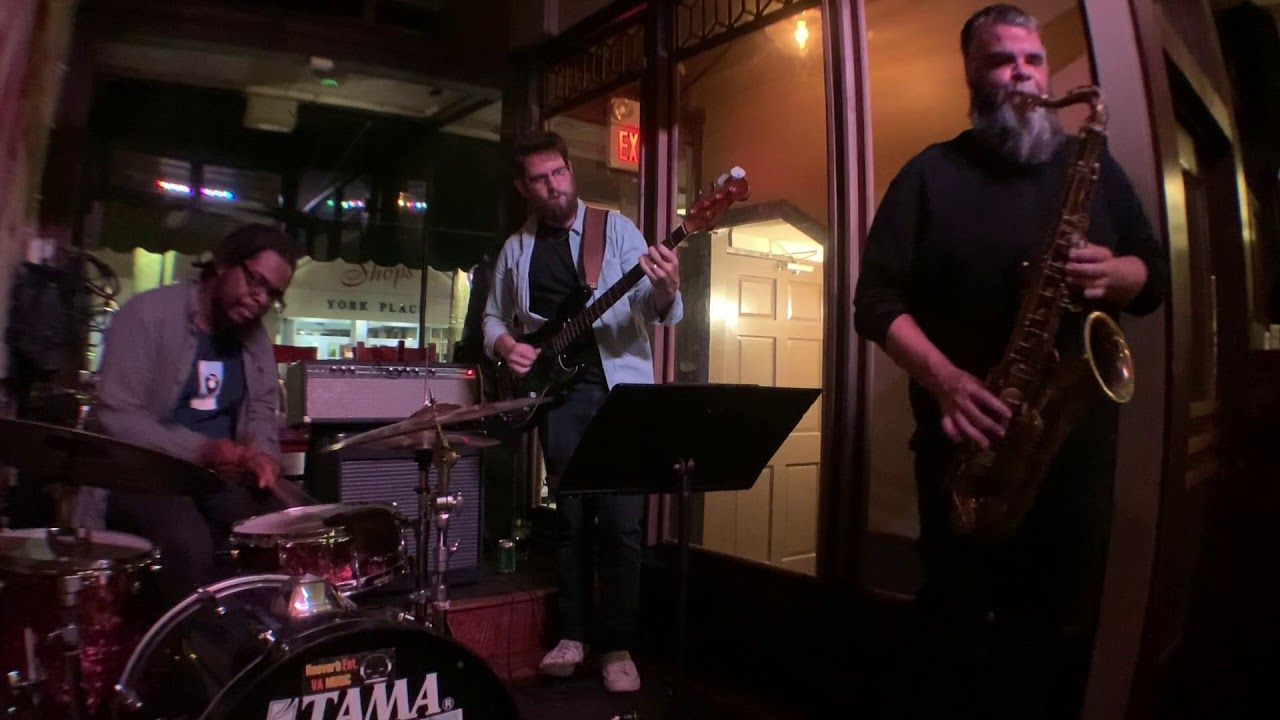 You can't fake groove. It's a full listen this morning to 10 Years. We have been waiting for this for ages. So the listening story began in March hearing 'Cameron the Wise' the opener. Groove right from the off doesn't come like this very often. Gutsy tenor saxophonist Charles Owens along with Butcher Brown bass guitarist Andrew Randazzo and drummer Devonne Harris aka DJ Harrison also from Butcher Brown are the players.
'Caught up in the Rapture' is melodic, a big heart on sleeve tune again. Randazzo is alert and the way he and Harris gel is sheer chemistry. Again to go back to the impossibility of faking groove how this piece started off, an additional point: You can't manufacture it either. It's there or it isn't beyond logic and it's certainly here. The difficulty is to offer variety. On 'Angelica' a track I haven't heard until today there is more complexity and yet the raw materials are very straightforward. Harris takes a solo to begin and then it's groove again.
The interesting thing about the superb cover of John Coltrane's 'Central Park West' is how unColtrane-like Owens is without him being at all obtuse. The production has a miasmic cloud surrounding it, almost a shroud-like quality, a guide note from the bass guitar gives a sense of occasion to it as the interpretation progresses and starts to be engrossing. It takes some two minutes in this arrangement for the main theme to emerge.
The Coltrane cover is quite moving as it turns out. With no piano part to lean on Owens has to shape his sound to the bass and beyond to the essential vibrations of the rhythmic resource and pulse. The band do optimism well and the perky 'I Saw the Light' is a good example.
Metrically they know how to have fun and do so on Jimi Hendrix's 'If 6 was 9' which is outrageously satisfying at the beginning. Herbie's 'Tell Me a Bedtime Story' is a leap into another area and a surprise. I'm not sure if it quite works in context if you are listening start to finish. Probably just listen to it in another order. Perhaps it should have been placed at another point in the sequence. Not a big issue, however. 'Continuum' is a bass feature in the way it begins. There's some fine production work in the way the bass sounds and lovely harmonic interplay in the figure that develops, Randazzo has a very communicative sound that's big on warmth and very nimble.
'Misty Mountain Hop' is more of a power track and drives from the off Owens doing what he does best, even on the verge of wailing. At the end the trio deliver 'The Rainbow Connection,' the Paul Williams and Kenneth Ascher song synonymous with Kermit the Frog and a great way to end. (That's a sentence I didn't think I was ever going to write.) A sentimental and lovable way to bow out, these three don't go as far as ribbit but they are certainly just the ticket. SG
Tags: