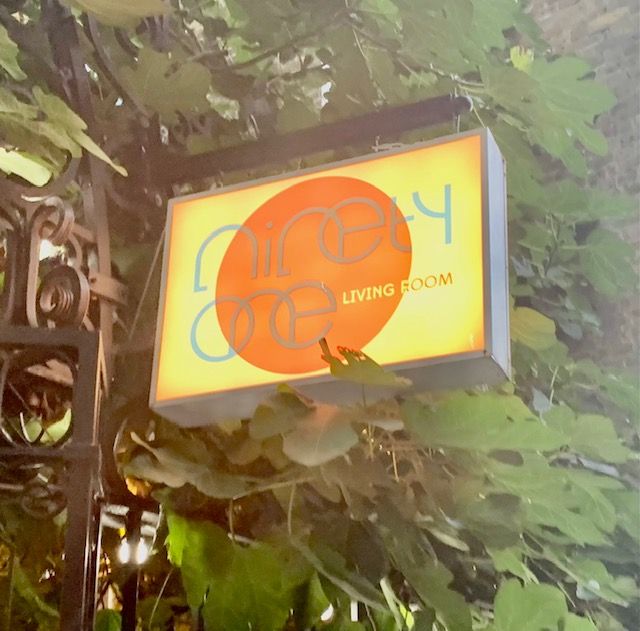 In a new marlbank series to focus regularly on clubs particularly new ones visited for the first time we begin with Brick Lane spot Ninety One Living Room.
We visited the east London venue for the first time back in September to hear Mark Kavuma and the Big Beat. It is one of our gigs of the year and a venue certainly comfortable and vibrant that we will be heading back to as soon as possible. Place is significant as a factor to overall enjoyment as proved that night. First impressions walking down Brick Lane on that fairly warm evening having got there alighting at the Shoreditch High Street railway station and then walking the short distance towards Brick Lane were how relaxed the scene was.
A lot of this restaurant-bar venue's patrons, a young, friendly, crowd, were outside in the yard area to begin with and venturing inside to the main space we found it to be fairly spacious, the bandstand to the left as you walk in. You didn't feel any sense of claustrophobia and there was no rubber necking, you know when people just stare as if a UFO has just landed. None of that. We watched as the sound engineer set up microphones and the band members that evening started to dribble in. It's not expensive, I think it was £10 in that night, and if you want to get a drink from the bar they give you a wristband as things get busier and again you don't need to take out a second mortagage to buy a Coke.
Some people dine, others sip cocktails, the tables are laid out how you imagine a classic jazz club to be and sightlines are decent. The club sound was fine although the upright piano amplification was a bit murky but improved in the second set. What's on coming up? Mark Kavuma, who you gotta see here, is back tomorrow. Then it's newcomer bassist Kielan Sheard and his trio on Friday, the great singer Cherise probably the finest female jazz singer of her generation around on the London scene at the moment on Saturday; Tenor Madness featuring the very much on form Mussinghi ''Songbird'' Brian Edwards on Sunday and then Ruben Fox on Wednesday for starters. Fox album Introducing Ruben Fox released earlier in 2021 is cleverly sequenced so that instrumentals and vocals have parity and there is even a little classical in the selections filtered by Fox's hand snuck in among the retro-jazz stylings.
Check out the club and the complete list of what's coming up
Sign to head for the jazz, outside Ninety One Living Room on Brick Lane, east London, top. Photo: marlbank
Tags: Club and venue focus