Emma Rawicz, Claire Martin and Dave Koz are the artists choosing their classic albums in the upcoming new season at the Hampstead Jazz Club. The evenings involve panel discussions and live performance in front of an audience for future broadcast on Jazz FM.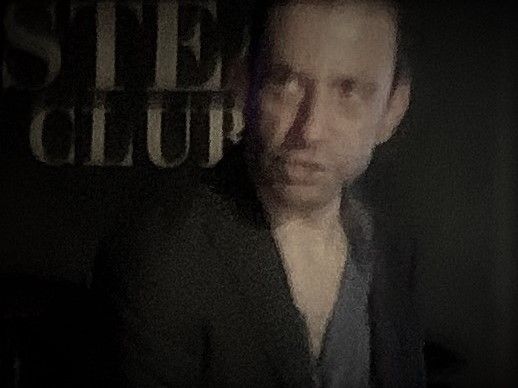 A publicist for David Bowie and veteran of the sadly much decimated UK music press broadcaster Jonathan Wingate, above in the bowels of the wonderfully atmospheric club, chairs the panel discussion at the upcoming Jazz FM classic albums gigs. Photo: marlbank
Talk of the jazz parish revelatory saxophonist Rawicz chooses the Nesuhi Ertegun produced John Coltrane album Coltrane's Sound (Atlantic, 1964) in the first of the Mike Vitti produced presentations on 13 September to be hosted by Magic Radio's Emma B with once again regular Dotun Adebeyo Show BBC 5 Live broadcaster ace banterer Jonathan Wingate in the chair alongside the artists and guest hacks who join the panel as the flâneurs proceed to discuss the records live in front of an audience in restaurateur Mayank Patel's Duke of Hamilton pub basement boîte.
Rawicz, like Martin a winner at the Parlies this year, will be performing with the Acoustic Ladyland and Curios pianist jazz-rocker Tom Cawley, bassist Oli Hayhurst and the cult Spin Marvel and Krononaut drummer Martin France.
The great singer Claire Martin chooses Shirley Horn's Here's To Life (Verve, 1992) in the series planned for 20 September - Horn, a huge influence on Claire, and one of the very few singers Miles Davis rated and collaborated with. Claire will be performing accompanied by much streamed pianist Rob Barron.
If the Rawicz selection is the hors d'oeuvre and the Horn the main course the cheese board is provided by Mariah Carey-of-the-yule saxist Dave Koz who hot foots it to New End to discuss the art of the ditty in an evening hosted by the great singer Ian Shaw. Koz doesn't take himself too seriously and appeared in a very amusing cameo worth perusing guesting with runaway ragtime poppets Postmodern Jukebox on a rollicking version of the pride of Bushey George Michael's 'Careless Whisper'. Wonderful Jo Harrop, one of last year's biggest vocals success stories returning after The Tony Bennett Bill Evans Album triumph with Alex Webb at last year's Classic Album appearance, joins Koz on the night for a live performance - the gig is on 30 September.
See the Hampstead jazz club site for tickets to the recordings
Claire Martin, top. Photo: press