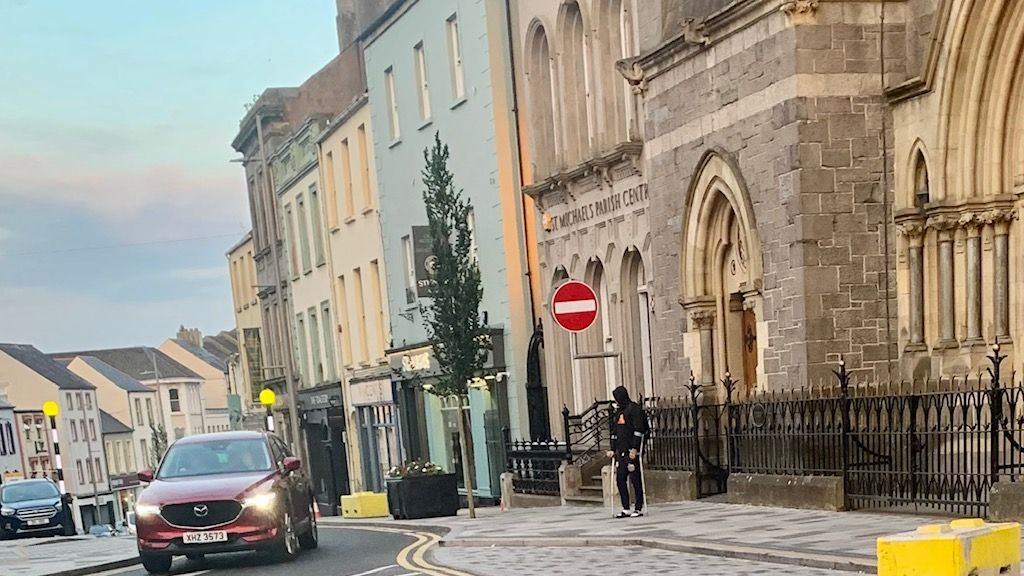 At the launch pictured top main photo including Mary Heaney, festival board member (first left), festival manager Sally Rees (second left) the great novelist and board member Carlo Gébler (third left) curator Liam Browne (fifth left, at the rear) of DoranBrowne the artistic directors of Arts Over Borders, Cllr Barry McElduff (front centre), Seán Doran of DoranBrowne, Happy Days festival director (front, second from the right) and Christopher Brooke (front, first right) chair of Tourism Ireland. Photo above - the view with St Michael's church on the right moving down into the Hollow
Launched last night in the Atrium of Blake's with speeches by festival manager Sally Rees, the great novelist Carlo Gébler, Cllr Barry McElduff current chair of Fermanagh and Omagh District Council and Christopher Brooke of Tourism Ireland who were after a three year hiatus ''down in the hollow/Playin' a new game/Laughin' and a-runnin', hey, hey/Skippin' and a-jumpin' down into the Hollow (riffing on 1967's 'Brown Eyed Girl') for the Happy Days launch yes in another Hollow, on Enniskillen's Church Street - where the cultural heart of the festival running for 10 years is found.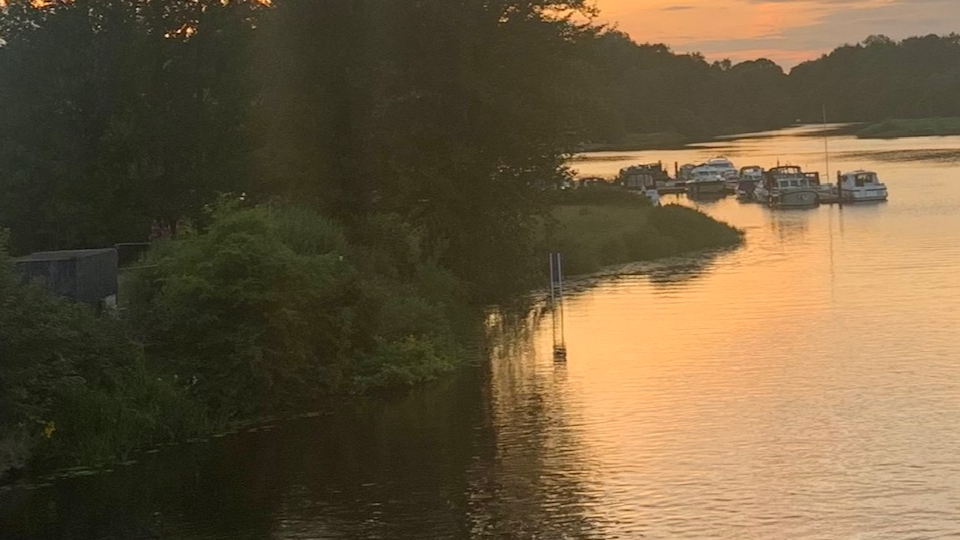 ''… but the clouds of the sky… when the horizon fades… or a bird's sleepy cry… among the deepening shades…'' (Samuel Beckett) - photo, view from the west bridge towards where Beckett swam in the Narrows
Later in the evening, the second night of the festival, the famed County Durham-born mezzo soprano Dame Sarah Connolly sang lieder very beautifully during the Schubertiade at the nearby St Macartin's Cathedral in her first Happy Days visit. Schubert was Beckett's favourite composer.
Accompanied by the distinguished pianist Julius Drake the programme included work by Robert Schumann, Franz Schubert, Claude Debussy - including a piece that Beckett himself played on the piano - Samuel Barber settings of James Joyce, Mark Anthony Turnage, a Benjamin Britten setting of Thomas Moore, Herbert Howells and John Ireland, suitably Arcadian the choice, given that an Ireland setting of Sir Philip Sidney's 'My True Love Hath My Heart' was also in the programme.
Superlatives really are inadequate. Connolly was superb throughout and most moving on the Turnage piece 'Sleep Now' and a nuanced, contemplative, 'Ave Maria.'
Happy Days continues with the acclaimed Conradian actor Toby Jones (The Secret Agent, Detectorists), himself present among the guests in the Atrium, to read from text including this classic passage from Waiting For Godot: ''One day, is that not enough for you, one day he went dumb, one day I went blind, one day we'll go deaf, one day we were born and one day we shall die, the same day, the same second, is that not enough for you? They give birth astride a grave, the light gleams an instant, then it's night once more.''
The reading is in the Breandrum graveyard chapel, Enniskillen, at 4pm
Photos: marlbank
Tags: