Led off perkily by the tremendously jaunty grooving title track on Seriana Promethea sax titan David Murray who also plays bass clarinet on the album (as here) is joined by Brad Jones on double bass and Hamid Drake on drums on a Hard Studio recording made last autumn in a city called Winterthur in Switzerland, a quick train ride from Zurich and featuring a range of Murray compositions. I love the arco bass from Brad Jones on 'Metouka Sheli' (Ballad for Adrienne)' and Murray's solo that follows. 'Rainbows for Julia' finds Murray in a Shabaka Hutchings-like space at the beginning. I'm proud that I once introduced Murray to the Sons of Kemet leader at a party in King's Cross years ago, I don't think that they had met before. Murray told me in one of several conversations we have had over the years, a first meeting during a magazine photo session in the Marble Arch end of Hyde Park circa later promo for Jazzosaurus Rex (1993) when he was on Bob Thiele's Red Baron label that he has dug the Birmingham scene (where Shabaka emerged from some 15 years ago) for instance knowing Andy Hamilton (1918-2012) of Silvershine renown with whom Murray played on the title track of the Jamaican-Briton's 1991 World Circuit album.
Murray is extremely communicative which is one of the reasons he is a great. What I mean by that is he leaps the line however abstract to mean something to the listener and is a fine writer and this album underlines that again. Guys can play notes perfectly, and note Murray has a fabulous technique and must use very hard reeds given the width and depth of his timbral resource, and never mean anything. But when he plays standards (none here just his own future ones) he sounds quite like Ben Webster (1909-1973) but just as easily doesn't if he doesn't want or need to.
For example when he was in a Websterian frame of mind the last time I heard him which was 2019 playing with trombonist's Paul Zauner's friendly band at Hackney club the Vortex, 'In a Sentimental Mood' in all its emotional grandeur and the passionate 'Afro Blue' towards the latter part of the set made me think of Ben on records and wished that I could time travel to the recording session of say Coleman Hawkins Encounters Ben Webster aka Blue Saxophones. Different idiom, same eternal spirit.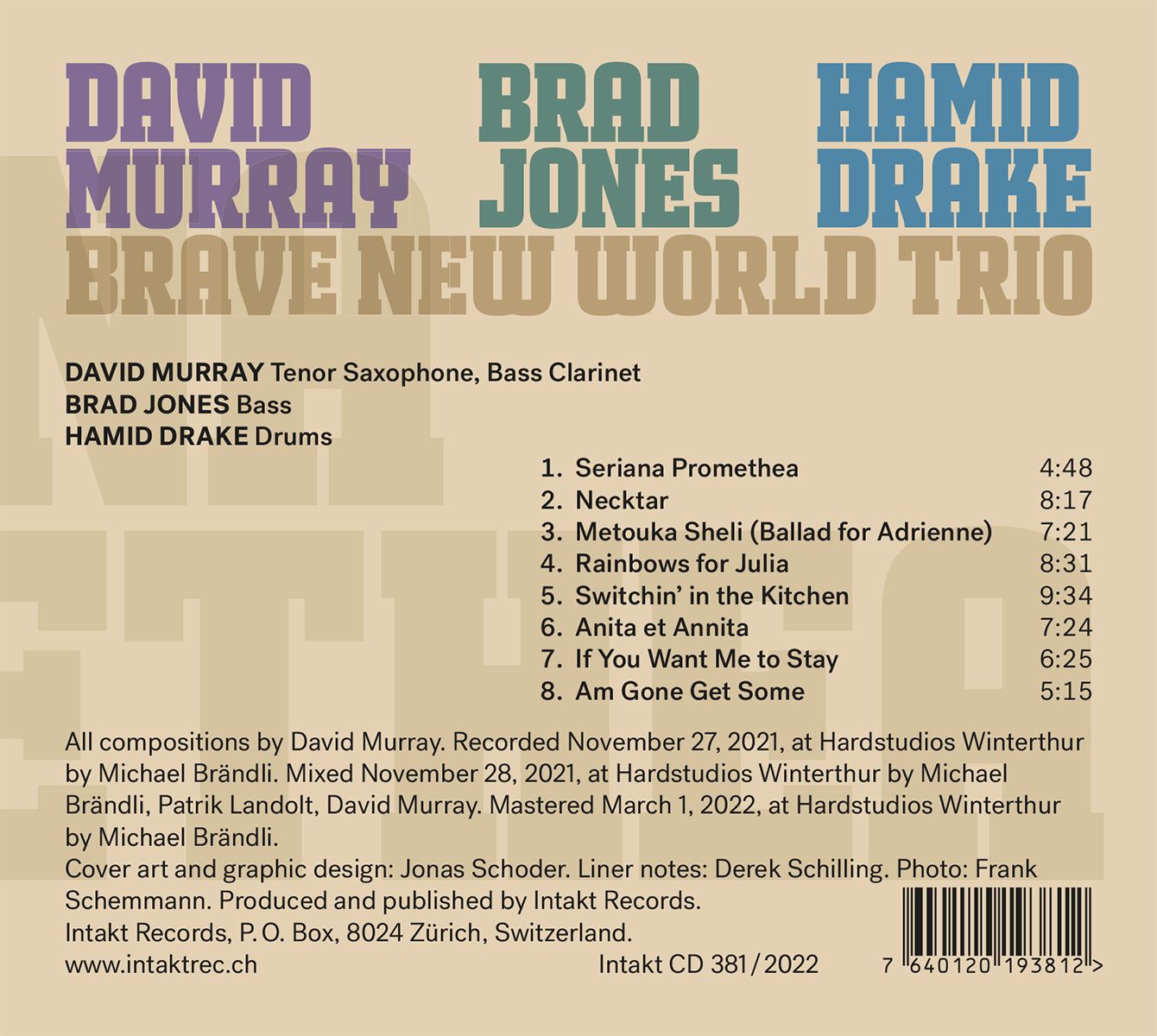 'Switchin' in the Kitchen' is a long form listen with a fine plucked bass solo from Jones again (the bassist's work with Ornette on Tone Dialling and with Dave Douglas on Freak In, one of Douglas' greatest records are worth spending time with).
Hamid Drake plays groove, more open than most and here not as free or forceful as you sometimes hear the erstwhile Andersonian on records. But he's good at retaining a gathered pace that thrives on the resilience that all three players exude. The swung latinate ballad 'Anita et Anitta' is a surprise in context as you proceed through the album but falters a tad after the initial excellent statement. But 'If You Want Me To Stay' is a monster, with a big fat beat. 'Am Gone Get Some' continues the spirit of the record notable for its succinctness and bluesiness. Final word: the graphic design lettering by Jonas Schoder on the cover is ace. Seriana Promethea is in the marlbank list of best albums for 2022 so far.
Stephen Graham
Tags: reviews