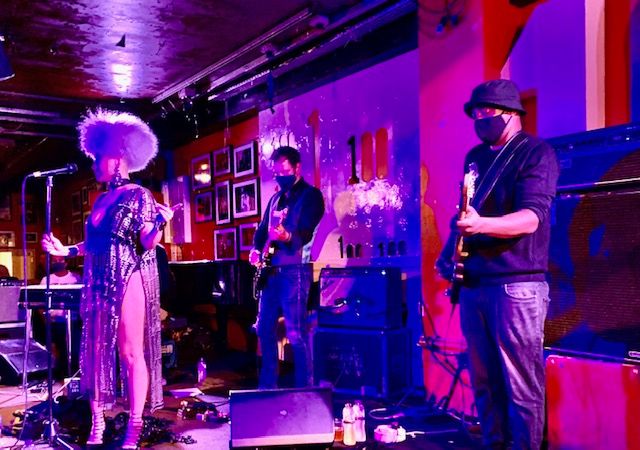 Making her London debut in front of a very full mask-wearing 100 Club audience deep below Oxford Street, Los Angeles-based singer Lady Blackbird Marley Munroe as she was before the revelation of her empathy with Nina Simone song 'Blackbird' birthed the singer's new stage name. This was simply fantastic.
How to describe her voice? You can hear a little of Tina Turner in her sound perhaps washed down with the swagger of Bettye LaVette and a touch or two of Amy Winehouse. Sam Beste who played with Amy was on Wurlitzer, with on electric guitar Chris Seefried producer of Black Acid Soul musically directing the whole project and from which this performance was largely based. Anthony Braxton and Pulled by Magnets bassist Neil Charles (here on bass guitar) and Dan See (known for his work with Lianne La Havas) on drums completed the band. A tribute in the first encore to the late Charlie Watts with the Glimmer twins' Beggars Banquet song 'Salt of the Earth' was fitting, Blackbird hoisting a glass aloft.
Everything worked. Picking the highlights is difficult. 'Blackbird' itself was a real moment. As too, drawing on Bill Evans' 'Peace Piece', was the luminous Blackbird-Seefried song 'Fix It'. 'Five Feet Tall' was poignant and thought-provoking. Flamboyant on stage Lady Blackbird can tell a story and yet the ace costumery did not distract. There is a lot of power in Lady B's voice and also the skill to expose intimate moments, the ache and the heartbreak of it all that is just as inspiring.
Lady Blackbird, top left at the 100 Club with Chris Seefried (main photo and in their dressing room earlier) and with bass guitarist Neil Charles. In the audio above you will also hear the voice of photographer Christine Solomon where there's interesting discussion of songs that could have made the album, for instance Curtis Mayfield's 'So in Love' and Tony Joe White's 'Did Somebody Make a Fool Out of You?' Seefried also mentions playing with Pokey LaFarge with some of the players on Black Acid Soul. Lady B at the crux of it all discusses what Nina Simone means most to her.
Review, pics, and interview: Stephen Graham
Tags: lives