Let Spin are about electric guitar and saxophone textures as chief voices but that's too reductive however much the ear gravitates to the piercing ache of Chris Williams' frequently scalding alto saxophone in-the-wilderness sound or the laser focus of Moss Freed's protean guitar that can flit as adventurously across styles like the most agile of tightrope walkers. It's also the rustle in the electronic coated sonic undergrowth that the band explore so well and in the writing - Thick as Thieves their most convincing and accomplished album to date begins with a slow ballad. The way the bass and drums lines add colour and definition delivers a certain psychological unease.
A mature band around for a decade with nothing to prove and still so much to give there isn't a need to idly categorise the quartet but instead move more emotionally into what the sound does beyond its jazz-rock and punkish electronica flavours. Their post-Ornettian and alt-rock delvings take you on a roller coaster ride certainly far away from mundane posturing or the ladling on of however cherished over familiar licks. Let Spin speak instead directly to the current decade of uncertainty far more than look to disinter however interestingly bones and debris from our crypt-like notions clung on to endlessly of how jazz might have been.
Take the anarchic duologue between Melt Yourself Down's Ruth Goller on bass guitar and Beats & Pieces Big Band drummer Finlay Panter on 'Red' when roles are reversed and you get a thunderous supertanker honk from Williams that moves ''the one'' because you know it haunts the sound and is there somewhere eventually into another space entirely.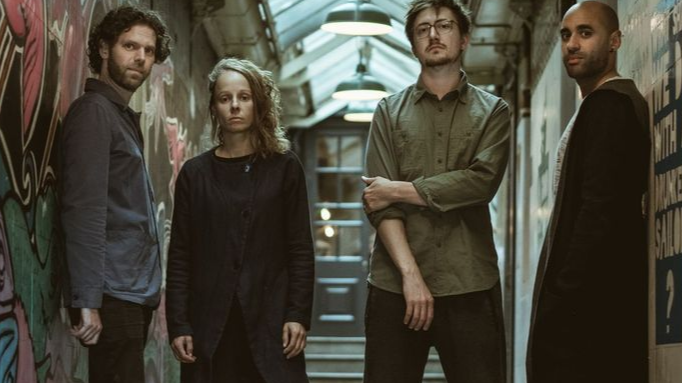 Moss Freed, left, Ruth Goller, Finlay Panter, Chris Williams
2020's Steal the Light
Williams known for his work with Led Bib too often hides his light under a bushel and has certainly proved and does so again here that he is one of the leading avant stylists on the UK scene to challenge and indeed smash orthodoxies. Hear his sense of abandon best on 'Waveform Guru.'
2016's Let Go
Thick as Thieves is good at contrasts, not just the usual ballad and a loud brazen contrast as chaser to follow but more the many shades of meaning explored in between melting at its bleakest to a dance macabre.
2013's Let Spin
On a track such as 'Broken, I Told You' take away a sense of new ideas unwrapping themselves as if in real time given the way the syncopated shards of melody pirouette as they mutate across all four players. Nihilistic and vital Let Spin are not for softies and yet deliver the kind of home truths we all, total melts or tough nuts alike, need to gulp down to ward off debilitating complacency.
Out on 18 November. The Thick as Thieves tour begins in Cardiff at the Flute and Tankard on 30 November
More in the marlbank podcast - click to listen
See our choice that includes Thick as Thieves of the best UK top 10 jazz albums in 2022
Tags: