''Nice to be here. Let's sit around in a circle and talk later,'' said guitarist Hannes Riepler as he returned to the Vortex for an intimate socially distanced gig last night. The Dalston club reopened post-Lockdown just this weekend. With the longtime London-based Austrian were an illustrious band: Tom Herbert, known for his tenure in Polar Bear and The Invisible and last heard by marlbank playing in Dublin with Bex Burch was on double bass; Tom Challenger, who was on Riepler's 2012 album The Brave was on tenor saxophone; and James Maddren, last heard live by this blog playing with James Copus in Camden last year, was on drums. The first of two houses this had a setlist comprising Riepler tunes and a sprinkling of Bobby Hutcherson and Joe Henderson material.
'One Shot' the bustling opener Riepler told us was one of his oldest tunes that he is still playing and appeared on his second album Wild Life dedicated to Ridley Road market which is just across the street from Gillett Square where the Vortex is located in Dalston.
'Shorter' inspired by Wayne Shorter turned out to be an epic with Maddren coming into his own followed by the set highlight 'Little Waltz in Three' which was a ''world premiere'' Riepler said and where he showed the melodic side of his writing most. The piece channelled a path that I've enjoyed on records in the same space as Riepler's fellow Austrian Wolfgang Muthspiel.
Bobby Hutcherson's 'Isn't This My Sound Around Me' (featured on 1990s co-led album with McCoy Tyner, Manhattan Moods) followed with Riepler's 'Down Only', 'Lullaby for the Deaf' (the title Riepler told us riffing on a piece by Queens of the Stone Age) and Joe Henderson's 'Jinrikisha' (from 1963 Blue Note album Page One) completing the set.
Herbert was important in the fabric of the sound although only softly rendered in the mix by negotiating tricky chord changes with apparent ease while Challenger's deftly probing lines pushed melody forward propelled by Maddren's infectious polyrhythmic brew (his use of the bass drum was perfect on the Joe Henderson piece for example). A fine performance that challenged the audience to listen carefully to so achieve greatest reward. SG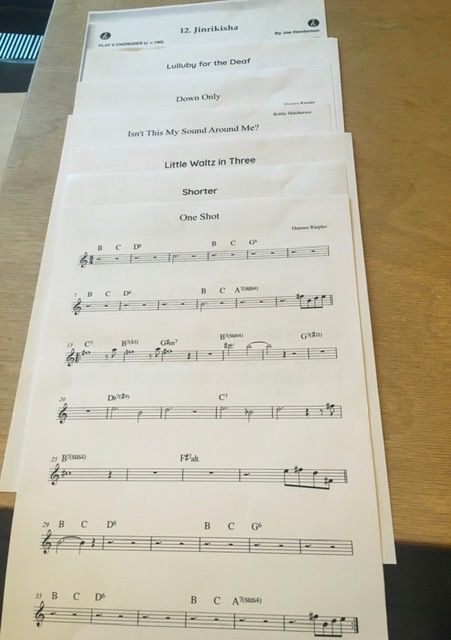 Hannes Riepler, top left, Tom Herbert, Tom Challenger, James Maddren. Photos: marlbank
Tags: