A 53-page report into live music streaming carried out by academics from Middlesex University and King's College, London ''investigating the monetisation of live streams of musical performances in the wake of COVID-19'' is published this week and finds that:
• 63% of participating musicians livestreamed a performance at least once.
• Almost half of musicians performed just once or a handful of times, while 10% performed over 40 livestreams.
• Musicians' biggest concern about livestreaming was not being able to earn enough income to make it worthwhile. There was firm agreement from 83% of musicians that this was a barrier preventing them from livestreaming or livestreaming more.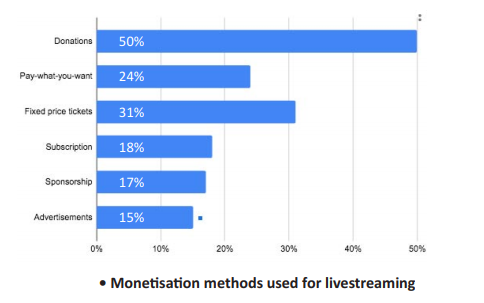 Source: Livestreaming Music in the UK: A Report for Musicians (A Research Project funded by the Economic and Social Research Council as part of UK Research and Innovation's rapid response to COVID-19)
• 85% of attenders had experienced watching a livestream, either in pre­COVID times or since the start of the pandemic.
• Amongst both musicians and attenders, the six most used platforms were YouTube, Facebook, Vimeo, Instagram, Twitch, and Zoom, with YouTube and Facebook leading the field by a substantial margin.
• Almost all attenders (96%) in the group of those that had never watched a livestream broadly agreed that not being in the same physical room as the performer was a barrier to watching livestreams.
Download the full report from the Live Streaming Music website
Tags: