The London jazz scene staggers back into action. It is not a uniform picture by any means and remains hard for clubs to function with restricted capacities. Latest currents show some welcome movement in the right direction.
● Chelsea's 606 is putting on shows again in parallel with streaming.
● Dalston's Cafe Oto as reviewed from last week is definitely back.
● Fans and regulars are steadily returning to the Vortex in Dalston.
● The Jazz Bar also in Dalston is open and busy. Prebook to get in.
● The Hampstead jazz club hasn't started gigging again yet in its tiny basement premises on New End. Ventilation remains a key concern for all basement jazz clubs, a classic level for jazz in itself, such as this spot beneath the Duke of Hamilton pub as all basement jazz spots continue to pore over the latest applicable Covidian regulations. However, the club is promoting a big concert at Cadogan Hall near Sloane Square on Saturday night.
● The simpatico Agile Rabbit pizza restaurant in Herne Hill, on Railton Road, is putting on jazz occasionally again.
● Kansas Smitty's is moving to Fashion Street in Spitalfields it seems. More details soon.
● Boisdale in Mayfair is still to reopen although other Boisdale music venues are whirring back to life again.
● As previously reported Soho's Pizza Express Jazz Club is back next month as too are Pizza Express music venues in Holborn and Chelsea.
● In Soho and as reviewed from on reopening night Ronnie's is up and going again properly albeit not so far in terms of its late-night programming. A further ramping up is hoped for when rules allow.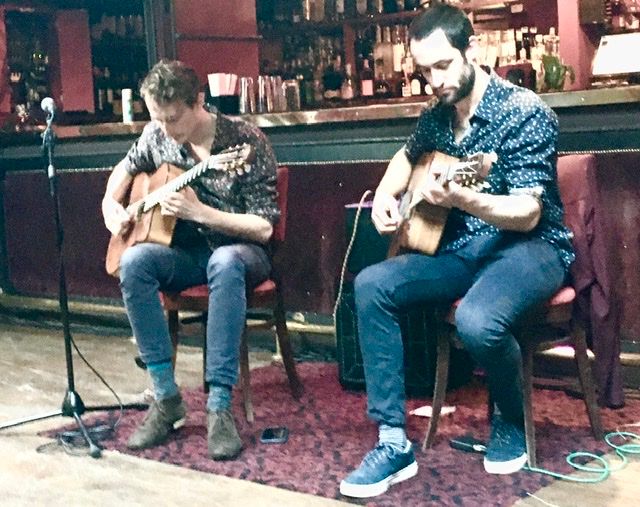 Harry Diplock and Jeremie Coullon playing Ronnie's on reopening night, above. Photo: marlbank
● The Piano Bar in Soho has reopened.
● Soho's The Spice of Life will be re-opening in September, according to the club's promoter Paul Pace.
● But Streatham's Hideaway as far as we know won't be reopening. A big loss.
● Check out jazz listings for the Post Bar in Tottenham, a just-about-right sized arts cafe venue space that has a fairly low ceiling, good acoustics, the stage not too high. On this coming Thursday night there's a Triple Jam featuring the formidable David Mrakpor, Mr DM of ever growing Blue Lab Beats fame, with The Magpie trio appearing at the Post on 20 June. The Post Bar, Tottenham, above. Photo: marlbank. Top: David Mrakpor photo: bluelabbeats.com
Tags: