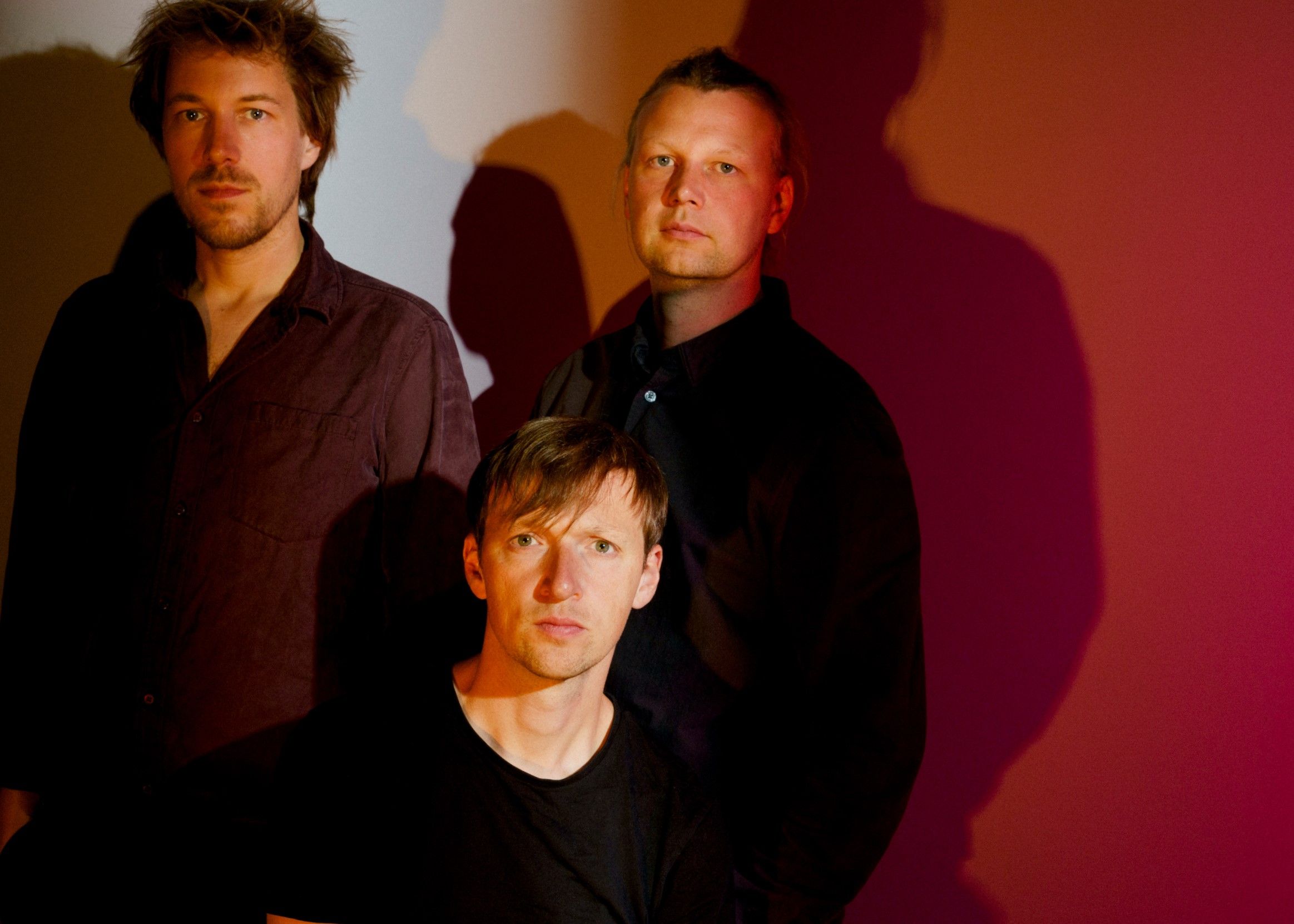 We will in all likelihood get to know a whole lot more over the next months about the ''new'' to UK audiences anyway German scene in the run-up to Jazz Ahead because Germany is the partner country in focus at the jazz expo in Bremen in 2023. So what to make of the brazenly titled Consumer from Melt Trio? They are certainly not absolute beginners. A very early heads up for you dear readers as the prospect of the record ricochets up the agenda.
Berlin based Melt Trio are the musical Meyer brothers - bass guitarist Bernhard and guitarist Peter who write the pieces - plus drummer Moritz Baumgärtner (think Magnus Öström a bit stylistically), the trio very much working like a single hive mind. Bernhard Meyer (born 1983) studied under John Hollenbeck in Berlin.
Around for oh a dozen years not known much at all in the more dogged spang a lang and devotedly new cool school loving real ale and ''re''bop loving UK type of jazz club where electricity that doesn't power a pump is frowned on these melts, ah the clang of yoof slang, rid your mind of that completely, were nominated for the now defunct Echo jazz awards, no mean feat in achieving such kudos.
Melt Trio have gigged widely. And with Hymnolia, Stroy and Instants featuring sampler genius Jan Bang already among their discography they have nothing to prove in terms of the need to deliver what some might call aural calling cards which a lot of bands have to trot out however laboriously to prove they still exist and to enable their return to the road.
'Matter' from the upcoming album is streaming. Cerebral if that isn't too much of a devalued term and not at all meant as a put-down you get a slight Americana feel in the track which is atypical of the whole. More of that and I would start reaching for old John Abercrombie records and feel bereft. The Gateway-like passages are just some of the riches to rotate in the windmills of your mind.
'Item 4' is far more experimental and yes you can see the much touted Tortoise comparison at work here certainly in the use of electronics connecting to the style of Jeff Parker more here in the Peter Meyer sound.
'Strategy Song' has a driving sense that reveals a real confidence in how the trio move the music from the introspective space to smash the fourth wall and look to go toe to toe with an invisible audience of listeners whether on record or live.
Quite an epic it enters a rockist prog domain organically. And among the riches it has the best most hummable motif of all which is a surprise in the context. Melt trio are however not a dumbed down band at all reliant on nursery rhyme melody. But who doesn't like a good tune especially when it isn't spoonfed into you?
'Elysian Minor' has an avant opening coated in electronics and the opening guitar chords from Peter Meyer are beautiful. The pieces themselves are better when stripped away from the electronics but we should hear them in the whole and some passages allow this. And yet you often get both options time and again on the album. For the pastoral sense at play probably best of all you find this on 'Paul'.
'Schimmer' is like Bach meets Kraftwerk at the beginning and the discipline of the sound is best heard here in a small masterpiece of an introduction. Beautifully conceived 'Feeder' at the end unites both the fine audio production work that has gone into the album that acts as fourth instrument and the quality of the compositional integrity all in one. A fine achievement. If e.s.t had been a guitar-rooted trio they might one day have metamorphosed into a Melt type organism.
Questions to ponder as you while away the interim until release in November - are Melt too prog for the UK or is it that the UK are not prog enough to get Melt? But it is jazz rather than a category error and probably would leave a lot of Floyd or King Crimson fans comfortably unnumb. If you don't know where to start with 21st century German jazz you could do a lot worse than jump in here. No leather trousers or designer glasses needed. And while at it rip up any of your tired back-of-a-fag-packet ideas about what's musically let along sartorially coming out of that country these days. MeltTrio, photo: Max Zerrahn
Tags: