Heading into the Chilterns next month and before that debuting with Kuzushi (3-stars) to be released on 27 May, MLN Ensemble pursue an equal temperament harmony jazzprog and jazz-rock attuned approach that the fusion heads among us may gravitate towards most. Beaming up from a specially configured keyboard played by Stephanos Karageorgi designed by bass guitar boffin Mateusz Gocek ''equal temperament'' explorers MLN Ensemble are prominent in the mix never mind the whys and wherefores in Wycombe too much - new names to most they are down to play at an all-dayer there in June.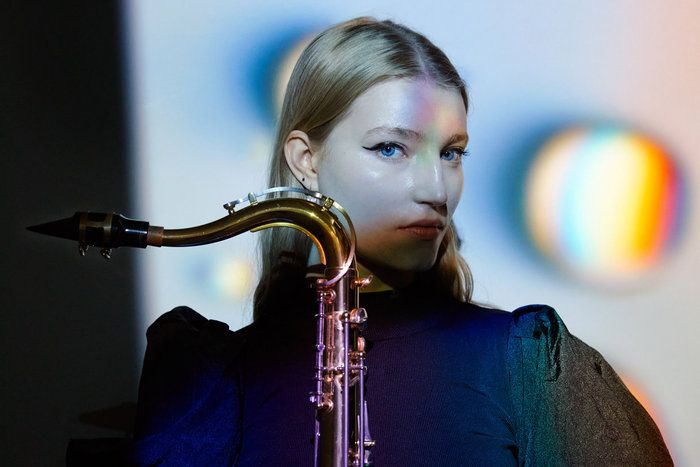 Headlined by still very much a wunderkind saxist Emma Rawicz currently the hottest new generation jazz act on the UK scene whose next album Chroma comes out later this year and from which the konnakol strewn 'Phlox' is streaming - read a review of her fine 2022 debut Incantation here - and topping the bill at this High Wycombe Community Arts Centre located happening in Buckinghamshire, 'Hectic' from the EP Kuzushi has eloquent rap from Polish born rapper Eyeconic and the title track goes behind the beat by utilising a reggae feel as an ingredient from Gocek with his bass line.
At the kit featured drummer heavyweight Laurie Lowe best known for his work with the great Robert Mitchell figures - go back, he's on the legendary Quite Sane head's meisterwerk Epiphany - powering in à la Dennis Chambers, refreshingly, even. Guitarist David Preston - read a review of Preston's Purple / Black Vol 1 recently in marlbank - is featured winningly, you can wig out here most if you are so inclined and why not, on 'Steady State', the pick of the EP. MLN sticksman Jamie Parker keeps more than decent time and in so doing whips out and locks into a chunky groove.
The Wycombe Jazz Festival is on Saturday 3 June to be held at the Wycombe Community Arts Centre in High Wycombe. Rawicz is on in the evening, MLN are among the support acts and Ally Steel among the DJs. Tickets
MLN Ensemble, photo: press. Emma Rawicz, photo: ACT