Call me a sucker but I always look forward to releases when I see a very tasty line-up because of course a band with top players is always a prospect.
The crossover R+R=Now when first surfacing however left me cold. The forecast a few years on is much improved. And the good news however is that this latest album is not a hurricane more a warm wind blowing from a better direction.
The Robert Glasper supergroup is much more organic than the oversized work in progress Collagically Speaking from 2018.
Laid back, live, and very unpretentious the results have an authentic club flavour and tap into a still changing hip-hop sensibility pivoting to jazz for the 2020s that is still experimental.
Glasper's touch above all else is magisterial and moving whatever the wrappings and is the chief interest. A springboard of an album towards future sounds. SG
On Blue Note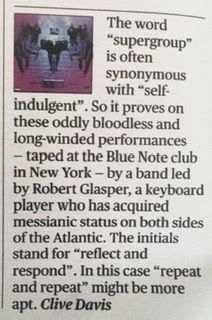 As a postscript a case of not for the purists? Reading the papers today and Clive Davis' piece on the album is worth a read but frustrating. Clive is a critic who I rate highly (his theatre pieces are even better than his jazz writing) but here completely disagree with his Sunday Times review. You won't be neutral about R+R=Now, however. Dull they are not.
Tags: