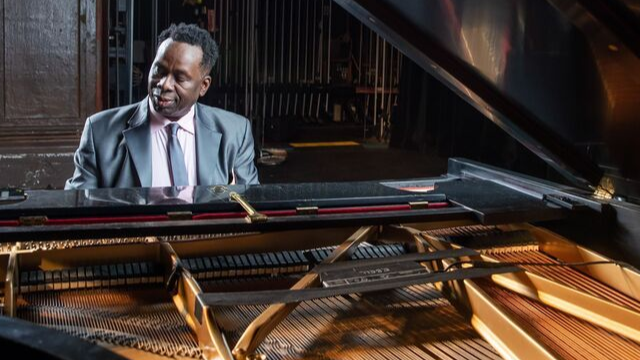 US pianist Kevin Toney, 70, Detroit's very own, was in the seminal jazz funk band The Blackbyrds.
On his upcoming release there is a fine rococo version of Billy Strayhorn classic 'Lush Life' first, a song that if you talk to say UK jazz trumpet icon and big band leader Guy Barker is his favourite standard of all - an emotion echoed by many the world over.
In the Evening With treatment after a flourish the audience react with delighted laughter and they can't be even sure what theme is even coming. There's warm love in the room, the North Coast Rep in San Diego.
Daughter Dominique Toney sings meaningfully the George Shearing/George David Weiss classic 'Lullaby of Birdland' introduced - when with vocals that is - in 1954 by Ella Fitzgerald. Hero to Jack Kerouac and the beats Battersea icon Sir George's earlier club theme tune instrumental initially written to boost the famed New York City Birdland club (named for Charlie Parker) is consummately a classic heard today in many of the world's best places.
Also on the album is Azar Lawrence who was on Woody Shaw classic The Moontrane (Muse, 1974) a big influence on UK hard bop supergroup the MOBO nominated Lineage active a decade ago. Lawrence is here on Duke's 'In a Sentimental Mood' - Kevin's intro is beautiful.
Also on An Evening with Kevin Toney and Friends - Jazz Legacy to be issued on Friday is Kamau Kenyatta who was a school friend of Kevin's, the pair used to hang out listening to records by John Coltrane and Miles Davis when they visited one another's houses.
Kamau went on to make recent jazz history by producing Gregory Porter's classic 2010 Motéma album Water among work by the blessèd Gregory who himself is back next month artistically directing the Cheltenham Jazz Festival.
Toney is bliss on 'Rejoice'. Saxist Kamau on soprano is piquant in the blend on 'Love is on My Side.'
MORE LISTENING:
Savour The Blackbyrds (Fantasy, 1974) once again.
Go back further for original Duke introducing 'Lush Life' to the world with vocals by Kay Davis, piano accompaniment by Swee' Pea himself on stage at Carnegie Hall in 1948. Kevin Toney, photo: detail from the cover art
Tags: