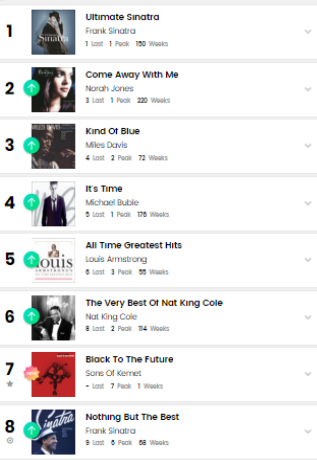 It's rare for a UK jazz act to make the top 10 of the US Billboard jazz chart. It is also unusual for a record other than Kind of Blue or Frank Sinatra's greatest hits to be there! So Sons of Kemet's Black to the Future making the chart, at no, 7, is quite an achievement. Without getting too carried away the band's ranking in the nearest UK equivalent fell this week after debuting at 2 to 4. As discussed last week it also did not chart as well as expected in the main UK charts.
One can't be naive given that Universal who own Impulse have the marketing and publicity clout to suitably promote an artist like no other which of course is a plus although the stakes are usually high and artists can and do get dropped like a stone by big outfits for reasons solely to do with one thing – the endlessly diverting pastime of amassing shed loads of that ever popular paper product of note unavailable in conventional stationery outlets, fiilthy lucre.
In the top 10 of the UK jazz charts (which also factors in the blues so you get two big genres colliding sometimes where there is overlap sometimes not at all) this week the only surprise is that again, with a major label involved (BMG) plus a lot of controversy fuelling headlines, that Van Morrison's Latest Record Project Vol. 1 has gone up. In the US that double album is no. 2 in the separate Billboard blues chart but falling and isn't counted in the jazz chart reckoning.
Tags: