Not much more than 24 hours away and counting down for
On this very blog we heard the guitarist-singer Mario Bakuna for the first time last year in a pub called the Lion and Lamb in Hoxton, the well-travelled player that time with drummer Uccio Gaeta. Not a Norwegian blue of an occasion and no one was pining for the fjords, a sense of saudade was certainly present instead. Bakuna's album Brazilian Landscapes had just come out and later chatting he mentioned how much he was influenced by João Bosco and whose 'Prêt-à-porter de tafetá' is included on his album. No dead parroting of the Brazilian songbook at all highlights that time, not at all floating down the mighty rivers of British Columbia, more entering into an Amazonian dreamsville, included Jobim's 'A Felicidade'. Bakuna's tour de force is his ''voice trumpet'' in the mould a little of Raul Midón. Catch up with the Brazilian in Brighton. You won't be disappointed.
Further weekend choices
Next week
Back in November we caught pianist Sultan Stevenson (son of jazz journalist John Stevenson) in the Dalston club playing material that included the original 'To Be Seen' and a treatment of the Irving Berlin 1920s standard 'What'll I Do' familiar as the theme tune for the BBC TV sitcom Birds of a Feather the newcomer delivering a crisp and confident set. Stevenson, wearing his already familiar colourful hat and whose sound seemed quite McCoy Tyner-like ''going fourth'' in exultant intervallic leaps, the following month appeared at A Great Day in London. On this June occasion Stevenson is joined by distinguished bassist Larry Bartley known for his work in Abdullah Ibrahim's Ekaya and a regular at Bradbury Street spot, The Jazz Bar.
On Stacey Kent's latest Songs From Other Places to zoom in on one song only 'Tango In Macao' kidnaps your ears and sounds like a standard and certainly operates like an instant classic already. A ''hold me'' song the work of Jim Tomlinson and Nobel laureate Sir Kazuo Ishiguro, not just on a par with their best song together since their masterpiece 'The Changing Lights', it's even better.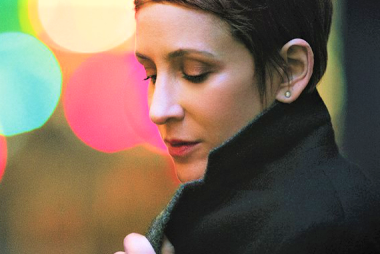 A song of playful reproach clinging on to hope 'Tango In Macao' turns to sardonic humour certainly when ''the Duchess'' is given to sing the line ''you said we'd tango in Macao but we've done nothing of the sort'' which is one of the ouchiest of lines written by the literary giant possibly ever in a song.
Stacey gamely refuses to ham it up too much although the song is crying out for lots of melodrama and walking the line makes the lyric work while making whoopee with some of the rest of the one-sided badinage when the mood lightens and the rhymes romp along from ''now'' to land gleefully on ''before the days of Chairman Mao''. But come to think of it the often deliciously waspishness of Ish's wonderful Nocturnes: Five Stories of Music and Nightfall (Faber and Faber, 2009) could be read instructively for tone and more than a little insight alongside 'Tango in Macao.'
Later in June
Tags: reviews