ECM is synonymous with legendary producer and label founder Manfred Eicher. Other producers are at work at the label, however. Eicher's long-time associate the Englishman and former music journalist Steve Lake for instance produces periodically for the Munich company. Another producer, Sun Chung, has come to the fore and surfaced in recent years, most recently on Dreamlife of Debris by Kit Downes.
Kit explained to marlbank towards the end of 2019: ''Sun was the reason I made both Obsidian and Dreamlife, as it was him that introduced me to ECM and suggested both concepts – a solo organ album, and then a large ensemble album featuring organ. We worked a lot together before the recordings talking about concepts and material; he was at all the sessions gently guiding the flow of work, and then played a huge part in structuring and developing the material. […] I couldn't have made either record without him, and having made all my own previous records before that by myself without a producer it was a welcome change in process, and one that felt very supported in throughout.''
Sun Chung, 37, a guitarist-composer as well as a producer, who has curated a current ECM exhibition in Seoul, is the second son of the South Korean conductor the Messiaen specialist Myung-whun Chung, and according to Korean website Dong-A Ilbo started working for ECM Records in 2012 having met Eicher when he was visiting the recording studio of drummer Billy Hart.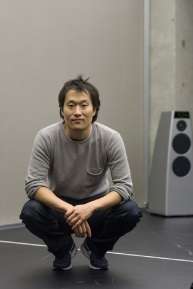 Around 2013 Chung who is based at ECM headquarters in Munich began to be credited as an ECM producer surfacing on such records as his wife Yeahwon Shin's Lua Ya, and since then besides the Downes albums he has produced the Aaron Parks album Arborescence, Thomas Strønen's Time Is A Blind Guide (again another record that Downes is on), Ben Monder's Amorphae, the Andrew Cyrille Quartet's The Declaration Of Musical Independence, Andrew Cyrille/Wadada Leo Smith/Bill Frisell's Lebroba, and the Sungjae Son album Near East Quartet.
Patterns in all this are not obvious. However, pianists figure a good deal (Downes, Parks), artists from Chung's South Korean heritage (Yeahwon Shin, Sungjae Son) and heritage free-jazz (Andrew Cyrille). These, it is worth considering, indicate an open book in terms of the type of artist he works with as much as stereotyped bunkers that his interests may be deemed to fall into.
If you listen to all these albums you will not detect any significant variation in the production style of the label. So Sun Chung so far proves a figure of continuum. Whether more producers will be introduced in the coming years at ECM remains to be seen but it looks as if, with a significant track record on some excellent records to date, his name will be featuring more in the future history of the label which marking its first release turned 50 on 1 January. Written by Stephen Graham
Sun Chung photo: Hyundai Card
Tags: News