Jazz elements of next month's FLive festival in Enniskillen include the duo of fine Derry scene singer Victoria Geelan and Belfast pianist-Hammond organist Scott Flanigan and a return to the festival for Mark Bradley's Jazz Gazette among the line-up. Scott is a regular performer at Berts jazz club in Belfast and also in the city hosts his own weekly club - Scott's.
Stylistically Scott is akin to James Pearson and was superb on Dave O'Higgins and Rob Luft's 2019 Monk and Trane homage in a formidable band along with the great Rod Youngs.
Trumpeter and singer Mark Bradley plays the Gin & Jazz night at the Westville on Saturday the 8th.
Geelan and Flanigan's appearance is on Sunday the 9th in the Gallery bar of the Ardhowen theatre, the event spanning Irving Berlin to Burt Bacharach repertoire.
Victoria memorably appeared in the main room at Ardhowen in 2014 with Derry icon Gay McIntyre and appeared upstairs in Pat's at FLive in 2019.
More reading
On Scott Flanigan with Dave O'Higgins
A review of Point of Departure, Scott Flanigan's debut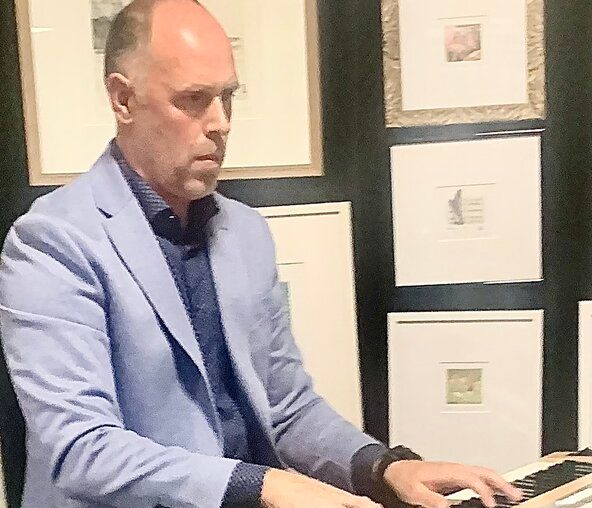 Victoria Geelan photo: press. David Robertson, above, performed at the festival launch held in the Devenish Gallery, Forthill Street. Festival website photo: marlbank
Tags: