Building jazz… it's got to be done… from zero in a local area to a healthy scene is work in progress.
The band's the thing and starting to show results that process continues this week as the leap of faith extends with The Good Noise returning to the Lough Inn, the Brook, in Enniskillen on Friday 28 February.
It is the fourth gig in their ongoing residency that began back in October.
The marlbank aim in helping encourage jazz in the Enniskillen area is to have a jazz gig every week, with preferably a range of venues locally putting on jazz.
In a currently uninspired pub scene elsewhere in the town when often bored-out-of-their-tree punters held captive by sport have no alternative but watch people kicking around balls beamed down on to ubiquitous screens via sleeping satellites, live music is a better solution for body and soul and sheer engagement. As for looking to singer-songwriters locally they are not really feeling it often when I go to check them out. That is because they are just reading lyrics off their iPads and thinking they are the next Ed Sheeran while going through the more or less karaoke motions. So the bedrock to change all that is an INSTRUMENTAL base.
Much more preferable instead creative jazz rather than all these dull covers or miming licks with the help of backing tapes may actually wake the scene up. Back in the 1960s it was another style, that of the showbands, such as Gene and the Gents that caught the people's imagination and introduced local audiences to the likes of future Eire Apparent and Paul McCartney rocker Henry McCullough.
That aspiration making a move to better regularity to enable experiencing REAL JAZZ LIVE in an AUTHENTIC setting building bit by bit is the way to go not a big push and then nothing.
Certainly as The Good Noise have demonstrated there is an audience out there that outside promoters in the past have not been able to discover by their not being able to get down with the nitty gritty and becoming fully immersed in the Enniskillen scene.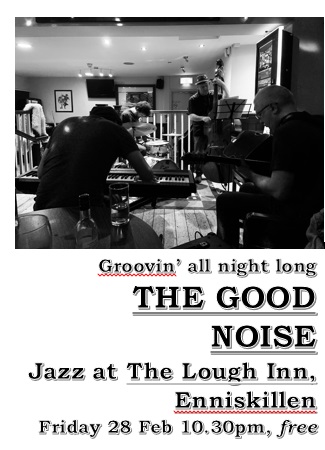 The Good Noise are named by way of homage after the step-father of bandleader guitarist Cris Gill, the Plymouth Hot Record Store owner Peter Russell who published collector's favourite The Good Noise Jazz Book and Magazine Guide.
The Kenny Burrell-loving Gill who in recent years has gigged with boogie-woogie star pianist Ben Waters and earlier in his career with ska legend Rico, is joined in The Good Noise by double bassist Roni McManus who excelled on Bobby Timmons' 'Moanin'' particularly on the band's first ever showing where an appreciative crowd gathered for a surprise late-night set back in October. Caolan Hutchinson on piano is to be heard performing on the burgeoning Omagh jazz scene. And the Good Noise are completed by the band's secret weapon drummer James Anderson.
On stage time on Friday is 10.30pm. Get there early to choose a good seat. We want the audience to grow with the band and all build a community of listeners together inviting newcomers in all the time.
For more information on the venue see the Lough Inn Facebook page. See you there!
The Good Noise top. Photo: Kate Crane