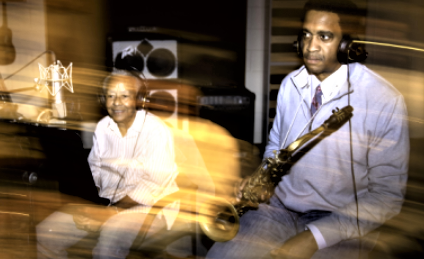 It is a special day reading Nikki Giovanni, pictured above left, any day but today particularly combining and hearing the great civil rights-era poet's voice with the sound of Javon Jackson in the photograph to her side
I wish for those first days
When just woven I could keep water
From seeping through
Repelled stains with the tightness of my weave
Dazzled the sunlight with my
Reflection
From 'Quilt' (for Sally Sellers)
One of America's greatest poets the writer of Black Feeling, Black Talk, Black Judgement (1968) inspired and also participates on tenor saxophonist Javon Jackson's new record for early-2022 The Gospel According to Nikki Giovanni which is coming in February.
The record is quite a thrill let's not be too coy or circumspect to neglect saying even at this early stage ahead of its release. Suffice to say this Gospel hasn't left the player since hearing it the first time this morning.
Jackson, director of the Jackie McLean Institute at the Hartt School, University of Hartford in Connecticut, invited the poet to speak to students, and explains for his Solid Jackson Records release more:
"Ever since I've been at the University of Hartford, I felt that the school would be well-served to bring great scholars of colour and scholars who were freedom fighters and activists, if you will. So I brought in Dr Cornel West, Sonia Sanchez, Angela Davis and Michael Eric Dyson. Then in February of 2020, I brought Nikki Giovanni. After Nikki spoke to the students, she noticed that the Hank Jones and Charlie Haden CD of hymns and spirituals, 1994's Steal Away, was playing in the auditorium. She said she loved it and wanted to hear more, and just then I was hit with the idea. Two days later, after she returned to her home in Roanoke, I contacted her and said, 'Would you be willing to pick 10 hymns? And that'll be my next recording.' She got back to me in a few days and gave me the 10 selections."
Javon's record fittingly given the Jones and Haden link includes 'Wade in the Water', 'Swing Low, Sweet Chariot' led off by Javon playing completely on his own, the air bristling with kinetic energy before the offbeats kick in to swerve to a calypso, and 'Sometimes I Feel Like a Motherless Child' – the last of these covered so well by Jason Moran and Archie Shepp this year.
Also on the record the treatment of the Lee Adams and Charles Strouse song associated with Sarah Vaughan, Sammy Davis Jr and above all Nina Simone and featuring the moving vocal of Giovanni is a highlight.
The Carthage, Missouri-born master Jackson whose wise and meaningful sound is like an amulet meshes so well with pianist Jeremy Manasia, bassist David Williams and drummer McClenty Hunter. Steeped in Bu wrapped up in blue he has a really sincere sound that stems from his immersion in the Art Blakey universe as a young man when he was in the Jazz Messengers towards the end of Blakey's life. You emerge with a lot here. Release date is 18 February
article updated on 22/12/21 removing an error in the text
Tags: