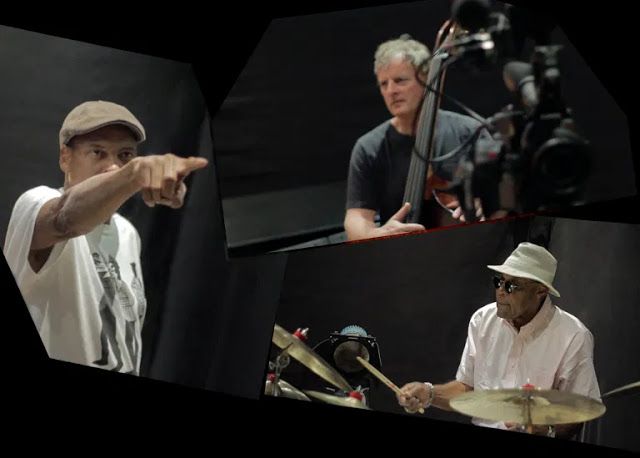 Coming up next month is Todd Cochran's piano trio album Then and Again, Here & Now a release that will surely send a lot of us scurrying back to delve more deeply into the pianist's stellar back catalogue. Issuing label Sunnyside say that the Cochran release is his first album since his ''two underground classics for Prestige Records in '72 and '73.''
An album largely of standards may seem like a familiar formula. When you listen you just know that this format is the framework and the guide sketch for improvisation. Cochran originals, a little Brubeck and Bach are also a potent factor with Cochran's unaccompanied solo take on 'You Must Believe in Spring' very striking on a first listen.
Tracks are 'Softly As In A Morning Sunrise', 'A Foggy Day', 'I Got Rhythm', 'Verselet For The Duke', 'The Duke', 'Don't Get Around Much Any More', 'Heretofore (Interstitial 1)', 'Fantaisie - J.S. Bach Prelude XX WTC Book II', 'April In Paris', 'Between Spaces (Interstitial 2)', 'Invitation', 'You Must Believe In Spring', 'Bemsha Swing', 'Little B's Poem' and 'Then And Again Here & Now'.
Cochran's playing partners in the TC3 are double bassist John Leftwich (an erstwhile musical director for Rickie Lee Jones) and drummer Michael Carvin (known for this classic work with Lonnie Liston Smith for Flying Dutchman in the mid-1970s). Cochran, who is 70 later this year and who hails from San Francisco, was often known as Bayeté. In his teens he played with John Handy and later Bobby Hutcherson and appeared as pianist, arranger and composed the majority of tracks on Hutcherson's expansive 1971 Blue Note album Head On. Cochran was keyboardist and singer in the 1970s in Automatic Man and Fuse One and he has also worked with Jim Capaldi, Bill Bruford, Brand X and Peter Gabriel. Most momentously of all to many his piece 'Free Angela' was played by Santana on Lotus.
'Music can take us to imaginary spaces, like scattered little poetic islands of peace, places that we can escape together and where things that were hazy become clear. The universal creativity we all possess shows us that we're being guided by something that's been patiently waiting for us to discover. Music can inspire understanding in our imperfect world,'' writes Cochran on his website.
Todd Cochran, top left, John Leftwich and Michael Carvin
Then and Again, Here & Now is out on Sunnyside and is an 11 June release. Press photo
Tags: