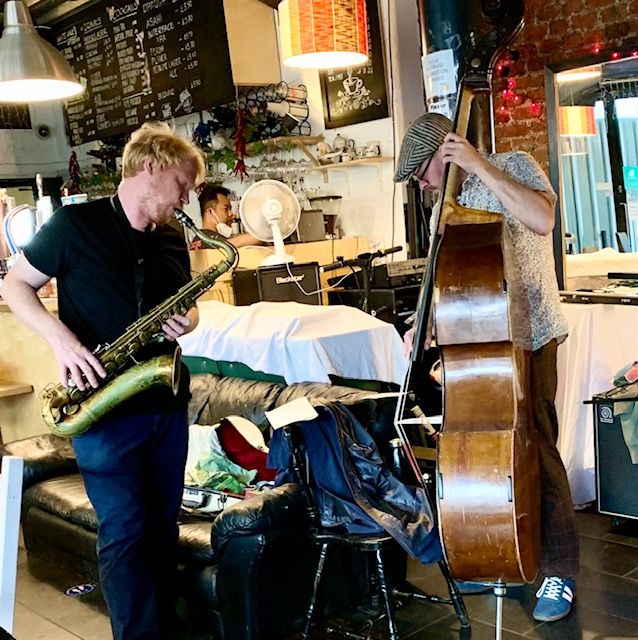 More and more regulars who haven't been to any gig anywhere in a while understandably given the state that we are in are beginning to venture out again as the double-jab situation becomes more and more the rule rather than the exception. And certainly I spotted a few familiar faces, great supporters of the Vortex over many years in attendance, in some cases first outings for these valued supporters of the music in more than a year. One of the great things about the club is the community feel among the audience. People do genuinely get to know each other and there is nothing forced about that.
For musicians a gig such as this is the start of regular patterns again. And yet the Vortex upstairs is only able to operate on a couple of evenings per week at the moment at least until regulations ease and full audiences are allowed in. Downstairs in the sister space of Derek's domain, Derek who runs the cafe/wine bar that hosts Downstairs gigs regularly is in the soundcheck photo above between tenor saxophonist Tom Challenger and double bassist Olie Brice, the profile is very simpatico and laidback.
There was a very pleasant atmosphere last night for this free improvisation session. Comprising two long improvisations, one in the first set, the second after a decent break, in its comrade act, each had their abiding characteristics. The first was flavoured by Brice's wiry, very agile Henry Grimes-like steering of the group sound. (Check out the Profound Sound trio, Grimes, sadly who passed away since, with Andrew Cyrille and Paul Dunmall that played the Vortex in 2009 and that sits tantalisingly well with what we heard here.)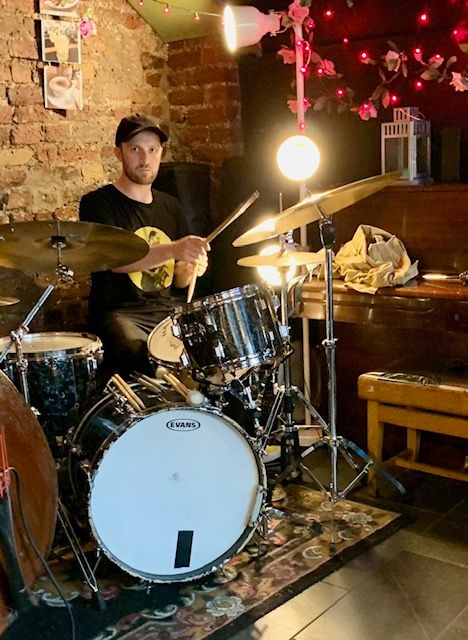 The Challenger/Brice/Glaser trio were playing beyond the bar line so in other words there was no regular beat or rigid metre. They developed a tonality that suited exploration, that had a certain jagged quality but there were few freak-outs. The main thing is that the three were improvising collectively and individually, like layers that clicked into lock step. Drummer Will Glaser was excellent, I would hesitate to compare him with anyone directly, and came into his own probably more in the second set. I liked his use of soft mallets most of all and in the second he got a chance to change out of the idiom a little bit and drive even briefly in a more straightahead fashion taking a brief mallet-featuring solo late on where his velvet touch was very evident and there was a lot of colour in the lapping motion he generated.
Challenger was even more bluesy in the second half and moved into a Dewey Redman kind of sound timbrally. Thinking about that comparison listen to a little of The Ear of the Behearer and there's a glimpse of the sound sphere that Challenger is pointing towards. He eventually fashioned together a very high altissimo phrase that worked in context without any showiness. The audience listened very attentively, the life of the lively square beyond a background accompaniment that you could hear filtering through a little particularly during the first set. All in all an engrossing set, a trio that is more than the sum of its considerable parts. SG
photos: marlbank
Tags: