Now's the time. This is a big year for Charlie Parker fans.
It is the centenary of Charlie Parker's birth no less.
Jazz in 2020, however, while slightly nostalgic sometimes is not about the past yet would sound completely different if Charlie Parker had not been born.
The biggest surprise talking to the great Russian alto saxophonist Zhenya Strigalev who has certainly inherited Parker's style, savoir fair, sense of derring-do, and sheer spirit, speaking from St Petersburg where he is rehearsing and gigging this weekend before touring all over Europe soon is that his love for Charlie Parker is channelled through the influence that rained down on Sonny Rollins.
Strigalev is a fascinating player and his story goes deeper than most. And yet that said we still only know a little about it. Here's what we do know. Back in 2012 he was near the end of his tenure in the popular London jamming club Charlie Wright's in Hoxton on the Shoreditch borders. You'd also hear him by then jamming regularly round midnight at Ronnie Scott's. Zhenya ran the music at Charlie's as everyone called it, 'John Nash, a great character,' he says, the spot itself. It hardly got any publicity. But it did not need to. Nearly always packed and you'd hear the most remarkable jazz players under the radar there. Back in 2008 I saw the great Robert Glasper there on the last night of a short British tour with his trio the place buzzing with a young fashionable crowd who otherwise would be trawling the local bars and clubs for the best vibe, looking for the next big thing. Many made their way that Saturday night as the clocks went forward to Charlie Wright's, newly reopened after a refurbishment. There'd typically be the TV on as future visits confirmed with the sound turned down. Glasper even got behind the bar from pressing the flesh during a break when fans swarmed around shepherded that night by future GoGo Penguin manager Kerstan Mackness in those days doing Blue Note label press on the fly. Zhenya was beavering about fixing things. I think I saw him up a ladder.
In 2012 Zhenya, by that stage, still a fairly young player who had come out on to the professional London scene after a long spell at the Royal Academy of Music (circa 2002-7) where he was taught by the likes of Martin Speake and Jean Toussaint and where he had first landed to study from Russia on a full scholarship at the venerable Marylebone Road institution in those days the jazz there looked after by Gerard Presencer but had to retake some exams he says frankly so stayed longer and then in his early career was putting out records such as Smiling Organizm. The altoist was still known more among musicians apart from a few of us in the jazz press who could be arsed to actually go to the late night spots where badger-like all the best jazzers were known to congregate.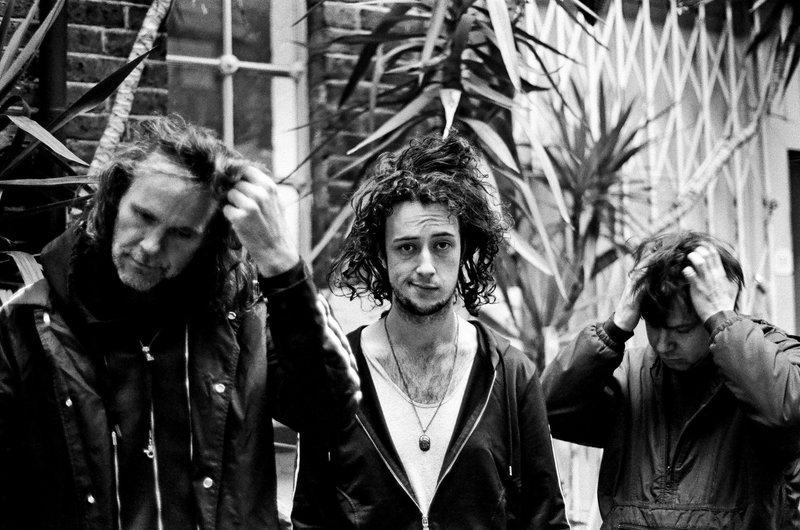 His studio bands when he started making records were not any old bands. For instance, he had Brad Mehldau bass titan Larry Grenadier popping up and Larry's fellow American bass guitarist Tim Lefebvre. That connection with Lefebvre – who was later on Bowie's Blackstar and gigged with the Tedeschi Trucks Band – is still alive and kicking and continues intrinsic on the very fine new Disrespectful album to be released next month by Russian label Rainy Days. The label is based not far from where Zhenya was speaking from.
Smiling Organizm, which also became the name of the Strigalev band back in the day upped the ante a few years later with the line-up rejigged and if anything was even more spectacular because Zhenya had recruited the former Steve Coleman trumpeter and future Blue Note signing Ambrose Akinmusire and Charles Lloyd drummer, an Elvin Jones of our times, Eric Harland still at the kit.
Obviously the Russian was much regarded by players at the highest level who would agree to be on his records and tour. This became a more mature sound in a few respects, certainly in the detail of the writing, there was a lot of individuality in the customised bop approach, Akinmusire's apocalyptic style, that doleful anthemic sense he brings to the music, perhaps making most difference.
Strigalev's key strength is his feverish writing and while the brand new 2020 album instead strips things back more than some of the earlier work in his Whirlwind label period, the tunes such as 'Kuku' with almost an Afrobeat accent to it, 'Horizontal Appreciation' a sinuous bass guitar-led injection of pace that could go into jazz-rock but doesn't, and 'Sharp Night' has a frenetic leaping momentum that enables thoughts of Strigalev as a latterday Charlie Parker.
Back to today and life in Russia. 'I've been in the country outside St Petersburg for 10 days with Jamie Murray,' he explains. What's he doing there? 'Cabin practice, separately and then we get together.' I think that is lost in translation, even though Zhenya is speaking fluent English and the phone line is as clear as a bell.
He can't recall when he met Jamie first. 'I can't properly remember but maybe four years ago at a jam session. He helped me get the drums together. We discussed practice a bit. I was in a band called Beat Replacement in which at some point a musician was late and it became eventually JZ Replacement.' This is how mischievously although resolutely-deadpan he refers to his new band featuring Lefebvre.
But who exactly is Jamie Murray? Flashback to 2016, we on marlbank were tipping him highly that year after accidentally encountering him at a jam. It was like field research coming across him. On that occasion hearing the drummer for the first time it was in an environment not unlike Charlie Wright's. Zhenya says that when Charlie's was going, there weren't the number of jams operating as much, with only Uncle Sam's at the Haggerston pub on the Kingsland Road in Dalston among them. Then Austrian guitarist Hannes Riepler's Sunday jam at the Vortex over by Gillett Square got its thang together. It was at the Grim Reaper's reliably satisfying session that ran for years, now over, that I heard Murray for the first time. From memory he had a loose scrambling style, certainly not involving orthodox spang-a-lang although he can do that very well if he wants to.
Jamming on a standard with pianist Rick Simpson and the excellent Can of Worms tenorist George Crowley plus the bassist Dave Manington they played slightly disconcertingly the antique standard 'Stompin' at the Savoy' downstairs in Derek's domain on that occasion. But it did not sound as it usually does when grandaddio jazzers swing it way too much, in other words bringing on boredom. Not in the least. I listened as the tune winged its way from the loping modernistic collision of bop and beyond back to the distant past and echoes of the more plainly spoken melodically swinging Chick Webb era bundled up in the resolutely chipper optimism and jaunty feel of jazz on the cusp of swing that the jammers delight in. There was no point missing out and musing in your ivory tower about who the great new talents of the future happened to be I thought. "People can lose their lives in libraries. They ought to be warned," wrote Saul Bellow.
Strigalev with his beak-like stance and high angled embouchure on his older records, for instance on a track such as 'Unlimited Source of Pleasure', with Akinmusire he cooks up a catchy opening that allows the band the scope it needs, Strigalev delivering eventually one of his most convincingly nuanced solos, really tonally distinctive above all, and controlled.
Piano doesn't always contribute such an obvious role on Strigalev's albums as among the bass lines or horns there's such a crowd of sound sometimes, and it's left on some albums to Grenadier or whoever bassist it is to lead off a tune such as the paradoxically-slow 'Urgent Ballad' before Strigalev summons vast reserves of energy.
Zhenya talks a little about his 'alto box' which if you look online you will see him with. An unusual, swollen, looking instrument that looks like a case used particularly in his later highwire Never band. Actually the box is not really an instrument, more a kind of mini-cave that has gained a mutant ninja type lifeforce all of its own. He says that it is a 'mute' with a microphone he places inside it. It gives a bigger size to the sound and can cheeringly sound quite bizarre in context and makes us listen uncomplacently and certainly injects some cartoon-like diversion. It allows me he says 'to add electronics. I don't want to hear the sax. It makes me sound differently. I saw it in the sax shop, saw the mute, got it. It isolates the sax sound.'
Zhenya mentions that he plays on the local and dauntingly vast Russian scene in some local places in St Petersburg, or 'Sankt' Petersburg, he says adopting the language of Pushkin, and in Moscow has played Butman's place, one of the main clubs there, the club named after very controversial Wyntonian the saxist Igor Butman. Zhenya rolls his tongue around one of the others, 'Esse'.
Strigalev in context sits alongside another explosive alto saxophonist Alexey Kruglov (born 1979) worth getting to know but who is relatively little known in the west, although the Leo label has championed his cause to the free-jazz diaspora by releasing his records and and a game Siggi Loch put him out on his label in duo with Joachim Kühn. Clearly more in the Ganelin tradition than Strigalev he has a very powerful sound on Moscow as if he's playing a seriously hard reed and uses it to expressive effect whether caressing the notes or simply bludgeoning them in pursuit of their innermost core. His characterfully-robust stylings in terms of inflection isn't unlike the ever so slightly more conventional Strigalev approach. (Strigalev by the way is in no way that conventional.) But like Strigalev Kruglov is highly combustible at fast tempi. Unlike Kruglov however Strigalev is not really influenced by Ornette Coleman. Zhenya surprises me by mentioning Paul Desmond as an influential alongside Parker however.
Reminiscing for a moment about Charlie Wright's he says that a 'lot of players do not know the ins and outs of putting on gigs'. He got involved a lot in this, sometimes even putting up his own money back then if needed especially if people putting on the gig in question were being stingy. He talks about how much a jazz spot needs personality. The bandleader says he wants to be comfortable on stage and we talk about lighting a bit. It can be too intense some time when people are shining lights on musicians in all the wrong places randomly. 'You can't just turn it on and turn it off,' he muses.
Loyal to the alto, he says he plays the soprano sax only a bit. He began to play saxophone when he was 13 or 14. 'It does not really matter when you start as long as you practise a lot. In two years I learned as much as some players might learn in 10.'
In St Petersburg he has hooked up with a local label Rainy Days making great waves already and last year's The Change was excellent. The photography-loving so far surname-less Evgeny, or ''Eugene'' as he introduces himself by email styles it, runs the label and has assembled a good mix and match of sounds among artists and certainly the pared-back more intimate jazz that Zhenya is creating these days marks a new chapter as he journeys back evocatively to his Russian roots. SG
Touring coming up includes playing JFC tomorrow inside a courtyard on Shpalernaya street in St. Petersburg and then Jazz Bar, Edinburgh (20 Feb), Ninety One Living Room, London (21 Feb), Lescar, Sheffield (26 Feb), the Crypt, London (28 Feb), Northern Guitars, Leeds (5 March), Vortex, London (7 March) plus further international touring. Photos of Zhenya Strigalev, top and with Tim Lefebvre, above left and Jamie Murray, centre, courtesy Prescription PR/Rainy Days.
Tags: