Zephyr (Pumpkin Records) by Cool school Konitzian alto saxophonist Martin Speake and the violinist, vocalist and violist Faith Brackenbury is an unusual highly aesthetic folk-flavoured jazz and classical mystical hybrid.
'O Pastor Animarum', above, by 12th century monastic composer and mystic Hildegard von Bingen (also known as Sybil of the Rhine and St Hildegard) is one celestial feature of the album; as is a poignant song belovèd of Irish traditional music and especially Yeatsians the world over, 'Down By the Salley Gardens,' top, video, in a live version. Album cover, above middle. The release date is 10 February. 
Pumpkin site link. Martin Speake is touring with Jim Rattigan this month, click for tour dates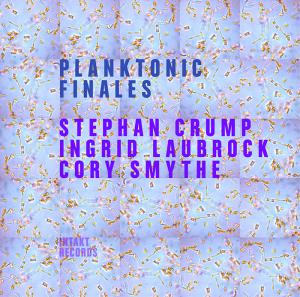 The Iyer trio bassist Stephan Crump, who released the excellent Rhombal in the autumn, returns to the release fray this time joined on what was an August 2015 studio session by saxist Ingrid Laubrock and Cory Smythe on Planktonic Finales which arrives next month.
Swiss label Intakt are putting it out and will be in the London club spotlight this spring themselves with an extended focus framed around a series of concerts at the Vortex, on paper one of the big avant jazz occasions of the early part of 2017. "Deep down the powerful bass thunders on," liner note writer Christoph Wagner quips.
Cover, above