Ringing the calendar in its titling, and marking a sense of place in the enabling freedom of a tree lined public space, the haze of history, humanity, memory, freedom, that ache of trumpet, Miles deeply embedded in an interior vision, blueness, aestheticism, it is all there suspended in the air within the musical persona of Tomasz Stańko. The great trumpeter composer returns with his evolving New York Quartet for December Avenue to be released in late-March ahead of their return to these shores for an April Gateshead Jazz Festival appearance.
A literary theme is part of the concept following on from their 2013-released Szymborska-themed predecessor, the artist and writer Bruno Schulz (1892-1942, self portrait as a drawing, below), who was shot by the Gestapo during the second world war, has a ballad named for him and which appears half way through the album.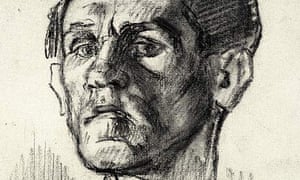 The modernist Schulz short stories The Street of Crocodiles, (the Polish title preferring Cinnamon Shops), from December 1933 are Kafka-like provincial miniatures of bizarre metamorphosis, also earn mention reflected in their respectfully referencing inclusion in another piece. Stańko turns 75 this year and in that celebratory cycle is touring summer festivals in the company of Italian master Enrico Rava as written about just a few days ago. 
 Stańko's official site states that December Avenue was  recorded in 2016, the quartet pictured clockwise from top left at the recording: David Virelles on piano, Stańko, Gerald Cleaver on drums, and Reuben Rogers, bass, who replaces Thomas Morgan from the Wisława band. The new bassist and drummer are namechecked admiringly on the sixth of the 12 tracks. The album was produced by Manfred Eicher. 
Back in 2015 it was a new day and certainly a new, unforgettable, name as Jazzmeia Horn first surfaced, you know as you do stepping up to the mic, singing a ditty or two, and winning the top prize at the world's most prestigious jazz competition, the Thelonious Monk Institute competition which happened to feature vocals that year.
Hailing from Dallas, Texas soon to be NYC bound this former student of the New School for Jazz and Contemporary Music itself in the Big Apple whose playing credits to date have included such eminence grises as Junior Mance and Ellis Marsalis landed a coveted recording contract thanks to her success. And the story since has got deeper in terms of what happened to her work in the studio. Fast forward to not even May yet when the album titled A Social Call is released let us leave the build up now to none other than Kind of Blue and Impulse label biographer Ashley Kahn, the global scene's Leonard Feather in terms of authority nowadays as many of us think of him, who has written the press release for that now imminent Concord debut actually branded and this is some honour as Prestige, because the suits have decided to revive Bob Weinstock's famed label that the firm now owns, following a trend and even more legendary OKeh's return from the tomb announced back in 2012. What next: will Bluebird fully flutter back to life again? Founded in 1949 a belated effort maybe to rival what Alfred Lion was doing at Blue Note, Miles Davis, John Coltrane, Monk, and Sonny Rollins recorded for Prestige and many recordings were engineered like Blue Note by the late Rudy Van Gelder. I, personally, revere the label for a whole load of reasons, lots of Miles and above all the 1957 album Coltrane [not the Impulse record of the same name but his actual debut] and almost alone the sumptuous version below of the Matt Dennis poignant Manhattan weather ballad 'Violets for your Furs.'
No pressure then! Kahn describes what the Betty Carteresque diva in the making has delivered as "an album that satisfyingly combines jazz of the classic, small-group variety — when singers had to step up and carry the same musical weight as any other band member — with more modern flavours of gospel and neo-soul." And he further zones in to assert: "If there is one track on A Social Call that best captures Horn's expressive range and her signature sound — the song that is most her, exposed and unadorned — it is arguably her rubato rendition of Jimmy Rowles' 'The Peacocks'."
Listen to Jazzmeia Horn sing 'The Peacocks' top in a live version
Since Don Was took on the reins of Blue Note records from Bruce Lundvall, one trend he has spearheaded has been a recruitment of veteran players. Already Wayne Shorter, the late Bobby Hutcherson and Charles Lloyd have served up new records on the greatest label – fact – in jazz.
Now it is the turn of Louis Hayes whose Blue Note leader label debut Serenade will be released in May when the drummer turns 80. 
A frequent visitor to London jazz club Ronnie Scott's, Hayes is known in many people's eyes still all these years on, after all it is timeless music, for his work with Cannonball Adderley and Horace Silver.
The Detroit native's Serenade is fittingly a tribute to Silver, one of the godfathers with Art Blakey of hard bop and the player who introduced that unique Cape Verdean tinge to the lexicon of the music fused as it with the blues, a touch of gospel and many more magical hooks than might be affixed to your average coat stand.
Hayes was on 6 Pieces of Silver, Further Explorations, The Stylings of Silver, Blowin' the Blues Away ('Sister Sadie' from the Blues, top) and Finger Poppin'' with Ecaroh his tenure in the band spanning three years in the late-1950s later enjoying a longer spell powering Cannonball that ran to the mid-1960s before he joined the Oscar Peterson organisation and since leading his own groups successfully for many years.
Among the dozens of records Hayes has appeared on with some of the giants of jazz he happens to be the drummer on Cannonball's cornet-playing brother Nat's famous record Work Song (above) the title track of which was covered in recent years by The Blessed Gregory also incidentally a fellow Blue Note artist from a much newer generation.
Hayes has also appeared on records by John Coltrane including the Prestige period Lush Life. As a leader Hayes' own records have been issued on such labels as Vee-Jay, a label synonymous with the early work of Wayne Shorter, and more recently this gem: 

On Return of the Jazz Communicators Hayes conjured up the original Jazz Communicators, a now scarcely recalled band he had played in alongside Freddie Hubbard, Joe Henderson, Kenny Barron, and Herbie Lewis initially in 1967 in New York. And communication was and is still the name of the game where the swinging Hayes is concerned on this set of a dozen tunes recorded at Smoke in New York city.