Hearing Gemstones (released by the Listen Foundation, "Fundacja Słuchaj", in Polish) the other day for the first time I was convinced that I had heard it before. It seems so familiar. Like a pair of old shoes, a favourite coat, somehow all freshened up after a trip to the cobbler's to get a new heel or to the dry cleaners to get rid of the remnants of last night's grits and gravy it feels just right. Trumpeter Verneri Pohjola is a fine player and knows how to deliver utilising an open, no safety net, rambling, bluesy free-jazz (ie Stańko or Wadada Leo Smith resembling) sometimes brutal and ferocious style.
Caught in the heat of expression the sympathetic and highly driven bass part (the work of Maciej Garbowski, who reminds me of a John Edwards approach) and Andrew Cyrille-like drum input (by Krzysztof Gradziuk) goad him on. Without piano there is a freedom.
Each of the five tracks is named after a gemstone and all were freely improvised recorded live in the Polish city of Katowice. This has instant classic written all over it. Want some spirit, some sheer balls? Look no further. Tell your mates. A perfect act for a club like the Vortex.

Another very auspicious anniversary. 2019 is one of those years.
60 years since Ronnie Scott's opened, 50 since ECM was founded.
Albert Ammons and Meade "Lux" Lewis 80 years ago were booked into a studio by Alfred Lion for his new at that time unnamed label Blue Note on 6 January 1939 at the radio station WMGM in New York. Lewis four years earlier had been found by producer John Hammond working at a car wash and soon placed Lewis and his earlier song 
'
Honky Tonk Train Blues' at the heart of a craze for boogie-woogie.
Lion provided whiskey and tunes included 'Boogie Woogie Stomp' and Ammons and Lewis played 19 takes in all.
In March Blue Note 1 came out featuring two of those takes: Lewis playing 'Melancholy Blues' and 'Solitude'. Blue Note 2 issued at the same time had Ammons playing 'Boogie Woogie Stomp' and 'Boogie Woogie Blues'. Only 25 of each 10-inch disc were made and they were sold by mail order. 
SLIDER WITH ROSIE This looks worth your time, an extract from an original sounding EP by trombonist Rosie Turton called Rosie's 5ive from the Jazz Re:freshed label. 
Tracks are Stolen Ribs, The Unknown, The Purge, the Herbie Hancock tune Butterfly covered in recent years by the likes of Robert Glasper, and Orange Moon. 
The band personnel is not listed but I think joining Turton are Johanna Burnheart – violin; Maria Chiara Argiro – piano; Twm Dylan – bass; and Pete Hill – drums. 
A sprawling laidback dark modal vibe, Turton takes up the mantle of Annie Whitehead a little although there is no South African side to her direction at all on this glimpse anyway but I am also hearing probably more to the point a bit of the bluesy sound of Frank Lacy as per his work with McCoy Tyner on an album like Journey or with the Mingus Big Band. Burnheart reminds me of someone like Nigel Kennedy feeding feverishly into the sound on top of the rhythm section. 
A 14 January 2019 release date is advertised. Turton plays

Kings Place

 on 27 April in one of her biggest shows to date. SG
What Are You Doing New Year's Eve is a Frank ('Baby's It's Cold Outside', 'On a Slow Boat to China') Loesser song. The lyrics, a "jackpot question in advance", missing you, who are you with speculation, self doubting, self pitying, hopeful song with a happy ending, surfaced in 1947 sung by Margaret Whiting who sold a helluva lot of records in her day and her version is really pretty fetching, gently swinging, I suppose if you like Peggy Lee you will warm to this. The Frank de Vol band you could, should you be in that kind of mood, dance to. 
At the end of the 1940s the close harmony Orioles are much better even bearing the cheesy 'Auld Lang Syne' intro in mind. It lopes along and the quality of the lead singer croon has a real gospelly soulfulness which was completely absent on the Whiting version above. Even the out of tune piano lends it a certain atmosphere and charm.
Fast forward to the early-1960s and probably the best version you will ever hear, Ella Fitzgerald gives it an all-the-time-in-the-world nonchalance and skates along, the orchestra practically in awe behind her in a superb arrangement. Ella manages to imbue it with happiness and sadness at the same time something no one on any of these versions achieves.
The late Nancy Wilson tackled the song in a release three years on from Ella's and hers has a twinkling beginning and then very forceful strings behind her from this modern vantage point Dionne Warwick-resembling voice. Very, very classy it must be said. There is such a vivaciousness here you will not find anywhere else which is remarkable.
Johnny Mathis is not known as a jazz singer but he was clearly influenced by Nat King Cole and his voice is a marvel. But to be fair while his version has its charms the production shrouds his vocal in all sorts of sonic gunk, more the ghostest than the mostest as a result.
Yes the 1980s were largely a terrible time for music. And that is where we have landed for soul singer Gladys Knight's version of the song. Her version seems an uphill task until the backing singers rescue the song to make it passable and they ooze ease to spur Knight on although no one spares the treacle.
Harry Connick's 1990s version underlines once again what an influence he was on Jamie Cullum. The tempo is perfectly stately and the piano player comps beautifully with both sax player and strings doing their best to crowd in.
Smooth jazz hell of course it is our duty to report from the mega-selling Boney James. 
Into the noughties Barbra Streisand is not a jazz singer although the much later Love is the Answer is a jazz album and she proves that she can be one if she wants to because it proved to be one of the finest jazz vocals albums you will ever hear. A top show singer however who can sing jazz well is always worth hearing. A wonderful strings intro sets this up and Streisand's vocal, a breathless hush as ever, is showy perfection and worth your time.
I'd rate Clare Teal as the UK's greatest classic jazz vocalist alive and active today especially when a big band is to hand and this by contrast intimate setting stands up with the very best, jing jing-a linging along. SG

It is not only

Jeff Ballard

from the Brad Mehldau trio who will be striking out again in 2019 as a leader. The famous piano trio's Larry Grenadier will also be highly visible with The Gleaners, which is set for a mid-February post-Valentine day's digital release first, which happens to fall shortly after Grenadier's 53rd birthday, followed by CD and vinyl formats a week later.
A Manfred Eicher-produced studio album to be released by ECM which was recorded in New York in late-2016 will be that rarity: a bass solo album an endeavour few bassists have ever successfully traversed before.

 
The only two marlbank can think of are Peter Kowald's 1995 free-jazz classic Was Da Ist and probably a little closer in outlook Eberhard Weber's beautiful Pendulum again from the 1990s. 
Grenadier, who we think is one of the world's best jazz bassists and here is our list to make sense of the terrain, was "inspired by Agnès Varda's film 

The Gleaners and I

" according to ECM, and the album includes his so far unnamed originals, a dedication to

Oscar Pettiford

who remains a strong influence on another of the world's great bassists, Christian McBride, plus George Gershwin, John Coltrane, Paul Motian, Rebecca Martin and Wolfgang Muthspiel material. On the Grenadier website there is a little more elaboration, the site author noting the presence of "a pair of works written especially for Grenadier by guitarist, longtime friend and fellow ECM artist Wolfgang Muthspiel" and an instrumental interpretation of a song by his wife the singer-songwriter Rebecca Martin. (Further reading, on a Muthspiel tack: a review of a record that Grenadier appeared on memorably, 

Driftwood

.)  


Larry Grenadier photo: Wikipedia
All your tomorrows: Feed your imagination, in transit to...→2019.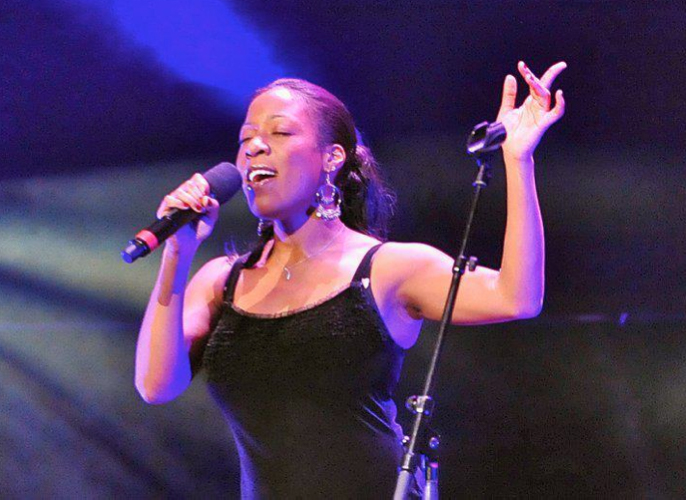 Deelee Dubé, Green Note, 4 January
Monday 31 December Ian Shaw, Vortex, London
Tues 1 January Incognito, Ronnie Scott's, London
Wed 2 Jan Giacomo Smith, Kansas Smitty's, London
Thurs 3 Jan Sarah Moule and Simon Wallace, The Pheasantry, London
Fri 4 Jan Deelee Dubé, Green Note, London
Sat 5 Jan Darren Beckett quartet with Jason Yarde, The Verdict, Brighton
Sun 6 Jan Phil Miller tribute, Vortex, London
Mon 7 Jan Calum Gourlay Big Band, Vortex, London
Tues 8 Jan (also preceding and subsequent night) Sarah-Jane Morris, Ronnie Scott's, London
Wed 9 Jan Chelsea Carmichael, Jazz Cafe, London
Thus 10 Jan Jeremy Stacey's Big Band, Ronnie Scott's, London
Fri 11 Jan Tony Kofi and the Organisation, Fleece Jazz, Stoke by Nayland, Suffolk
Sat 12 Jan Richie Buckley quintet, Arthur's, Dublin
Aaron Diehl, 13-14 Jan
Sun 13 Jan (also 14th) Aaron Diehl trio, Pizza Express Jazz Club, London
Mon 14 Jan Dominic Lash Quartet, Cafe Oto, London
Tues 15 Jan Kansas Smitty's House Band, Ronnie Scott's, London
Wed 16 Jan (in residence from 7-18 Jan) Rebecca Ferguson, Boisdale, Canary Wharf, London
Thurs 17 Jan Tori Freestone trio, Hidden Rooms, Cambridge
Fri 18 Jan Salena Jones, Brasserie Zédel, London
Sat 19 Jan Jo Harrop sings Peggy Lee feat. Tony Kofi, The Verdict, Brighton
Sun 20 Jan (afternoon) Tomorrow's Warriors jam, Rich Mix, London
Mon 21 Jan NYJO, Ronnie Scott's, London
Tues 22 Jan Neil Yates, Blue Arrow, Glasgow
Wed 23 Jan Laura Mvula and Black Voices, Kings Place, London
Jeff Ballard, Triskel, Cork, 31 January
Thurs 24 Jan Gareth Williams, Clark Tracey, Arnie Somogyi trio, East Side, Birmingham
Fri 25 Jan Florence Joelle Quartet, Brasserie Toulouse Lautrec, London
Sat 26 Jan Norma Winstone/John Parricelli/Huw Warren, Vortex, London
Sun 27 Jan Bokanté, Jacaranda Records Phase One, Liverpool
Mon 28 Jan (also previous and next two nights) Ledisi, Jazz Cafe, London
Tues 29 Jan (also previous and subsequent nights) Ruby Turner, Ronnie Scott's, London
Wed 30 Jan Dizzy Reece Routes in Jazz Retrospective, Band on the Wall, Manchester
Thurs 31 Jan Jeff Ballard Fairgrounds, Triskel, Cork 
Kind of Blau? Let's say that is a double pun because the issuing label of this latest Scott Hamilton release has been churning out records quietly for around 13 years. Beyond my hopeless Miles Davis pun ("azul" is actually Spanish for blue,"blau" being the German to spoil the fun but see also French cousin Kind of Bleu for further japes) I could not resist, the label has been very kind to us all, the homophone is quite deliberate, by completing the story first begun when Live in Barcelona was released seven years ago. 
Blau is based in the eastern Spanish city of Castellón de la Plana but rather than sketches of Spain, yep at the punning again forgive me, we are firmly in a portrait of classic romantic US jazz documented on a Catalonian night in a jazz club although the often cheesy, but not here, Consuelo Velázquez bolero 'Bésame Mucho' nods to an Hispanic provenance. Dreadful cover image though, don't you think? Art failure inducing for sure!
Hamilton is nothing if not prolific and yet like the label has the habit of ducking under the radar. Dean Street Nights for instance back in 2014 was another sort of low key release. Instead of his long-running UK quartet of pianist John Pearce, bassist Dave Green, and drummer Steve Brown who you will hear when Hamilton plays his January 2019 residency at Pizza Express Jazz Club here in top Barcelona jazz club Jamboree in November 2010 expressing the same unslavish musicianly devotion and above all exhibiting great time keeping are Gerard Nieto, piano, Ignasi González, double bass and Esteve Pi on drums cast in just the same way as Hamilton's UK pals. Stuffed with standards and swing the first release included a stirring version of 'You Are Too Beautiful' famous from the 1963 John Coltrane and Johnny Hartman LP and revived in more recent years by Kurt Elling.  
From the first volume 'You Are Too Beautiful' with Esteve Pi on drums, Hamilton on tenor saxophone, Ignasi González, double bass, and Gerard Nieto, piano. 
The Jamboree audience applaud in the right places and apart from a sneeze or so and the odd strangulated "yeah!" yakking is kept to an inaudible minimum and the room going by the sound quality has real character to it. You feel that you are there. (Oddly most live albums sound as if they have been in the microwave but this is straight from the oven.)
'I Just Found Out About Love', my least favourite melodically of all the numbers, 'Bésame Mucho', 'You Don't Know Me' ["Let's play the ballad, we got one ballad left. This is a Ray Charles song" Hamilton drawls in a speaking voice not dissimilar to Keith Jarrett's before the quartet kick into the bittersweet number], the less familiar furiously swinging 'Loose Walk', 'That's All' which featured on one of the former often unfairly dubbed young fogey's still most famous record Scott Hamilton Is a Good Wind Who Is Blowing Us No Ill (Hamilton quips: "We're going to play a ballad for you. This is one of the first tunes that I recorded. And now I'm going back and recording them all over again. So. That was a joke I'm not really. [Audience laughter] I hope not, God. This is a pretty song...") and classic Bruno Martino bossa nova 'Estate' in a marvellous version, drummer Esteve Pi coming into his own with Hamilton practically floating above the rhythm, that perfectly expressive timbre and poised control of his still a thing of easy beauty, are the tunes.
Some performances do not need praising to the skies because they are not asking to be and words however golden often can just be intrusive noise and I guess if you had been in the audience that night in Barcelona going on this evidence you would just have thanked your lucky stars however wordlessly to have been an ear witness and returned home happy. Thanks to this excellent release: today, marlbank reader, is also your lucky listening day. SG

Iain Ballamy appears at the Widcombe Social Club during the Bath Jazz Weekend on Saturday 5 January.

LOOK OUT FOR THE BATH JAZZ WEEKEND coming up. To take place in the Widcombe Social Club the new festival is promoted by Nod Knowles, formerly chief executive of Bath Festivals, and a flick through the dynamic programme indicates that its line-up includes a pretty high profile array of stars some of whom are drawn from the late-1980s and 1990s British jazz scene and who include Loose Tubes saxophonist Iain Ballamy subsequently successful with ambient electro minimalists Food and folk jazz trio Quercus; and pianist/keyboardist Jason Rebello, who was produced by Wayne Shorter on A Clearer View and later toured the world with Sting and Jeff Beck. More recent breakout bands like popular Bristol mavericks Get the Blessing are also scheduled to play. 
More details:
Friday 4 January
Dave Newton and John Pearce
European Wine Tasting
Saturday 5 January
Afternoon from midday–5pm
Karen Street's Streetworks
Iain Ballamy/Jason Rebello Quartet
Evening 
Tony Orrell and Vyv Hope Scott aka The Jellilalas
Andy Hague's Quintet with Jim Blomfield
Get The Blessing 
Sunday 6 January
In the afternoon from midday–6pm
James Lambeth's Lambeth Swing
John Law's Re-Creations Quartet with Sam Crockatt
The Bristol European Jazz Ensemble. 
Works big time... Putting a guitarist's stamp on Monk.
This tiny interview piece published in August went on to pick up shed loads of traffic more, much more, than any other of the hundreds of pieces to have appeared during the year on marlbank.
Work since then has cropped up in many albums-of-the-year lists including marlbank's own. Read the piece and have a listen via the Bandcamp link, below.
If you have not heard Work before you are in for not so much a treat as a feast. The only thing that remains is to hear Miles Okazaki, to whom thanks for doing the interview, live — asap. 
Work presents the music of Thelonious Monk as you have never heard the great pianist-composer's body of music in such a complete way before. The multi-disc undertaking takes his sound apart and puts it back together again. Work also makes me for one approach the ideas and imagination of Miles Okazaki, hitherto known in this manor mainly for his work as a sideman to MBASE innovator Steve Coleman, in a completely new light. I will certainly be returning again to the complex Trickster by this fine theoretician, which I enjoyed at the time of release and included a taste from on a 2017 marlbank mixtape, with new ears.
Okazaki grew up in Port Townsend, Washington, and began gigging on electric guitar in his early teens. In the 1990s he moved to New York and went on the road with saxist Stanley Turrentine and later, a little bit improbably at this distance, singer Jane Monheit. His albums show an active mind full of ideas and solutions to harmonic problems while never forgetting how to groove and communicate. His book, Fundamentals of Guitar, was published in 2015. 
"An internally consistent world that you can enter and inhabit" — Miles Okazaki on Thelonious Monk
Miles Okazaki playing solo in a vast organic guitar project that dropped out of the blue online earlier this month may well have done the same within his own prism of protean ideas and individualism as Marc Ribot achieved when he interpreted the music of Albert Ayler. 
What most spurred you on to undertake such an epic task?
I get into this in depth in the liner notes, but the short answer is to undertake a period of focused study, in the Sonny Rollins Williamsburg Bridge model, which is also something that Steve Coleman does from time to time. 
How have your deep harmonic studies so far fed into your interpretations?
Harmonic studies don't factor a lot into this project, as the harmony is provided by the material itself. The main factor is my interpretation of the tunes is not harmonic, but rhythmic.  
Why does Monk mean so much to you?
His music has resonated with me from my earliest days. It is deeply logical, soulful, rhythmic, and is an internally consistent world that you can enter and inhabit.
Describe your guitar (s) used and most importantly the strings and how you amplified them?
A 1978 Gibson ES 175 Charlie Christian archtop guitar, Thomastik flatwound gauge 14 strings, Fender Twin reverb amp. One pair of stereo mics, one on the amp, one on the guitar body. This is the setup I've used for 20 years. Flatwound strings because I like to have a mic right up next to the guitar, and roundwounds would be too noisy at that distance.
What posed the most difficulties researching the album?
It was not difficult, it just took a long time. So I suppose it's a matter of maintaining focus over time. But that's my main strength, going slowly and eventually getting there.
Will you do solo Monk themed club gigs in the US or further afield? 
Yes, I already do them. I'm playing a small club called Lunatico in Brooklyn on Monk's birthday this year, in fact. SG
Photo, top: www.milesokazaki.com