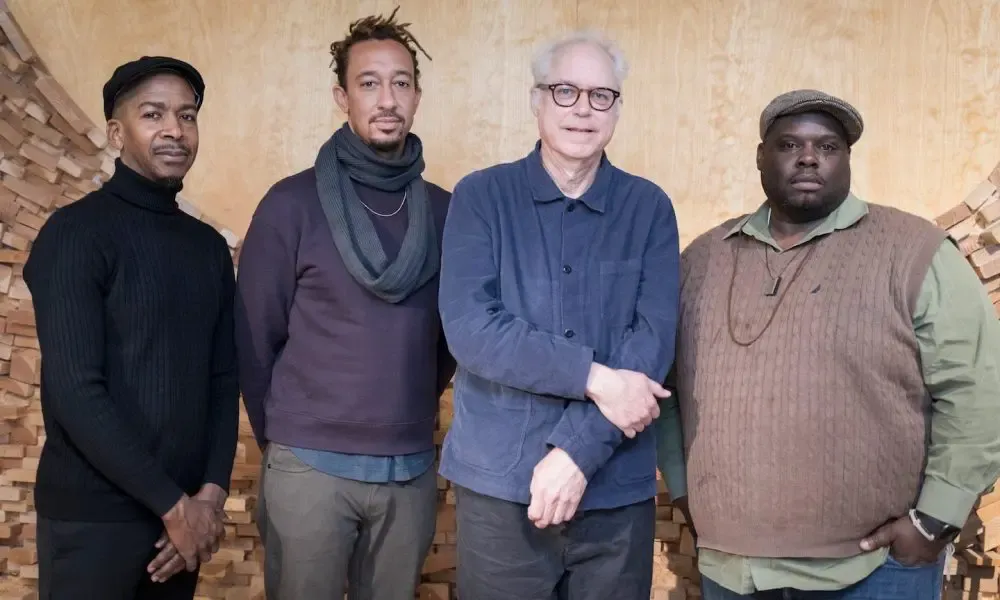 In the last decade up to this brand new release out today guitarist Bill Frisell has put out at least nine albums under his own name shifting in the process from albums issued on Savoy and Tzadik to Sony's Okeh and ECM to Blue Note. The recent Blue Note period has produced some of his finest records in years and that purple patch continues here again. Valentine released in 2020 was a trio; Four changes the band completely and ups the combination yep Sherlock to a quartet bringing in reedist Gregory Tardy (check out the saxophonist's excellent recent release Sufficient Grace). Tardy and Frisell recorded together on the 2019 Newvelle duo release More Than Enough also worth seeking out. Also here is the Dave Holland drummer Johnathan Blake whose own excellent Homeward Bound came out last year. And pianist Gerald Clayton whose Bells on Sound was a big highlight this year is an elegant presence - he and Frisell have played in the company of the iconic hippy jazz shaman Charles Lloyd down the years.
Compare 'Good Dog Happy Man' with its 1990s version - it's the title track of a 1999 Elektra Nonesuch album which was coated in Americana on an album that you could almost imagine yourself sat on a bale of hay in a barn listening with a stalk of grass in your mouth. 'The Pioneers' from the same album also gets a new treatment. Lonesome sax from Tardy takes on the melody instead of Frisell's homespun 1990s line and it sounds very different. On the 'Good Dog' track there is a woodwind-flavoured new innocence to the piece. And like so much here it is rendered concise and positive. 'Holiday' begun with Blake quite martial and disciplined also is half glass-full more than empty. And you get a Monk-like quirkiness somehow into the bargain that is so appealing and fits in with Frisell's often deadpan approach.
Another old Frisell piece 'Lookout for Hope' that goes even further back to the 1980s (it appeared in a cello-flavoured quartet album of the same name in 1988 on the ECM label) gets a refurbishment and in its laconic ease and again dusted down arrangement that eventally unfolds into a gem of a bass clairnet solo from Tardy there is a fantastic sense of overflowing grace. When you do travel back and lift up the stones of the old tunes and hear these interspersed with the new tunes and the new playing mates it seems paradoxically that time was not a factor then or now because Frisell's sound in its aching bluesy understated aura is still so firm a destination and as deeply satisfying and startlingly unique as ever.
Gregory Tardy above left, Gerald Clayton, Bill Frisell, Johnathan Blake.
Photo: Monica Jane Frisell
Tags: WHAT'S NEW