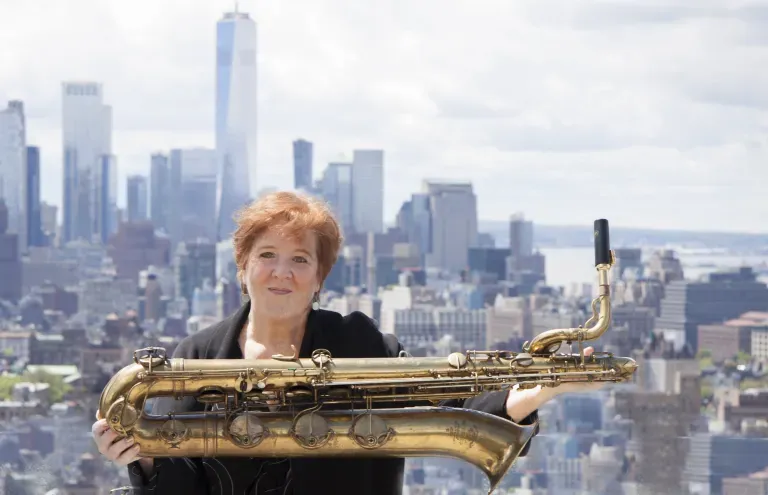 Gravitate here if you love baritone saxophone. Claire Daly exponent of the low note in excelsis is a veteran and has recorded with her sparring partner here the equally distinguished tenor player George Garzone before on Swing Low for instance as far back as the late-1990s. Inescapably if you recall the sound of Joe Temperley or Harry Carney then this lands on your forecourt perfectly where Daly is concerned. Dave Hofstra who New Yorker Daly goes way back with is the bassist here - again another Swing Low connection - among the small group personnel.
Whet your appetite and hear the Daly and Garzone sparring going down back in the day on 'The Chooch' drawn from Swing Low, a rapport that picks up where they last left off and hits the ground running again on VuVu for Frances
The Frances in the title is nonagenarian jazz fan Frances Ballantyne whom Daly has been friends with for years and is a sprightly homage to the New York jazz scene that Frances knew as a 52nd Street habituée. 'Fools Rush In,' 'Half Nelson' and 'The Very Thought of You' appealed to us most.
Claire Daly, photo: Judy Schiller. Out on 7 July. Album track 'Fools Rush In (Where Angels Fear To Tread)' a treatment of the Rube Bloom tune recorded by among others Tommy Dorsey with Frank Sinatra singing the Johnny Mercer words in 1940, is streaming
Tags: reviews