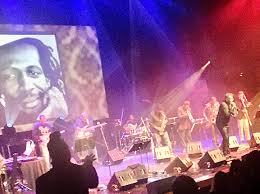 ''More blacks. More dogs. More Irish, that's what we want'' – was singer Cleveland Watkiss' verdict as he celebrated his 60th on the South Bank closing the 2019 London Jazz Festival in a hard hitting performance that tapped deep into roots reggae and vintage sounds covering the waterfront and tapping into several overlapping strands of his musical interests.
The Hackney singer, an icon of UK jazz, presented the Great Jamaican Songbook, an idea suggested by the bowler hatted Orphy Robinson, who was on keys and played percussion to his side with 'Windrush Generation' emblazoned on the back of his shirt.
With horns arranged by alto/soprano saxophonist Jason Yarde, Ray Carless on tenor was given a prominent role as both an old school friend from Watkiss' Hackney childhood and for his tenure with Cleveland in the seminal big band the Jazz Warriors. Young trombonist James Wade-Sired made a great impact within a heavy horn section completed by Byron Wallen from the Mulatu Astatke band. Remember the name.
The evening was full of reggae and large sprinklings of jazz (''this is our folk music,'' Watkiss told us) with graphics highlighting some key records and New Cross protest footage interspersed for a sociopolitical flavour.
Guest vocalists were highly promising twentysomething singer Sahra Gure and cellist-vocalist Ayanna Witter-Johnson who received some of the biggest applause of the night as Watkiss and Ayanna duetted on The Abyssinians' 'Declaration of Rights'.
The reggae rhythm section, including a some times dancing pianist Phil Ramacon who Watkiss told us had earlier in his career played with Bob Marley and had the crisply effective drummer Dan Barnett, father and son bass guitarist Delroy Murray and guitarist Brandon Murray, strong and true.
Watkiss was best on the Gregory Isaacs material especially 'Night Nurse' and he was a cool ruler himself and then some.
Stephen Graham. Pic. Marlbank
Tags: