With a title that tips the hat to a Duke Ellington classic there certainly is a fitting grandeur to this upcoming Eric Reed piano album demonstration. Firstly, and this isn't news given that Reed's sound is well known from his days with Wynton going back three decades, there is that consummate authority of the 52-year-old Philadelphia born master who has been making his own records since the 1990s and appears on Wynton Marsalis' classic box set Live at the Village Vanguard 90s extravaganza.
You know from the first notes of Black, Brown and Blue that you need to listen hard given the fine detail at every turn. The title track is a little bagatelle that certainly while authoritative does not take itself over ponderously. There's always been a strong gospel element in Reed's style and you get that given there is a vocal take in keeping with this church background on Bill Withers classic 'Lean on Me' sung superbly by church minister Rev. Calvin B. Rhone. The sheer familiarity of the song is no barrier given how much life Rhone brings to the song.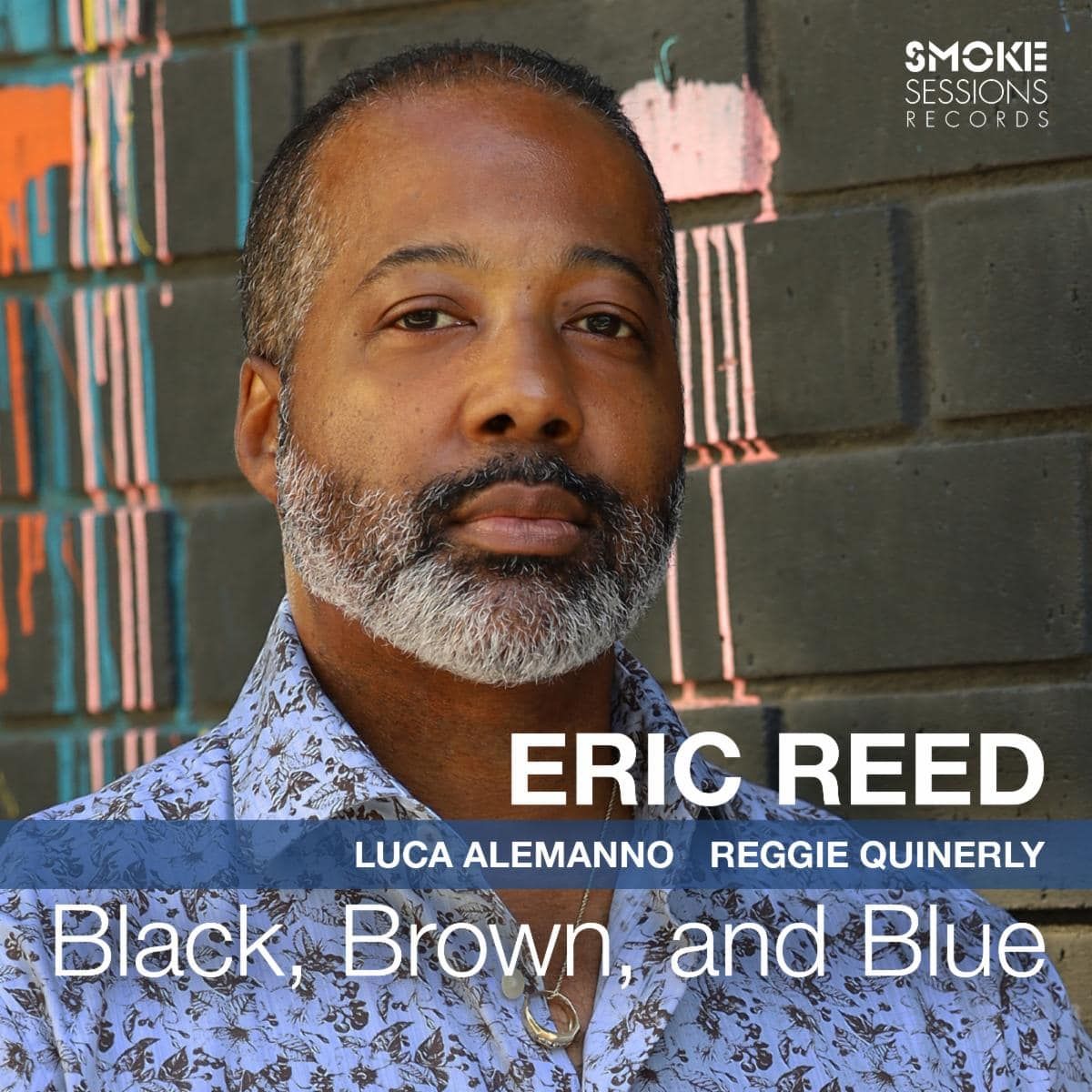 Reed accompanies with a lot of strength and yet this is a quiet album. Bass and drums are there but often somehow not there. The Ellington connection re-emerges with 'I Got It Bad (and That Ain't Good)' where there's very still bass accompaniment by Luca Alemanno and some extremely quiet drum accompaniment by Reggie Quinerly. Reed made me think of Junior Mance at this point of the album a little.
A very personal album for Reed as he is now open about his bisexuality. He says: ''It's time for me to just go ahead and be completely authentic in every aspect of my life. That includes, but is not limited to, being more open about my sexuality and proactively moving into spaces connected with the LGBTQ+ community. I think that would have happened in spite of the political climate in this country and the pandemic, but it's been hurried along. Those aspects of my life were becoming more bold and more broad, and I could no longer keep them on the margins."
A very fine album that you simply need to be aware of well ahead of release - the version of Horace Silver's 'Peace' - yes that beloved standard again covered recently by Diego Rivera - and take on Wayne Shorter's beautiful 'Infant Eyes' are both textbook. The album also includes a vocal from David Daughtry on Stevie Wonder's 'Pastime Paradise.' Out on 10 March. Eric Reed, photo: detail from the Smoke Sessions cover art
MORE READING AND LISTENING:
Hear Reed's incredible comping on the Live at the Village Vanguard Wynton track 'Knozz-moe-king'
Tags: