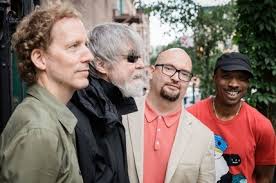 Speaking on the phone from Munich ahead of going on stage at Unterfahrt in the company of Charles Lloyd bassist Joe Sanders and the Mehldau Art of the Trio legend Jorge Rossy this snatched interview with Ethan Iverson luckily snuck in ahead of time because someone missed their interview slot, heralded after a "Hello. Great!" text began by Iverson uttering the word "genius" when quizzed. But who was he talking about and what was the context?
The indisputable genius in question is Manfred Eicher, the producer of Common Practice, a live-at-the-Village Vanguard quartet affair featuring trumpet icon, the elegant Eldrigian Tom Harrell which is to be released this coming Friday the context. There was a verb too and a back story. "He is a genius. I grew up listening to ECM". The first ECM he says he recalls was Paul Bley with Gary Peacock, "early on", and refers me to a list of his favourite 50 ECMs (available online).
As the conversation settles into the bouncy benevolent fuzziness of a mobile to mobile soundzzizzzsphere thanks to a trampoline signal crisscrossing the continent of Europe from east to west across Germany to the marlbank hole in the hedge in the borderlands of Ireland, Ethan says when asked about his preferred pianos that his heroes Bud Powell and Thelonious Monk could play on any piano although the New York Manhattan club the Village Vanguard where the album was recorded has "a nice Steinway" and he recalls first playing there with Kurt Rosenwinkel and many times thereafter with The Bad Plus, some "17 times playing there every year," he pinpoints.
Grilled about the sound the pianist who is originally from the midwest of the USA says down there in the Village the sound is "very dry". He took a decision to bring a "'classical'" engineer, namely Andreas Meyer — a Glenn Gould and Bob Dylan reissue producer — in. We talk, it would be rude not to, about applause and how the applause of the audience has been captured. These things matter. The album thankfully does not sound like a vicar's tea party when the audience respond.
More seriously this brings up the subject of how audiences are significant. Artists want to move us. And Ethan mentions how much on another more recent occasion in the Vanguard when they played together an audience member was so moved by Tom Harrell's playing that "tears were flowing down her face" in the front row and seems to agree with my description of his blueness and mentions that there is "a vulnerability" in Tom's sound.
In terms of historic Vanguard records the ones Ethan likes most were the Sonny Rollins, Wilbur Ware and Elvin Jones et al classic A Night at The Village Vanguard issued by Blue Note, released in 1958; the Coltrane "Live" at the Village Vanguard put out in 1962 and the Bobby Timmons In Person recorded (as was the Trane) in 1961 with Ron Carter and Tootie Heath the latter two living legends both players who Ethan has worked with extensively. I cheekily ask him if he has to raise his sartorial standards when playing with big Ron given how great a dresser the Second Great Miles Davis Quintet bassist is especially in terms of beautiful suits and ties. He laughs. Playing with Carter he says wisely that the important thing is not "to feel too intimidated" by his greatness.
As for standards on the album we talk about the Dorseys a little as quite a few of the standards included have well known versions by either Tommy (eg 'Polka Dots and Moonbeams') or Jimmy ('I Remember You') however Ethan steers me in the direction of Thelonious Monk for his model version of 'I'm Getting Sentimental Over You'. He shocks me a little by saying he will never make another standards album again.
Ben Street from the Billy Hart quartet that also features Iverson is on double bass in the quartet and Eric McPherson from the Fred Hersch trio is on drums and complete the quartet. Hersch taught Iverson. Recorded towards the end of January in 2017 Ethan tells me Common Practice is drawn from four sets of material and selected from 4-and-a-half hours worth of music and that he is "confident" that they picked the best performances. Perhaps there will be a future clamour for more from the sessions. Let's see. However, it is a no brainer to realise as you dear readers may well discover for yourself come release time that Common Practice is nothing less, spoiler alert, than a marvel.
Track titles on it include George Gershwin's 'The Man I Love', taken very slowly, the aforementioned 'Polka Dots and Moonbeams,' Denzil Best's 'Wee' plus a brace of Iverson originals. As for the inclusion of 'Wee' Iverson writing on his multi-award winning blog Do the Math in 2016 noted: "When I was in high school I went every summer to the Jamey Aebersold Jazz Camp in Elmhurst, Illinois. The very first time I was placed in David Baker's combo. "David Baker was a thrilling personality. He had hung out and played with major jazz figures, and we loved hearing him tell stories about the masters from the vantage point of being a casual friend. One day that week Baker came in and began singing Denzil Best's 'Wee' to us. No chart: We had to learn it by ear, and deal. The next day he made us play Lee Morgan's 'Ceora' in all twelve keys. Baker was also a serious composer. I had yet to become immersed in classical music, but Baker gave me a book that was a strong indication that I should investigate more 20th-century composition."
Iverson too as a serious composer himself recently premiered music for Samuel Beckett's Quad at the Happy Days festival in Enniskillen performed by the Mark Morris Dance Group. He tells me that he has written a concerto and will be looking ahead to a new record as well as touring with Billy Hart to mark the Mwandishi great's 80th next year. SG
Ben Street, Tom Harrell, Ethan Iverson, Eric McPherson pictured above. Photo: Monica Frisell. Main photo via ethaniverson.com
Tags: