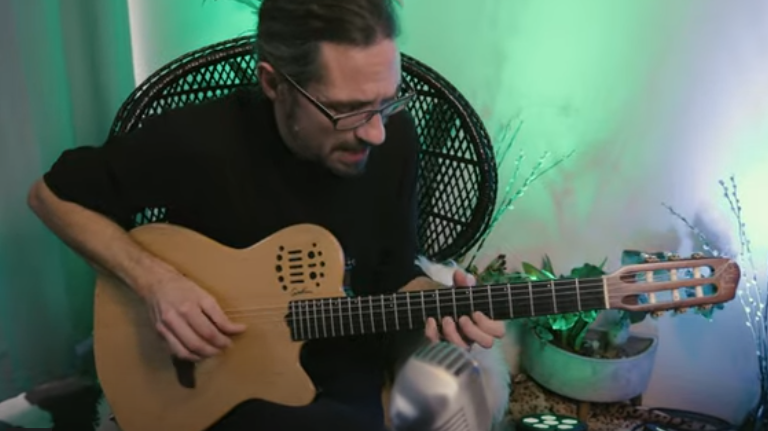 One of the best records we heard this year didn't actually come out. That was the work of Luca Boscagin and Jason Rebello, the record called Ghost Light. Perhaps it will come out in 2022 but who knows? We reached out to Babel, the label in question, a few times but a date has still to be decided is all we know.
Luca Boscagin and Jason Rebello had toured in Luca's homeland of Italy and then reconnected to record in Jason's studio in Bath. Ex-Jeff Beck, a jazz star before firstly hooking up with Sting in the 1990s, Jason was produced at the beginning of his career by Wayne Shorter on A Clearer View. Tunnelling back there is a Shorter link retained in the JuJu piece 'Yes or No' on Ghost Light although so far marlbank has only caught a live online version of the Shorter (rendered, note, 'Yes and No') that the pair released earlier in the winter.
The album encounters Rebello solely on piano, during the making placing the microphones himself. Mix and mastering later was by Tim Bray known for his work at Ronnie Scott's. A few months earlier in a gap between English Lockdowns Luca was in sparkling form upstairs in Ronnie's when on that occasion he was playing a largely bossa nova-themed set duetting with the fine singer Irene Serra with whom he plays usually a few times each year.
The more traditional Italian connection isn't forgotten on Ghost Light and is provided by 'Ma se ghe penso' favoured by Luca's wife and a song that has a firm Genoese resonance in representing the Signora's home city. Luca likes music that connects in a roots way with the people.
Luca carves a route to his own rock roots covering The Zombies. The duo do a beautiful contrapuntal version of and justice to 'A Rose for Emily' among a solid strand of flowing Pink Floyd and Jeff Beck covers. Luca loves heritage rock including The Beatles, Led Zeppelin, Wishbone Ash and Deep Purple and has been known to even make a pilgrimage to the very pub in St Albans where The Zombies first played to bathe in their aura. Quite an 'odessey' but who's the 'oracle'? Bubbling up it could well be a tune, and a special one at that, from bassist Tim Thornton and 'Passengers', a tremendous highlight of the album and serves up, given Thornton's well known prowess as a chef, a deserved pizza-the-action.
Luca, who is also in the band of 'Sultans of Swing' Dire Straits drummer Pick Withers, as a writer builds melodies from riffs and as the album tracks convincingly demonstrate thrives on them as surely as we all very well will when the album rolls in. Not even a shaggy dog story I hear you mutter but Pick's dog does get her three minutes and forty six seconds worth of fame on 'Miss Tulip' in a touch of canine can-do.
Luca Boscagin, top and above in Slim Pickin's with Pick Withers
Tags: