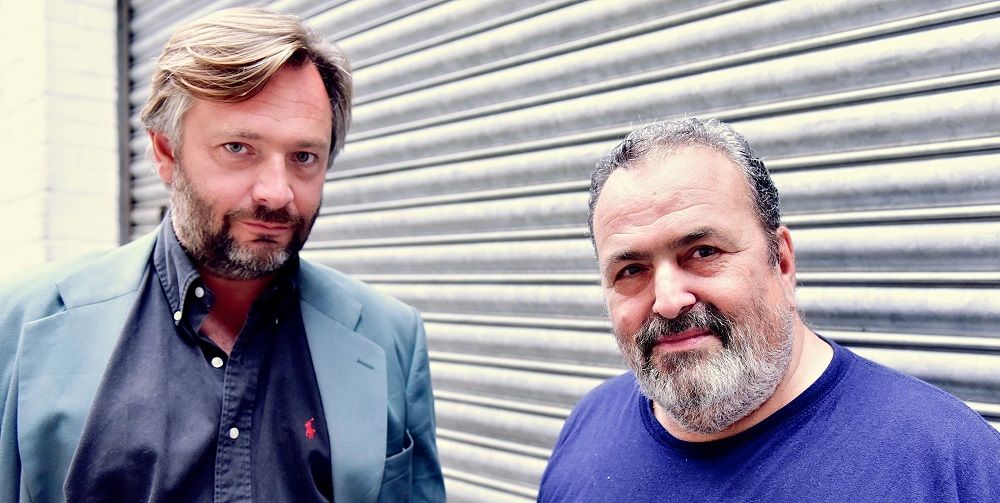 Back from getting a Thai massage - ''I'm a piano player I have back problems,'' shopping, a bit of lunch and a snooze, a busy dad to a 2-and-a-half-year-old, we caught up with Greg Foat earlier on the phone from Hertfordshire. Hailing from the Isle of Wight the jazzer has Dolphin out later this month, a collaboration with Italian ambient composer Gigi Masin whose composition 'Clouds' has been sampled by Björk on 'It's In Our Hands' and who Greg, he tells us, first encountered on YouTube when he was working in Miami. ''I was randomly selecting mostly library music and I was blown away by Masin in an ambient playlist.''
''I had to find out who he was.''
A former pianist bandleader in residence at Mayfair's Playboy Club, Foat says the visually inspired conceptual Dolphin featuring a painting on the cover by his cousin Niul Foat follows on from Symphonie Pacifique that changed everything in the perception of this prodigiously active pianist bandleader's work having begun a recording relationship with Strut's Quinton Scott who made him an offer to make the leap from smaller labels.
The cover of Dolphin featuring a painting by Foat's cousin Niul (above) and Masin album Wind that initially piqued Foat's interest in the Italian's approach and sparked a path to a collaboration
Highlights of the voluminous Foat back catalogue - ''21 albums in 12 years,'' he counts - include The Mage featuring the late Duncan (Mr Benn) Lamont and the Live at the Playboy Club London album.
On the Playboy release the rollicking cover of Pigbag's 1980s album 'Papa's Got a New Brand Pigbag' the DJs would then follow at the club where the sets were interspered by turns like the comedian Steve Furst with his Lenny Beige character. During 2013 and 2014 at the Playboy he says it was intense playing with the same band on well over 300 gigs. ''The band got tight!'' Dj-ing going back even further he recalls 25 years ago at Happiness Stan's in the Talc Room in Farringdon when he was playing bugalú, Prestige type stuff and big beat. And back in the day also used to sell jazz vinyl at a stall in north London's Camden Market - Pharoah Sanders even came in one day to browse prompting an intrepid Foat to get the tenorist to sign some vinyl which upped their selling power and heading down to hear Pharoah blow Coltrane tunes on the stand.
As a dad of a young 'un he doesn't get out so much now to the west end clubs. Worn out a bit he apologises for the tardiness of the interview "I fell asleep outside after lunch in the sun and left my phone on charge inside''. But certainly still game he plays festivals and this weekend is on the same bill as Gilles Peterson and Alabaster DePlume at the Waking Life festival in Portugal. The collaboration with Masin involved sending over stems and MIDI versions of the tunes to the Italian with live versions then following that saw fabulous Dem Ones drummer Moses Boyd and bassist Tom Herbert (London Brew) joining Foat playing along with headphones in response to the unique synth pad touches that the Venetian sent back. Foat also plays vibes as well as a lot of different keys on the album. He says he's not a vibist but yes nudged a bit says he likes Bobby Hutcherson. We talk of other inspirations of his. ''I love Gordon Beck still my hero and Horace Silver and through Beck, George Shearing; and through him Bill Evans. It's the cross-fertilisation.''
His style on the album is based on vamps which are like his own extended licks, shaped in heavily modal unfurling increments, hugely long notes - Foat likes to occupy a space where the ambient proclivities of Masin meet Foat's own modal jazz sweet spots. He plays Ronnie's on 23 June with tenorist Binker Golding and in the band front line trumpeter-flugel player Trevor Walker who he has been playing with for years - check Walker with Foat on 'View From the Hill' on 2016's Cityscapes/Landscapes - double bassist Daniel Casimir and Kokoroko drummer Ayo Salawu (the 'Age of Ascent' groove on Kokoroko's Could We Be More is a must) plus Venezuelan conguero/percussionist Baldo Verdú. Binker, Greg says, he has been playing with since 2016 - not long after his own return from Miami.
Gabriel Garrick, son of the legendary pianist Michael Garrick, put Greg in touch with another totemic figure from an earlier generation - the mainstream tenor legend Art Themen with whom he recorded on Athens of the North release Off-Piste and earlier The Mage. Very much at home in the studio Greg compares studio work to the way actors see the theatre and film. Live he says ''you have to almost pander to the audience and project, overact. Whereas in the studio if anything it's underacting.''
Dolphin is out on 16 June. Ronnie's tickets for the 23rd can be obtained here
MORE READING: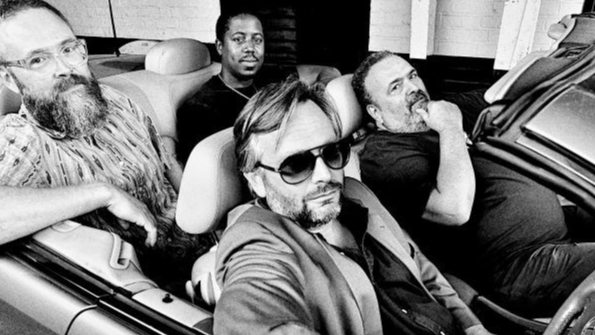 l-r: Album bassist Tom Herbert, Moses Boyd, Greg Foat, Gigi Masin. Photo: Strut
Greg Foat, top, and Gigi Masin Photo: Strut
Tags: interviews