Recaptures is one of the most intriguing albums on the horizon, the touch of hammered dulcimer and faraway vibrations rising from the earth and hanging in the air like an ancient spell do something to you. But who are Minihi, the artists behind the album?
The band's Louise Anna Duggan explains their origins. Speaking on the phone she was preparing to join bandmate Zands as they prepare for a live set. The band remarkably still have not gigged but they are deep in rehearsals and will appear live as a four-piece post-Lockdown, with an additional drummer and a synth player joining the core unit. You pronounce Minihi not as miniHEE or even miniHIGH. Because the word stems unusually from Breton French the emphasis is a little unexpected. Duggan is from Jersey in the Channel islands and in saying the word, this is a deep and mystical percussionist's world after all, it's something like weak emphasis on the ''Min'' and then strong emphasis on the ''AI'' and ''HAIGH''. The word means ''Sanctuary'' and Louise says it is ''the orginal name of an island reef on Jersey.''
A percussion duo writing original music is the project in six words in terms of the album the extraordinary sounds contained on it allow its internal pulse a great freedom whether directed a tiny bit by Louise's vocals or more to the core by vibes, piano, bells, dulcimer, bodhrán and lots more coated in an ingenious electronic wash where the waves of tension and release roil until they against the odds reach a becalmed resolution.
Both players have deep Irish roots in Thurles and Cashel, County Tipperary, and the bodhrán, which is very important in Irish traditional music, a frame drum played with a cipín (or ''tipper''), was purchased on an Irish road trip the pair made some years ago.
Trained as open minded percussionists at London conservatoire Guildhall, Zands, Louise tells me, has more of a jazz background as he also studied at top US jazz college Berklee, and has played in Dixieland outfits in the past. She says she loves jazz but hasn't as much of a background in the music as her partner has.
Recaptures is impossible to categorise although it emerges on a contemporary classical label, one that has two feet firmly planted at a crossroads that embraces the concentric circles of electronica and other musics flowing in an ocean of sound. Louise says that she also loves electronic artist 4tet. And it is not surprising perhaps to understand why Kieran Hebden's music appeals given how organically Recaptures enters the supercreative end of the electronica domain as part of its appeal while retaining its own special animus and percussive magnetism.
Both players were busy sessions players and appeared on Thom Yorke's 2019 album Anima on tracks such as the beautiful 'Dawn Chorus.'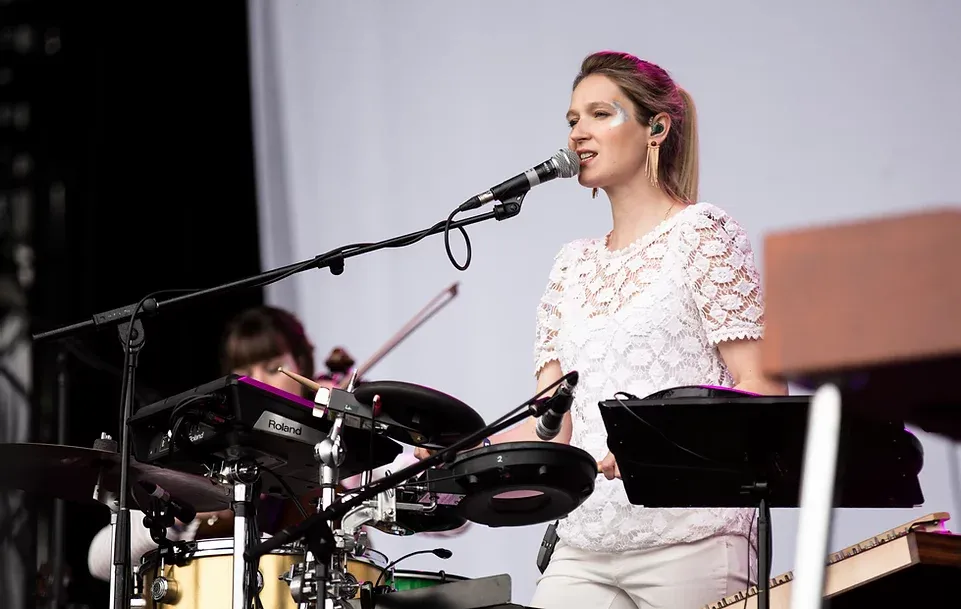 Louise says readily that she ''loves'' the music of Brian Eno and mentions Eno's recent collaboration with his brother Roger, Mixing Colours.
We talk a little about Oli Jacobs who produced and mixed Recaptures at Real World. Minihi went into the studio a year after starting writing, a process Louise says began at the end of 2018. She says she surprised Oli by arriving at the studio with notated scores something he wasn't used to. ''Pop stars come and talk about the feeling! He went through the scores meticulously and suggested ideas''. She explains that his use of a binaural head microphone shaped ''like a human head'' is one element of the sound production that the album significantly possesses. Sessions lasted 5 days and then later Minihi returned for 3 further days of mixing. Louise says ''she is a musician first of all'' but getting into writing was something she and Zands got into it after Zands broke his arm in a cycling accident.
Signed to a German label, Hannes Kretzer's Unperceived Records, out of Berlin, she knows the German capital well spending as much as six months of the year there when working with revered Danish arthouse-noir singer Agnes Obel. Recaptures Louise sums up succinctly commenting on its naming that the album is ''about recapturing a lost moment.'' That's certainly part of the impossible coolness of it all stepping into the tone, vibrational, domain. SG
Louise Anna Duggan, top, playing bodhrán and above with stand-up kit. 'Lost Takeno' drawn from the album is to be released next week. Recaptures is out on 12 March.
Tags: