Producer Sun Chung has launched Red Hook, a new label that as reported earlier this week in these pages is debuting with Hanamichi from the Japanese pianist and composer Masabumi Kikuchi (1939-2015).
A beginning that is also a finality in one specific sense as the issuing marks the final recording by the Japanese master also known as Poo-Sun.
The album, made at the Klavierhaus in New York City, comprises six solo performances that begins with the 1920s-era 'Ramona' continues with 'Summertime', then two versions of 'My Favorite Things,' includes a stunning 'Improvisation' and concludes with Kikuchi's classic 'Little Abi.'
Sun talked to marlbank briefly this morning on the phone from Munich. The South Korean explains that Red Hook is named in homage to the district in Brooklyn where he lived in New York when he studied at the New School. Sun, the second son of the South Korean conductor and Messiaen specialist Myung-whun Chung, is a guitarist who later switched to study composition at the New England Conservatory in Boston. Sun explains that he ''doesn't like performing'' hence the switch to composition. Red Hook for him and patently so given its place of honour as the label name, is a ''special place'' and there he knew and hung out with a lot of musicians ''who lived there and in the vicinity''. He explains ''we used to gather in the evenings and talk into the wee hours.''
The musicians he knew back then included double bassist Ben Street, a musician who Danilo Pérez calls ''the godfather,'' and pianist Aaron Parks. Sun did not in the end complete his masters at the NEC where he was taught by the pianist and composer Charlie Banacos (1946-2009) something of a ''secret guru''. The reason that Sun did not finish was that he was recruited by the ECM record company in Munich to work as a producer.
That was in 2012. He worked there for eight years producing such albums as the hugely acclaimed Lebroba. Sun has not formally studied studio sound and does not claim to be a sound engineer. He is interested more in what he calls the ''compositional'' process of the art.
This aspect of producing came to him naturally as he has been in the studio so often over the years. Installed at ECM and back then in the States he reacquainted himself with his Red Hook pal Aaron Parks, by then on the ECM roster of artists, who he produced at Worcester, MA's Mechanics Hall. Sun says: ''We took the microphones to the hall and set up in a spare room there. It's an amazing hall.'' The resulting five-star album Arborescence without fear at all of exaggeration is qualitatively a ''Köln Concert'' for the early-21st century.
Distribution for Sun's new label is via Ingrooves through Universal, a firm who have offices in London, New York and Los Angeles, recommended to him by Zev Feldman of Resonance Records. Sun says he has known Zev since 2008.
At ECM Sun was inspired by Manfred Eicher particularly through the very legendary producer's concept of ''intuition,'' learning from Manfred how interaction with musicians can be developed progressively as he himself understood in himself as his career as a producer developed down the years as ECM grew.
At Red Hook Sun will work with other producer collaborators ''if the right producers come along'' and his plans for upcoming additional releases include a new project by Andrew Cyrille and Wadada Leo Smith from the aforementioned Lebroba band who combine with a former student of Cyrille's and Wadada's, the Erased Tapes artist Qasim Naqvi. Sun explains: ''I am interested in combining electronic music and jazz. It's part of what I do to put musicians in positions that they do not consider their own and push them towards a new way of thinking''. He says that he'd ''love to be in a studio for a week!'' But budgets usually dictate 2-3 days of recording as a routine with ahead of that months of pre-production factored in. The new company has a registered address in west County Cork and Sun is considering moving to Ireland. For now a friend in Bantry is taking care of things. Mastering for the first release is by the avant trumpeter Alex Bonney best known for his work with Dakiz Davis' Human. Sun says that he likes to use Alex when he is coming through England and hopes to continue a relationship with him on future Red Hook projects.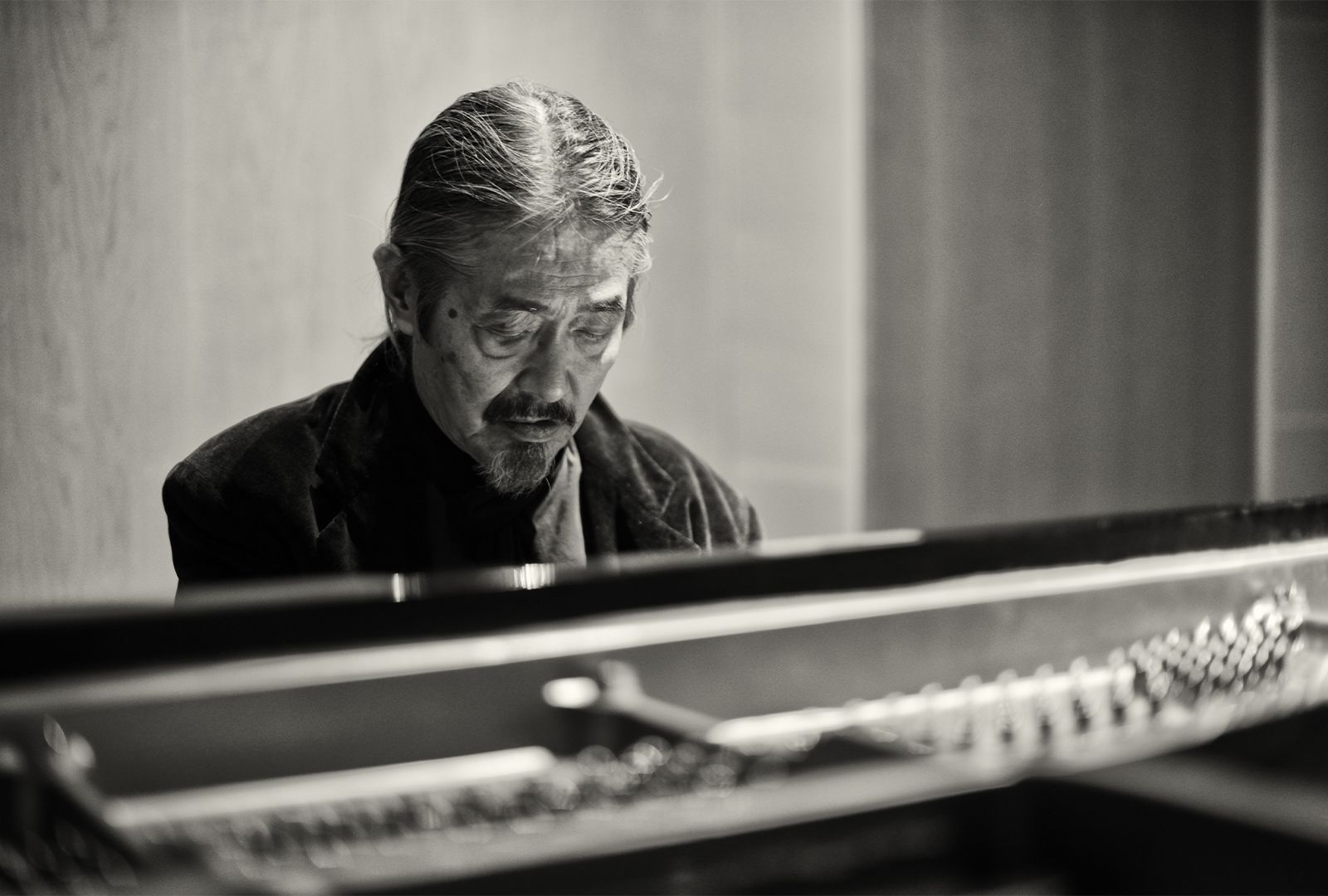 As talk turns to Hanamichi Sun says that Poo, as Kikuchi was known by colleagues and friends, at the time was playing completely free but his health was not that good. The New York recording during which the pianist made extensive use of the sostenuto pedal the clarity of which you can discern in places, made on 11th Avenue at the Klavierhaus came 14 months after Black Orpheus, an album that was recorded live in Kikuchi's home city of Tokyo in October 2012 and was his last publically issued recorded performance on Japanese soil later released by ECM. Sun says that in the process of germinating plans for the New York project he got to know the pianist more and suggested that he mixed in some tunes among the free playing but ''didn't get a response to do it or not''. When it did take place the session was not without its life threatening drama as Kikuchi taking heavy medication for his lung cancer even blacked out. Sun explains in the album notes: ''He was in pain; he forgot his preferred piano shoes at home; he was unsure about what to play, and was nervous. But as soon as he sat down at the piano, all that disappeared. The music poured out. He was navigating through streams of brilliance and unconsciousness, literally. Poo had some issues due to his medication, and on one of the two days we had to interrupt the recording for almost two hours for him to sleep. We were all worried about him, but when he woke up he immediately regained his previous brilliance.''
Follow that! But the plan is for 3 or 4 albums per year on Red Hook although the schedule has slipped at the moment due to Covid. Sun says he truly wishes that while Poo got to hear the recordings made on those memorable days in 2013 that he could have lived to witness the release itself. We, given how sensational the album sounds, certainly instead will find ourselves as listeners more than blessed at the monumental offering in prospect.
Masabumi Kikuchi above and top left with Sun Chung
Photos: Tae Cimarosti/Red Hook
Tags: