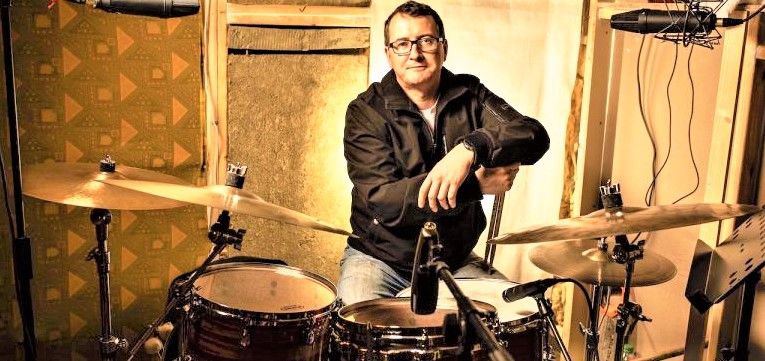 Drummer, composer and bandleader Kevin Brady whose Plan B is one of the year's best albums gives a few insights about his journey into jazz ahead of his tour of Ireland which is just around the corner
''I started playing drums quite late actually, I began playing when I was about 16 and previous to that I had played piano and trumpet. I started playing piano when I was 6 years of age and then I took up trumpet when I was about 8. I played them up until my late teens doing the usual grades thing. I took up the drums, purely by coincidence. It was an instrument I always wanted to try. For me, my father was hugely influential on my introduction to jazz music. He was an avid jazz fan and attended many concerts throughout his life.
''He was always playing his vinyl on the weekends when he wasn't working and his love for Big Band music let me hear albums like The Atomic Mr. Basie, he was also playing a lot of Sinatra, so when I began learning to play the repertoire at music school I was fortunate that I could recognise a lot of the melodies of the tunes. Being brought up in an environment like that was a great learning experience, and we always talked about the different types of jazz music that existed.
''I remember my father gave me a record, at Christmas time, when I was younger it was Wynton Marsalis' Marsalis Standard Time Vol. 1. I got to hear Jeff ''Tain'' Watts and for me that was a revelation I think that would've been the turning point for me with regards to jazz drumming and my curiosity beginning to form about the music.
''I was intrigued by the way Tain was so free and fluid in his approach to playing time and that he could play behind so many different styles. I was practising reading basic beats, I wanted to be able to hold down a groove in time while reading. When I heard Tain playing I heard lots of different influences that were intriguing to me. He merged so many styles together seamlessly and that's why it had such a big influence on me.
''I think I was fortunate, I naturally took to music. When I was studying and playing the piano I was also playing the trumpet. From an early age, I played in a concert band and I had the opportunity to perform throughout Europe. I was quite young and I loved every part of the travel process and getting organised for the performance. Playing drums was different for me, I obviously didn't play melody any more, but more outlined it. It was a different type of role, but I think, and feel, that my role is as important to make whatever musical situation exists become the best that it can be. The only time I think I got stage fright, was when I did my first gig as a band leader with my piano trio, I was no longer a sideman. I organised everything and tried to develop something new, for me to be able to develop… there's always something new to learn.
''I was about 17 when I decided that I wanted to be a professional musician. I had been involved in music all my life. I remember even saying to the careers guidance teacher in secondary school that this was what I was going to do; they tried to put me off that direction (thankfully they didn't) but I stuck to my decision and am glad I did and I was lucky to have the support from my parents as well, their understanding and support was integral to my determination to follow my passion. Now I very much enjoy teaching as part of my art practice and sharing the knowledge that I have learnt so far.''
The Kevin Brady Electric Quartet play Dolans, Limerick on Thursday 25 November; The Clew Bay Hotel, Westport, Co. Mayo, Friday 26 Nov; The Hawk's Well theatre, Sligo, Saturday 27 Nov; Magy's Farm, Co. Down, Sunday 28 Nov; Billy Byrne's, Kilkenny, Thursday 2 December; Triskel Arts Centre, Cork, Friday 3 Dec; Bello Bar, Dublin, Saturday 4 Dec. Plan B is out now on the Ubuntu label
Tags: