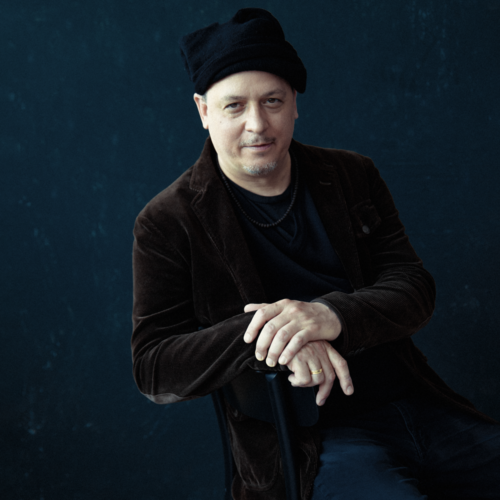 Most artists would accept a Grammy in any category. One of the strangest going back to 2004 was when Pat Metheny won not in jazz (and it's not as if he hasn't a few for the mantlepiece already) but in the New Age category for One Quiet Night. It was, all miscategorisation aside, a lovely album and it springs to mind even when sounding nothing like Berlin Baritone except in a few fleeting passages subliminally.
Like the Metheny album this new Kurt Rosenwinkel set for a very late autumn release is a tonally rich baritone guitar masterclass. But unlike the Metheny Berlin Baritone does not hoover up covers such as Merseybeat era classic 'Ferry Cross the Mersey' but concerns itself instead with 8 completely improvised pieces including a version of 'Under It All.'
Rosenwinkel, who turns 52 next week, one of his generation's greatest players, is indelibly a part of the greatest jazz of the last 20 years for at least two records m'lud - case for the proposition Deep Song (Verve, 2005) - which has the Brad Mehldau trio and Joshua Redman at its core - and the equally dazzling Star of Jupiter from 2012 (which includes 'Under It All' one of several earlier versions that Rosenwinkel has recorded over the years) with Aaron Parks and Branford Marsalis' bassist Eric Revis and drummer Justin Faulkner.
Rosenwinkel hasn't recorded on a baritone guitar before and says that he has been inspired most on the instrument by George Van Eps (1913-1998). Solo Rosenwinkel is unlike solo Metheny, the first point because he has long since created his own sound. Or Eps, the second point no matter how much you take on board the Kurtster's professed admiration for that incredible mainstreamer. Opener the very very brief 'Peace Please' the title punning but not referencing at all Bill Evans' 'Peace Piece' is an hors d'oeuvre. 'Just Chillin'' retains the same mood and tempo and lingers long and meaningfully over six minutes. 'First Impression' is more the main course and where the album gets serious and the harmonic compexity for which Rosenwinkel is renowned begins to assert itself more.
One for the fans. The whole thing feels like a suite given how each piece flows in and around all the other segments of inspiration and very much in keeping with these introspective times when we each need to search deeply within ourselves. Out on 2/12/22. Kurt Rosenwinkel, photo: Aleks Končar
More reading - Kurt Rosenwinkel (live review) at the 2018 Derry jazz festival
Tags: