Following the build-up to the new Jeff Parker album Suite For Max Brown since before Christmas, latest promo for the 24 January release is called 'Go Away' packed to the gills with a scintillating African flavoured call-and-response style to it. Parker I've only seen play live with Tortoise, not with his band the New Breed so far. That was back in 2009 at the Garage in north London round the time of their album Beacons of Ancestorship reviewing for Jazzwise it all unfolded in front of a heaving crowd. That night the gig was dogged by a faulty lead attached to Jeff Parker's guitar that stopped the band in its tracks a couple of times early on but nevertheless the gig turned out to be a triumph, with a freshness and improvising candour that would put many an official jazz group to shame. Certainly happy days.
FAST FORWARD TO WHAT IS MORE CURRENT AND THE ORGINAL POST ON 20 DECEMBER 2019 ALSO BELOW FOR CONVENIENCE.
Guitarist Jeff Parker is one of the most innovative improvisers around and it's encouraging that a new high profile project is on the go it emerges.

Via social media today Parker writes: ''So excited to be the first artist to launch this grand new collaboration between International Anthem Recording Co. and Nonesuch Records with the release of Max Brown, Part I and Part II, the lead single from my new album Suite For Max Brown (full album coming in 2020).''

Max Brown features Paul Bryan (bass, co-producer) Josh Johnson (alto), Nate Walcott (trumpet) and Jamire Williams (drums).

Parker hasn't been on the marlbank radar much since the end of 2016 when a favourite record of that year was The New Breed a new peak from the Chicago guitarist.

Unlike a million progressive jazz guitarists Parker does not sound or try to sound like Bill Frisell although he is manipulating that space first cut into jazz via a power cable decades back by Charlie Christian that Frisell beyond bebop often ends up in to harness all sorts of slacker jazz, rock, improv and experimental ideas and flick an almighty switch for the mélange to surge and linger.

Parker manages, and listen to the old for want of a better word back catalogue stuff, modern mainstream acoustic jazz (eg soaked in Kenny Burrell or even early-Brother Jack vintage George Benson in this instance without Parker ever being literal in his stylising) to winkle out and manipulate these hidden spaces by worrying away at them as if he was doing harmonic acrostics. And he does that on the understated 'Here Comes Ezra' on the 2016 album, the whole thing stapled together by a regular off-the-shelf beat before the sax of Josh Johnson takes it out, the ideas unfolding one by one.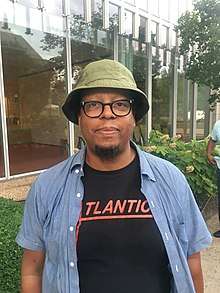 There's lots of teased in overdubbing just enough to thicken the textures and use of keys to supplement the harmonic edge that the guitar on its own can't always provide. Parker also plays by turn a Korg MS20, Wurlitzer electric piano, Mellotron, and uses loops, samplers MIDI and drum programming but it's mastered down and yet not as sparse as an ECM record although, still to be fair, much more David Torn matte than Matt Pierson satin in terms of studio sonics and in the case of The New Breed locates a world away even if only a decade and a bit on from The Relatives in terms of his conceptual thinking.

Jazz fans, myself included often forget when they think of iconic players such as Parker that they actually can turn on and turn off the tap of sub-generic styles within jazz without even thinking about it beyond say an intention to do a free jazz album like Ornette, or a mainstream thing, say. Whether the starting point is the same as the ending point is anyone's guess but that doesn't matter because it is creativity, the whole point of making music, end of, and communicating via emotion however abstract. SG.
Photo: Jim Newberry
Tags: